No matter the shape or size of your family, whether you are related by blood lines or connected by heart strings, these quotes will remind you why you love those crazy kooks in the first place. They will help you keep in mind that even the most loving families go through trying times occasionally. Funny, inspiring, heartwarming, there is a quote for every occasion.
Funny Family Quotes
Have you ever gotten angry or frustrated during a family gathering? No one would believe you if you answered in the negative. So if you can find it in yourself to laugh rather than shout in those times, you are halfway to enlightenment.
I know family comes first, but shouldn't that mean after breakfast?
---
Family life is a bit like a runny peach pie – not perfect but who's complaining?
---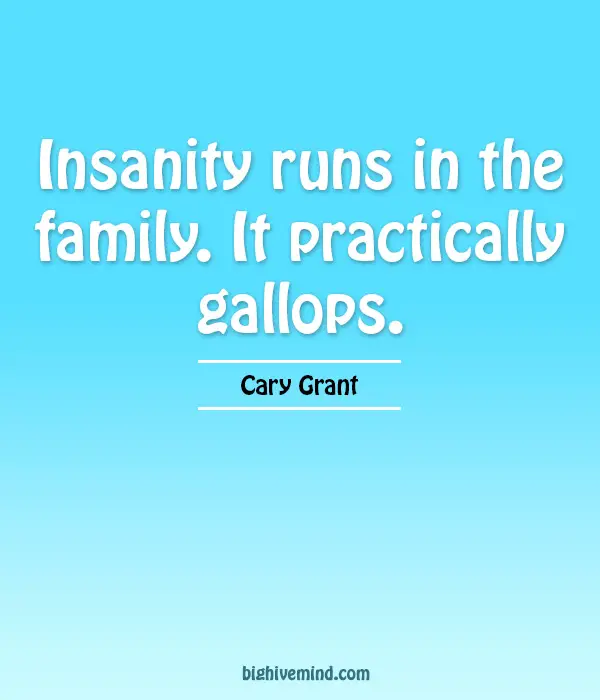 Insanity runs in the family. It practically gallops.
---
The family – that dear octopus from whose tentacles we never quite escape, nor, in our inmost hearts, ever quite wish to.
---
That's what people do who love you. They put their arms around you and love you when you're not so lovable.
---
I realized my family was funny, because nobody ever wanted to leave our house.
---
Family is a blessing. – Just keep saying that when you are irritated by something a family member says.
---
Families are like fudge – mostly sweet with a few nuts.
---
My grandmother started walking five miles a day when she was sixty. She's ninety-seven now, and we don't know where the heck she is.
---
Call it a clan, call it a network, call it a tribe, call it a family. Whatever you call it, whoever you are, you need one.
---
Families are like fudge – mostly sweet, with a few nuts.
---
Home, nowadays, is a place where part of the family waits till the rest of the family brings the car back.
---
One day you will do things for me that you hate. That is what it means to be family.
---
From the ages of 8-18, me and my family moved around a lot. Mostly we would just stretch, but occasionally one of us would actually get up to go to the fridge.
---
Family is just accident…. They don't mean to get on your nerves. They don't even mean to be your family, they just are.
---
When I was ten, my family moved to Downer's Grove, Illinois. When I was twelve, I found them.
---
I think the family is the place where the most ridiculous and least respectable things in the world go on.
---
A family is a unit composed not only of children but of men, women, an occasional animal, and the common cold.
---
If minutes were kept of a family gathering, they would show that members not present and subjects discussed were one and the same.
---
Children really can brighten up a house, because they never turn the lights off.
---
Short Family Quotes
Short and sweet, these quotes are pithy enough to get embroidered on a sofa cushion or inscribed on top of the fireplace. Let them give you the same homey feelings as the family they refer to.
Family always starts at home…
---
Blessings are plentiful for the home of a family…
---
When the family life is full of fun and humor; life is easy and light…
---
And when families are divided by misunderstandings…
---
Blood means you're related. It doesn't mean your family.
---
Not everything you fight about is worth fighting about.
---
Our job is to love others without stoping to inquire whether or not they are worthy.
---
It's not about what I can get, it's what I can give.
---
Family is supposed to be our safe haven. Very often, it's the place where we find the deepest hearctache.
---
This is my family. I found it all on my own. It's little, and broken. But still good. Yeah, still good.
---
The most important thing in the world is family and love.
---
You don't choose your family. They are God's gift to you, as you are to them.
---
Family is not an important thing. It's everything.
---
Happiness is having a large, loving, caring, close-knit family in another city.
---
It's all about quality of life and finding a happy balance between work and friends and family.
---
I believe that the greatest gift you can give your family and the world is a healthy you.
---
The family is one of nature's masterpieces.
---
My family is my strength and my weakness.
---
The love of family and the admiration of friends is much more important than wealth and privilege.
---
In every conceivable manner, the family is link to our past, bridge to our future.
---
Family Quotes From The Bible
Get some parenting advice and insight on the importance of family from the best-selling book of all time. You will definitely learn something about family dynamics with these verses.
We love because he first loved us.
---
Anyone who does not provide for their relatives, and especially for their own household, has denied the faith and is worse than an unbeliever.
---
He and all his family were devout and God-fearing; he gave generously to those in need and prayed to God regularly.
---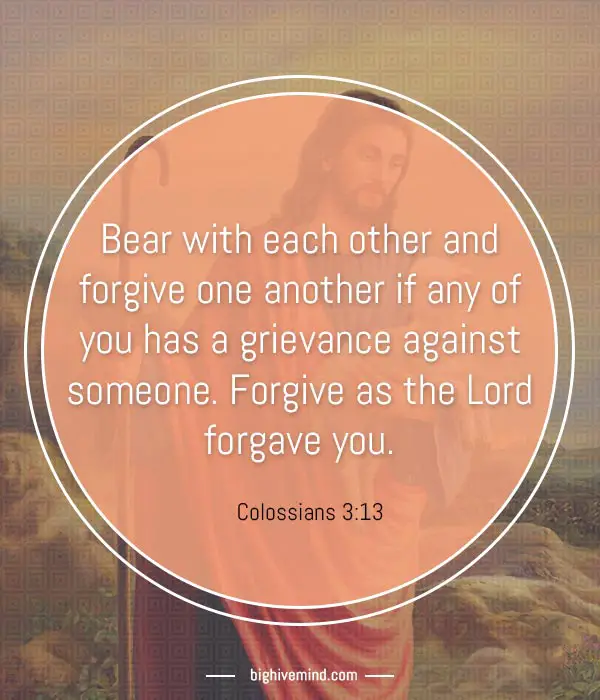 Bear with each other and forgive one another if any of you has a grievance against someone. Forgive as the Lord forgave you.
---
Fathers, do not exasperate your children; instead, bring them up in the training and instruction of the Lord.
---
Honor your father and your mother, so that you may live long in the land the LORD your God is giving you.
---
Start children off on the way they should go, and even when they are old they will not turn from it.
---
But if serving the LORD seems undesirable to you, then choose for yourselves this day whom you will serve, whether the gods your ancestors served beyond the Euphrates, or the gods of the Amorites, in whose land you are living. But as for me and my household, we will serve the LORD.
---
My son, keep your father's command and do not forsake your mother's teaching.
---
Children are a heritage from the LORD, offspring a reward from him. 4 Like arrows in the hands of a warrior are children born in one's youth. 5 Blessed is the man whose quiver is full of them. They will not be put to shame when they contend with their opponents in court.
---
But the lovingkindness of the LORD is from everlasting to everlasting on those who fear Him, And His righteousness to children's children, to those who keep his covenant and remember to do his commandments.
---
Hear, my son, your father's instruction, and forsake not your mother's teaching, for they are a graceful garland for your head and pendants for your neck.
---
But if anyone does not provide for his relatives, and especially for members of his household, he has denied the faith and is worse than an unbeliever.
---
Wives, submit to your own husbands, as to the Lord. For the husband is the head of the wife even as Christ is the head of the church, his body, and is himself its Savior. Now as the church submits to Christ, so also wives should submit in everything to their husbands… Husbands, love your wives, as Christ loved the church and gave himself up for her… In the same way husbands should love their wives as their own bodies. He who loves his wife loves himself.
---
But from the beginning of creation, 'God made them male and female.' Therefore a man shall leave his father and mother and hold fast to his wife, and the two shall become one flesh.' So they are no longer two but one flesh. What therefore God has joined together, let not man separate.
---
These commandments that I give you today are to be on your hearts. Impress them on your children. Talk about them when you sit at home and when you walk along the road, when you lie down and when you get up.
---
They replied, "Believe in the Lord Jesus, and you will be saved—you and your household.
---
I appeal to you, brothers and sisters, in the name of our Lord Jesus Christ, that all of you agree with one another in what you say and that there be no divisions among you, but that you be perfectly united in mind and thought.
---
Whoever claims to love God yet hates a brother or sister is a liar. For whoever does not love their brother and sister, whom they have seen, cannot love God, whom they have not seen.
---
Can a mother forget the baby at her breast
and have no compassion on the child she has borne?
Though she may forget,
I will not forget you!
See, I have engraved you on the palms of my hands;
your walls are ever before me.
---
Inspirational Family Quotes
Let these quotes remind you of just how much you love your family and how lucky you are to have it. The more thankful you are for your near and dear, the closer you will all get.
Let us make one point, that we meet each other with a smile, when it is difficult to smile. Smile at each other, make time for each other in your family.
---
Families are the compass that guides us. They are the inspiration to reach great heights, and our comfort when we occasionally falter.
---
I believe in God, family, truth between people, the power of love.
---
When we think of our family, our spouse, parents, or children, let us see them as a gift from God.
---
The only rock I know that stays steady, the only institution I know that works, is the family.
---
The best inheritance a parent can give to his children is a few minutes of their time each day.
---
Everyone needs a house to live in, but a supportive family is what builds a home.
---
If you want to have a good life, you should focus on your family, on your business, on your dog, on your fun, and you'll have a good life.
---
Other things may change us, but we start and end with the family.
---
Love your family. Spend time, be kind & serve one another. Make no room for regrets. Tomorrow is not promised & today is short.
---
A mother's love for her child is like nothing else in the world. It knows no aw, no pity, it dares all things and crushes down remorselessly all that stands in its path.
---
Family quarrels are bitter things. They don't go according to any rules. They're not like aches or wounds, they're more like splits in the skin that won't heal because there's not enough material.
---
You can kiss your family and friends good-bye and put miles between you, but at the same time you carry them with you in your heart, your mind, your stomach, because you do not just live in a world but a world lives in you.
---
After a good dinner one can forgive anybody, even one's own relations.
---
When I was a boy of fourteen, my father was so ignorant I could hardly stand to have the old man around. But when I got to be twenty-one, I was astonished at how much the old man had learned in seven years.
---
No man has ever lived that had enough of children's gratitude or woman's love.
---
Family is the most important thing in the world.
---
When she can't bring me to heal with scolding, she bends me to shape with guilt.
---
At the end of the day, a loving family should find everything forgivable.
---
There's nothing that makes you more insane than family. Or more happy. Or more exasperated. Or more… secure.
---
Family Values Quotes
Whether on the right or the left, it seems like everyone has something to say about family values. And whether we embrace these values or reject them, they follow us our entire lives. Let the following quotes help you reflect about what is truly meaningful to you.
Let us nurture the practice of family values, by embracing policies that value families.
---
I was raised by a single mother who made a way for me. She used to scrub floors as a domestic worker, put a cleaning rag in her pocketbook and ride the subways in Brooklyn so I would have food on the table. But she taught me as I walked her to the subway that life is about not where you start, but where you're going. That's family values.
---
I come from that society and there is a common thread, specifically family values – the idea that you do anything for your family, and the unconditional love for one's children.
---
When liberals finally grasped the strength of popular feeling about the family, they cried to appropriate the rhetoric and symbolism of family values for their own purposes.
---
A hostility to modernity is shared by ideologies that have nothing else in common – a nostalgia for moral clarity, small-town intimacy, family values, primitive communism, ecological sustainability, communitarian solidarity, or harmonies with the rhythms of nature.
---
Left-wing politicians take away your liberty in the name of children and of fighting poverty, while right-wing politicians do it in the name of family values and fighting drugs. Either way, government gets bigger and you become less free.
---
I believe in family values, and I believe that we all ought to be able to have a family and marry if you want to. I don't think the government should be in that business of denying people the fundamental right to marry.
---
People are saying I am against the chador. I am not. On the contrary. I am for traditional family values.
---
When I hear traditional family values raised, I hear that effort once again to re-establish the man as head and master of his family. Who had the, not only the right, but the obligation to discipline his wife and children to keep them in line?
---
I believe in the value of life. I believe we must prepare our children for tomorrow with the family values of my grandparents.
---
At the end of your life, you will never regret not having passed one more test, not winning one more verdict, or not closing one more deal. You will regret time not spent with a husband, a friend, a child, a parent.
---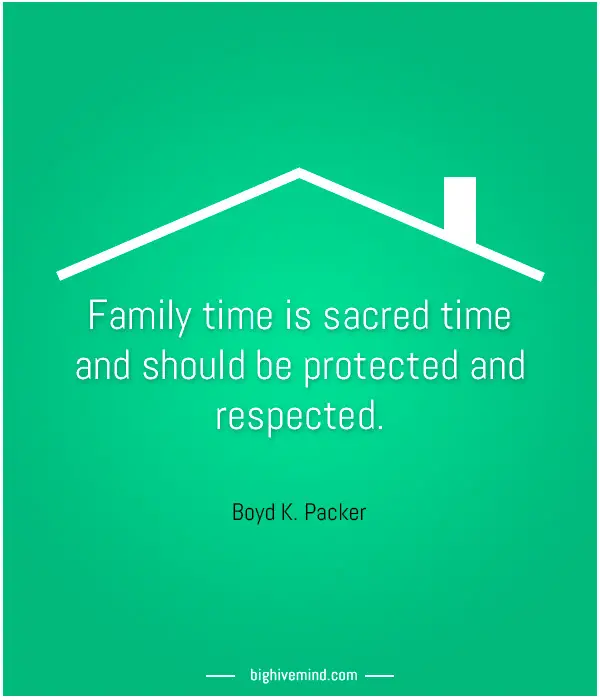 Family time is sacred time and should be protected and respected.
---
If you want something to last forever, you treat it differently. You shield it and protect it. You never abuse it. You don't expose it to the elements. You don't make it common or ordinary. If it ever becomes tarnished, you lovingly polish it until it gleams like new. It becomes special because you have made it so, and it grows more beautiful and precious as time goes by.
---
Happiness comes from unselfish service. And happy homes are only those where there is a daily striving to make sacrifices for each other's happiness.
---
If you want your children to turn out well, spend twice as much time with them and half as much money.
---
The family is both the fundamental unit of society as well as the root of culture. It … is a perpetual source of encouragement, advocacy, assurance, and emotional refueling that empowers a child to venture with confidence into the greater world and to become all that he can be.
---
Family traditions counter alienation and confusion. They help us define who we are; they provide something steady, reliable and safe in a confusing world.
---
The strength of a family, like the strength of an army, is in its loyalty to each other.
---
Family values are a little like family vacations -— subject to changeable weather and remembered more fondly with the passage of time. Though it rained all week at the beach, it's often the momentary rainbows that we remember.
---
In truth a family is what you make it. It is made strong, not by number of heads counted at the dinner table, but by the rituals you help family members create, by the memories you share, by the commitment of time, caring, and love you show to one another, and by the hopes for the future you have as individuals and as a unit.
---
Quotes About Family Quarrels
Even the most loving families have arguments. These quotes speak of the pain of the experience and teach us solutions for getting through them, hopefully with a stronger family unit.
Family quarrels are bitter things. They don't go according to any rules. They're not like aches or wounds; they're more like splits in the skin that won't heal because there's not enough material.
---
Families aren't easy to join. They're like an exclusive country club where membership makes impossible demands and the dues for an outsider are exorbitant.
---
Deep inside us, we know what every family therapist knows: the problems between the parents become the problems within the children.
---
It doesn't matter what kind of problems a family is having; it should always stay in the family.
---
We're a very close family and we're a very real family, and I think every real family has real problems.
---
Any problem, big or small, within a family, always seems to start with bad communication. Someone isn't listening.
---
I can't say it's not painful being estranged from most of my family. I wish it could be otherwise.
---
In every dispute between parent and child, both cannot be right, but they may be, and usually are, both wrong. It is this situation which gives family life its peculiar hysterical charm.
---
Family problems come in all shapes and sizes; some are short-lived and easily managed, while others are more chronic and difficult to handle.
---
Otherwise, you just become partners managing the kids and life, and that makes your marriage more vulnerable to problems down the road.
---
I grew up in a family in which political issues were often discussed, and debated intensely.
---
It is a common experience that a problem difficult at night is resolved in the morning after the committee of sleep has worked on it.
---
Family quarrels have a total bitterness unmatched by others. Yet it sometimes happens that they also have a kind of tang, a pleasantness beneath the unpleasantness, based on the tacit understanding that this is not for keeps; that any limb you climb out on will still be there later for you to climb back.
---
Classical and romantic: private language of a family quarrel, a dead dispute over the distribution of emphasis between man and nature.
---
The family – that dear octopus from whose tentacles we never quite escape, nor, in our inmost hearts, ever quite wish to.
---
Not a single thought managed to take shape in her mind: for the likeness of this day to the last seemed to her the clearest proof that it would be another quite useless day, a day she would gladly have done without. For a moment she thought that a day like this would be pointless for anyone on earth, then abruptly changed her mind as she realised that thousands of women, after a hard week's work, or a family quarrel, or even just after catching a cold, would envy her just for having the leisure to rest in comfort.
---
I think all of us are agreed that war is probably man's greatest stupidity and I think peace is the dream that lives in the heart of everyone wherever he may be in the world, but unfortunately, unlike a family quarrel, it doesn't take two to make a war. It only takes one, unless the other one is prepared to surrender at the first hint of force.
---
The quarrels of lovers are the renewal of love.
---
How many serious family quarrels, marriages out of spite, and alterations of wills, might have been prevented by a gentle dose of blue pill!-What awful instances of chronic dyspepsia in the characters of Hamlet and Othello! Banish dyspepsia and spirituous liquors from society, and you have no crime, or at least so little that you would not consider it worth mentioning.
---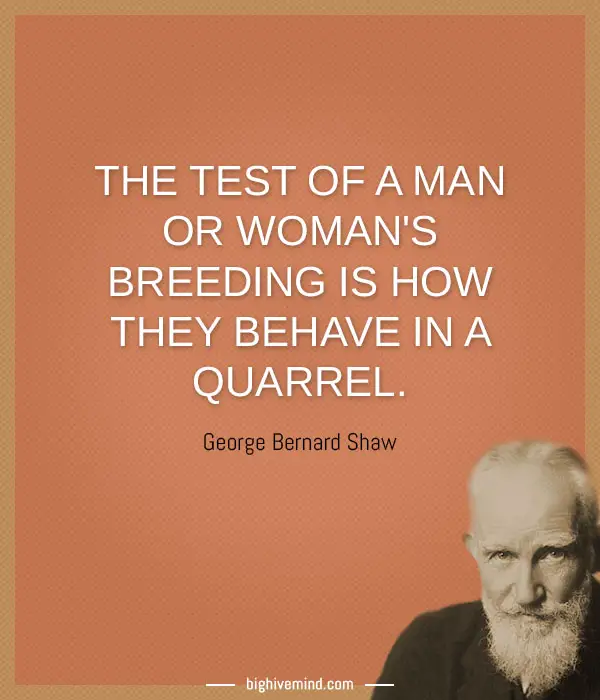 The test of a man or woman's breeding is how they behave in a quarrel.
---
Funny Quotes About Family Reunions
Whether it is a love fest or a quarrel fest, you cannot argue that a family reunion is not a beast of its own. Want a laugh and a case of the warm and fuzzies, why not read a few of these quotes at your next family gathering?
In every conceivable manner, the family is link to our past, bridge to our future.
---
It doesn't matter what story ae're telling, we're telling the story of family.
---
One wants to be together with one's family. That's what families are about.
---
A family reunion is an effective form of birth control.
---
Like branches on a tree, our lives may grow in different directions yet our roots remain as one.
---
Nothing like watching your relatives fight, I always say.
---
If you don't believe in ghosts, you've never been to a family reunion.
---
Generations pass like leaves fall from our family tree. Each season new life blossoms and grows benefiting from the strength and experience of those who went before.
---
I love family reunions. Maybe next year we could pass out samurai swords.
---
No one's family is normal. Normalcy is a lie invented by advertising agencies to make the rest of us feel inferior.
---
Family gives us two things; one is roots, the other is wings.
---
Family is like branches on a tree; we all grow in different directions, yet our roots remain as one.
---
"Rejoice with your family in the beautiful land of life!
---
"Family: We might not have it all together, but together we have it all.
---
To us, family means putting your arms around each other and being there.
---
The only thing sweeter than union is reunion.
---
Family means no one gets left behind or forgotten.
---
I wish I could relate to the people I'm related to.
---
May the roots of your family tree grow deep and strong.
---
A dysfunctional family is any family with more than one person in it.
---
Family Quotes About Love And Strength
Regardless of the disagreements and the potentially contentious history, most of us are lucky enough to say that our family was a source of comfort and support when we were faced with the unpredictability of life and that translates into a feeling of strength as these quotes demonstrate.
Life is a secret lease from God and we should not allow ourselves to be bruised. Family life is our strength and success.
---
My sense of personal strength has always come from my family.
---
Our family is a circle of strength and love…Our family with ever birth and every union the circle grows, our family is a circle of strength every crisis faced together makes the circle stronger.
---
I learned about the strength you can get from a close family life. I learned to keep going, even in bad times. I learned not to despair, even when my world was falling apart. I learned that there are no free lunches. And I learned the value of hard work.
---
Without a family, man, alone in the world, trembles with the cold.
---
The only strength that really matters is the strength that makes you what you are in the eyes of those you love.
---
If the family were a boat, it would be a canoe that makes no progress unless everyone paddles.
---
The strength of a nation derives from the integrity of the home.
---
In time of test, family is best.
---
We cannot destroy kindred: our chains stretch a little sometimes, but they never break.
---
A happy family is but an earlier heaven.
---
A man can't make a place for himself in the sun if he keeps taking refuge under the family tree.
---
A man travels the world over in search of what he needs, and returns home to find it.
---
At the end of the day, a loving family should find everything forgivable.
---
Bringing up a family should be an adventure, not an anxious discipline in which everybody is constantly graded for performance.
---
Family: A social unit where the father is concerned with parking space, the children with outer space, and the mother with closet space.
---
Family faces are magic mirrors looking at people who belong to us, we see the past, present, and future.
---
Family life is full of major and minor crises — the ups and downs of health, success and failure in career, marriage, and divorce — and all kinds of characters. It is tied to places and events and histories. With all of these felt details, life etches itself into memory and personality. It's difficult to imagine anything more nourishing to the soul.
---
Feelings of worth can flourish only in an atmosphere where individual differences are appreciated, mistakes are tolerated, communication is open, and rules are flexible — the kind of atmosphere that is found in a nurturing family.
---
Home is the place where boys and girls first learn how to limit their wishes, abide by rules, and consider the rights and needs of others.
---
Family Quotes From Books
Family is a seemingly inexhaustible source of inspiration for writers. Whether they viewed their relatives with an amused lens or a skeptical one, we certainly benefit from the richness of experience these familial bonds provided.
This is part of what a family is about, not just love. It's knowing that your family will be there watching out for you. Nothing else will give you that. Not money. Not fame. Not work.
---
There was that constant communication which strong family affection would dictate; and though sisters, and living almost within sight of each other, they could live without disagreement between themselves, or producing coolness between their husbands.
---
You must remember, family is often born of blood, but it doesn't depend on blood. Nor is it exclusive of friendship. Family members can be your best friends, you know. And best friends, whether or not they are related to you, can be your family.
---
Family is a life jacket in the stormy sea of life.
---
My mother used to tell me that when push comes to shove, you always know who to turn to. That being a family isn't a social construct but an instinct.
---
The family, that dear octopus from whose tentacles we never quite escape, nor in our innermost hearts never quite wish to.
---
I do think that families are the most beautiful things in all the world!
---
Whether anybody was home meant everything to a house. It was more than a major fact: it was the only fact … The family was the house's soul.
---
There were two things about Mama. One is she always expected the best out of me. And the other is that then no matter what I did, whatever I came home with, she acted like it was the moon I had just hung up in the sky and plugged in all the stars. Like I was that good.
---
As mothers and daughters, we are connected with one another. My mother is the bones of my spine, keeping me straight and true. She is my blood, making sure it runs rich and strong. She is the beating of my heart. I cannot now imagine a life without her.
---
All happy families are alike; each unhappy family is unhappy in its own way.
---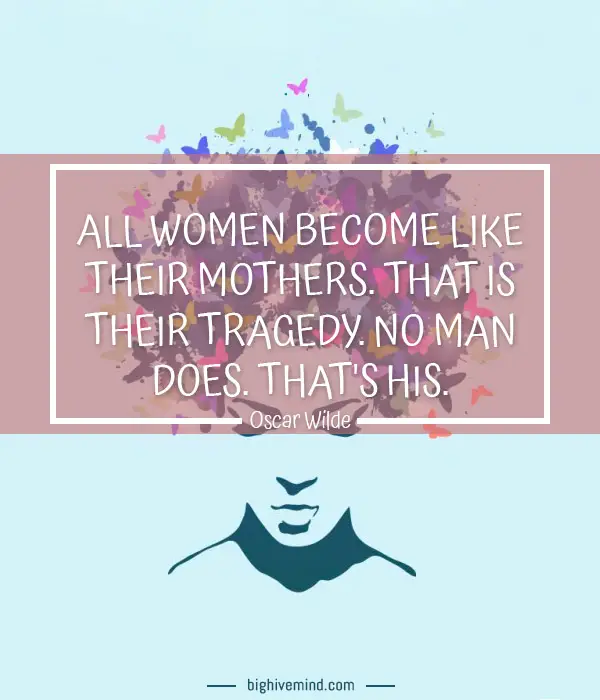 All women become like their mothers. That is their tragedy. No man does. That's his.
---
This was the trouble with families. Like invidious doctors, they knew just where it hurt.
---
The capacity for friendship is God's way of apologizing for our families.
---
I don't care about whose DNA has recombined with whose. When everything goes to hell, the people who stand by you without flinching – they are your family.
---
Home is where you are loved the most and act the worst.
---
All parents damage their children. It cannot be helped. Youth, like pristine glass, absorbs the prints of its handlers. Some parents smudge, others crack, a few shatter childhoods completely into jagged little pieces, beyond repair.
---
Be careful how you speak to your children, one it will become their inner voice.
---
My dear young cousin, if there's one thing I've learned over the eons, it's that you can't give up on your family, no matter how tempting they make it.
---
You must remember, family is often born of blood, but it doesn't depend on blood. Nor is it exclusive of friendship. Family members can be your best friends, you know. And best friends, whether or not they are related to you, can be your family.
---
Quotes About Family Unity
These quotes will have you thinking that family unity is the sweetest of gifts, a gift that transcends cultural, national and historical barriers. These words might even inspire you to pick up the phone and call your mom.
We are only as strong as we are united, as weak as we are divided.
---
We are each other's harvest; we are each other's business; we are each other's magnitude and bond.
---
People come and go in our lives, but a beauty of life is that our family is always there.
---
Every year Christmas comes around again and forces us to deal with God in the context of demanding and inconvenient children; gatherings of family members, many of whom we spend the rest of the year avoiding; all the crasser forms of greed and commercialized materiality; garish lights and decorations. Or maybe the other way around: Christmas forces us to deal with all the mess of our humanity in the context of God who has already entered that mess in the glorious birth of Jesus.
---
Families and friends form some of the closest of bonds you will ever experience. It is almost impossible for you to lead a happy life without support from these important groups of people.
---
Never be afraid to ask for help, especially when you have good friends or family who are likely more than willing to help out.
---
No man (or woman) is an island' and I was terrified of upsetting my family, my friends and my colleagues by making changes in my life which could affect their lives too, directly or indirectly.
---
Some of us are so self-reliant that we won't ask for help from our family members or close friends. You can't do it all, all the time, by yourself.
---
When I think of any of my successes, I am thankful to God from whom all blessings flow, and to my family and friends who enrich my life.
---
Family life contributes immensely to an individual's happiness. Only in a happy homelife can complete contentment be found.
---
Somehow the home without God is missing a vital ingredient; we cannot enter fully into the true blessing of family living if our homes are not lifted up to God for his blessing.
---
Family consists of people that love and Family consists of people that love and care about each other mutually, and no matter what our background is, we can have people to call family.
---
Rich or poor, we will keep together and be happy in one another.
---
I don't care how poor a man is; if he has family, he's rich.
---
The truth is maybe we are just average. But the way I see it — families where parents get up every morning and go to jobs that are hard so they can get their kids through school and through life, and struggle to make it all work and manage to do it with dignity and a little humor — well, that's not average. That's extraordinary.
---
Nobody has ever before asked the nuclear family to live all by itself in a box the way we do. With no relatives, no support, we've put it in an impossible situation.
---
The family. We were a strange little band of characters trudging through life sharing diseases and toothpaste, coveting one another's desserts, hiding shampoo, borrowing money, locking each other out of our rooms, inflicting pain and kissing to heal it in the same instant, loving, laughing, defending, and trying to figure out the common thread that bound us all together.
---
Blood's thicker than water, and when one's in trouble
Best to seek out a relative's open arms.
---
There is no cure for laziness but a large family helps
---
Our most basic instinct is not for survival but for family. Most of us would give our own life for the survival of a family member, yet we lead our daily life too often as if we take our family for granted.
---
---