Here's a selection of Girly Quotes, covering topics such as tattoos, love, inspiration, best friends, falling out and broken hearts.
We really hope you enjoy these quotes and that they give you something to think about.
There are no good girls gone wrong — just bad girls found out.
---
There are certain shades of limelight that can wreck a girl's complexion.
---
Good girls go to heaven, bad girls go everywhere.
---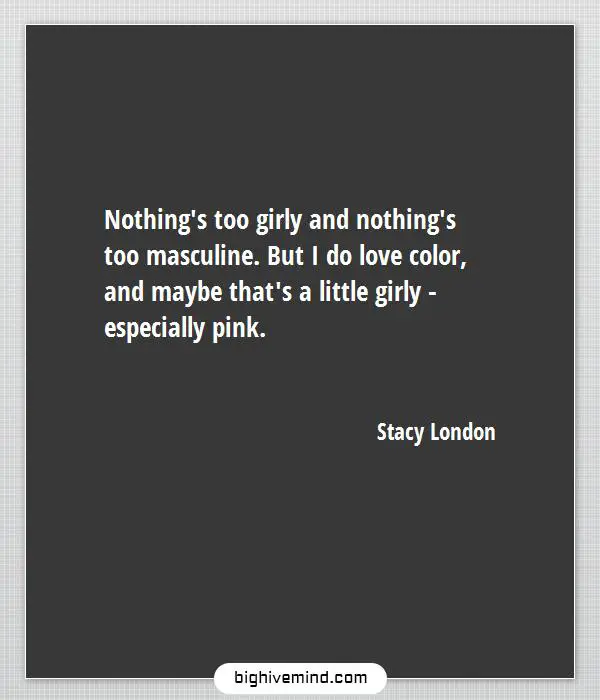 Every beautiful girl need to hear some cute words but only one who deserve it.
---
A lady's imagination is very rapid; it jumps from admiration to love, from love to matrimony in a moment.
---
I've always been very girly.
---
As I began to grow, my family thought my obsessive interest in girly things was just a normal developmental phase.
---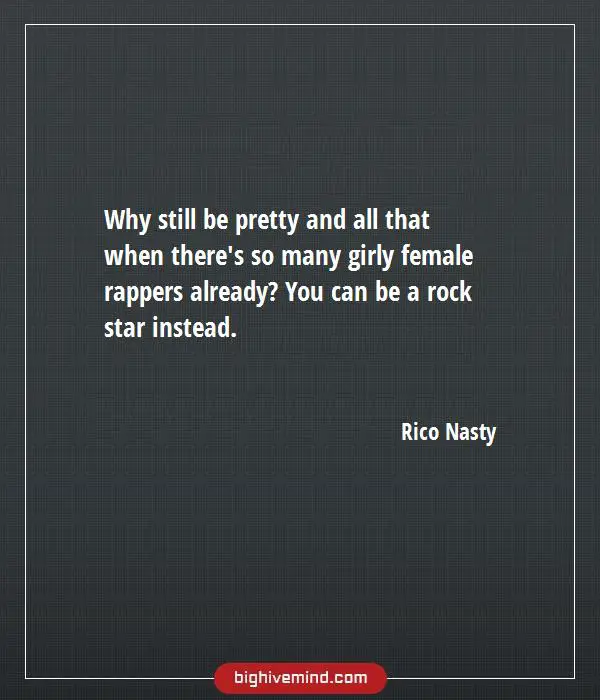 You're a beautiful girl, and you can do anything you want in life.
---
It's the good girls who keep diaries; the bad girls never have the time.
---
Why still be pretty and all that when there's so many girly female rappers already? You can be a rock star instead.
---
I think it's great to dress up and play on all the girly features.
---
I liked the girly cartoons. I was very much a girly-girl.
---
For so long, we were labeled – you're a girly girl, you're a tomboy, you're this or that – but now we can do what we want. One style doesn't define me.
---
Beneath the makeup and behind the smile I am just a girl who wishes for the world.
---
To find out a girl's faults, praise her to her girl friends.
---
I'm a girly girl. I'm strong, but I'm very timid. Very dainty.
---
When I was just a cute little caterpillar, you loved me. So I became a butterfly so you would never leave.
---
I'm not a girly girl. I go to the bar. I like to get dirty. I love sports. I'm like the son my dad never had.
---
When I go to the spa, I'm a girly girl. I'm pampering myself. But on a regular basis, I'm a very tough tomboy – I have to remind myself that I'm still a woman!
---
An awesome thing about starting your own business? There's no one there to tell you what to do! But that, you might quickly discover, is a double-edged sword. If you're not careful, you won't shower for four days straight, and you'll spend half your time researching 'girly, stylish office' on Pinterest instead of getting any real work done.
---
Pour yourself a drink, put on some lipstick, and pull yourself together.
---
I am so not a proper, good female. I can't dance in high heels and I'm just so not girly, but then I see these men with these banging bodies, dancing in heels, singing, and having so much fun with so much make-up on. That makes me honestly want to be a better woman.
---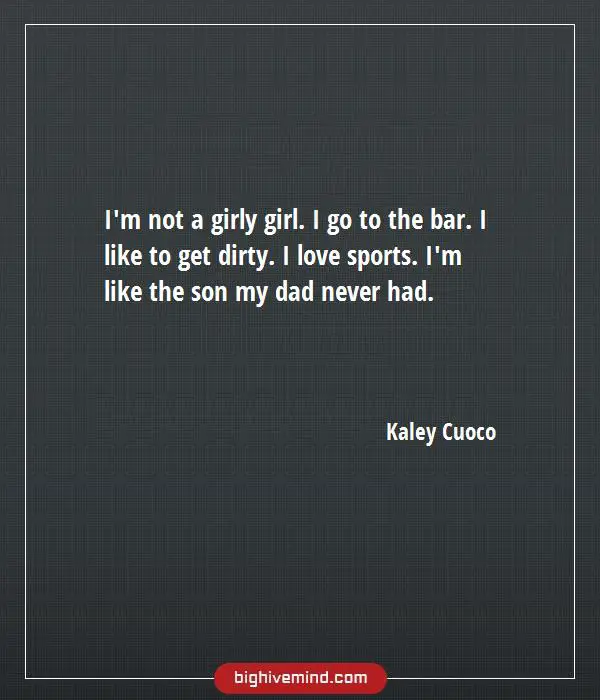 Too many girls follow the line of least resistance, but a good line is hard to resist.
---
A real girl isn't perfect and a perfect girl isn't real.
---
Heels and red lipstick will put the fear of God into people.
---
I like very girly, retro inspired, feminine, floral things. I'm not very edgy.
---
I'm not a girly girl.
---
The only thing more beautiful than the woman that knows what she wants I the woman who isn't waiting on anybody else to get it for her.
---
Give a girl the correct footwear and she can conquer the world.
---
A girl doesn't need anyone who doesn't need her.
---
I have very intense feelings of joy or sadness. I used to not like that so much because I was worried it was girly, and I wanted to be more stoic. I think this happens a lot. When you're 16, there are qualities you wish you didn't have, and then when you're 30, you're like, 'Thank God I have that; otherwise, I'd be living less vividly.'
---
I first started wearing fragrance when I was thirteen or fourteen, and the smell was candy-like. They were in very colorful bottles, like turquoise and pink. By the time I was sixteen or seventeen, it got more girly and more floral.
---
You've got the look of a girl who's no stranger to the page. I can tell. You've got words in your soul.
---
Whatever boys can do, girls can do better
---
Girls can be so petty and jealous. I swear they're worse than guys sometimes. Except they're all quiet about it. They sugarcoat it or else they talk behind each other's backs. It's seriously twisted.
---
Every girl should use what Mother Nature gave her before Father Time takes it away.
---
A clever girl may pass through the phase of foolish miss on the way to sensible woman.
---
I don't see myself as a pop artist. Like, when you hear 'pop,' you're like, 'Oh, bubblegum, jumpy little girly stuff,' and I feel like, 'Uh-uh. That's not me.'
---
'I'll be back' always sounded a little girly to me.
---
I didn't want to be perceived as a girly girl on stage.
---
My personal style is a mixture of, like, girly, throwback, like retro '50s pin-ups, floral, like hippies, like anything feminine, and like flirty.
---
Starting out as young women, we didn't care that people thought that we were a fad or if people thought we didn't dress girly enough – we were just like, 'Whatever.' We were able to accomplish that with three totally different girls, in a group.
---
My off-pitch style is probably girly and comfortable. I like a lot of loose-fitting material on top and more tight-fitting material on the bottom.
---
Elegance does not consist in putting on a new dress.
---
We girls, we're tough, darling. Soft on the outside but, deep down, we're tough.
---
If I was a girl again, I would like to be like my fans, I would like to be like Madonna.
---
Better to be strong than pretty and useless.
---
I lift pretty heavy for my body weight, and I don't do any of that girly stuff like cardio or any light weights. I go really heavy, and that intimidates some guys. I enjoy that.
---
The Tweets that I have written that are most popular are the ones that are the kind of universal girly concerns and observations.
---
A wise girl knows her limits, a smart girl knows that she has none.
---
Nothing's too girly and nothing's too masculine. But I do love color, and maybe that's a little girly – especially pink.
---
A girl can wait for the right man to come along but in the meantime that still doesn't mean she can't have a wonderful time with all the wrong ones.
---
Hanging out with my girlfriends is my sanity saver. We go out for a bad chick flick and dinner. I suggest you break free from the guys, see a really silly, girly movie, and get a little something to eat afterwards. It feels like a treat.
---
If you're sad, add more lipstick and attack.
---
Some girls are just born with glitter in their veins.
---
From the moment I could express myself, I acted like a stereotypical girl and insisted that I was a girl. I wasn't just a boy who liked girly things – I knew I was a girl.
---