Here's a selection of Hiking Quotes, covering topics such as mountains, trails and walking with dogs.
We really hope you enjoy these quotes and that they give you something to think about.
Millions of Americans each year use our national forests to go hiking, fishing, hunting, camping, swimming, horseback riding, and canoeing.
---
Hiking and happiness go hand in hand or foot in boot.
---
Mountains are the cathedrals where I practice my religion.
---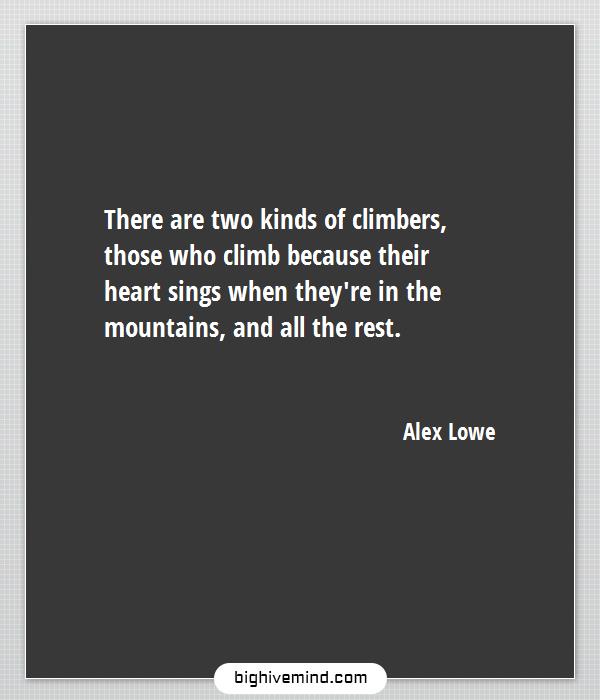 When I wake up every morning, I smile and say, 'Thank you.' Because out of my window I can see the mountains, then go hiking with my dog and share her bounding joy in the world.
---
I like being near the top of a mountain. One can't get lost here.
---
Hiking is the only slightly less ugly stepsister of running.
---
Climb the mountains and get their good tidings. Nature's peace will flow into you as sunshine flows into trees.
---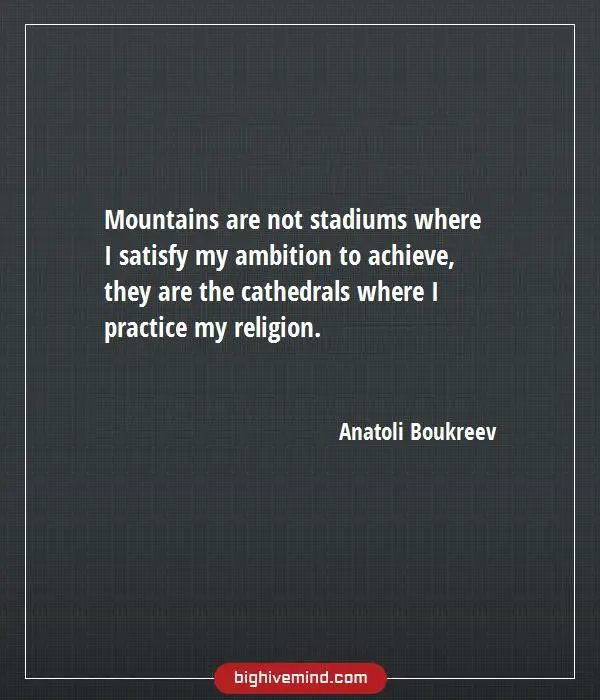 Do activities you're passionate about – which make your heart and soul feel perky – including things like working out, cooking, painting, writing, yoga, hiking, walking, swimming, being in nature, being around art, or reading inspiring books.
---
It had nothing to do with gear or footwear or the backpacking fads or philosophies of any particular era or even with getting from point a to point b.
it had to do with how it felt to be in the wild. With what it was like to walk for miles with no reason other than to witness the accumulation of trees and meadows, mountains and deserts, streams and rocks, rivers and grasses, sunrises and sunsets. The experience was powerful and fundamental. It seemed to me that it had always felt like this to be a human in the wild, and as long as the wild existed it would always feel this way.
---
Me thinks that the moment my legs begin to move, my thoughts begin to flow.
---
Jumping from boulder to boulder and never falling, with a heavy pack, is easier than it sounds; you just can't fall when you get into the rhythm of the dance.
---
Of all the paths you take in life, make sure a few of them are dirt.
---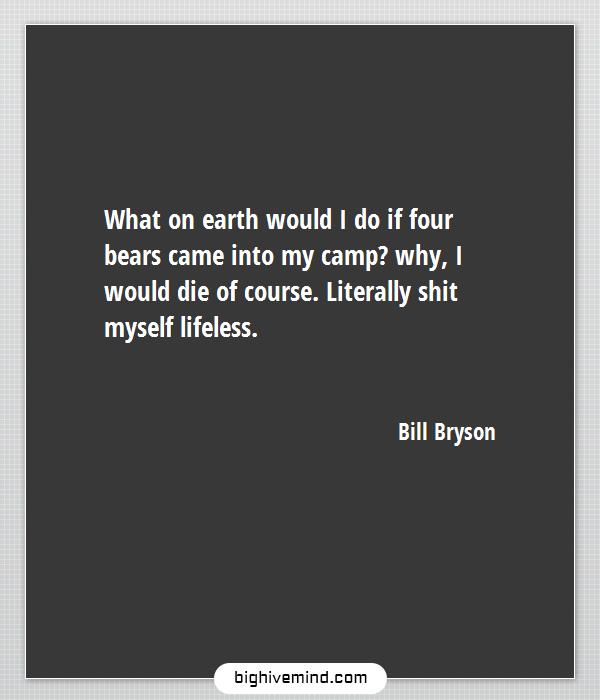 I titled it 'Alaska' because the song sort of represents everything that happened in my life surrounding a hiking trip I took for a month in Alaska.
---
I love being outdoors – hiking, biking, and swimming.
---
My ideal vacation isn't about complex maneuvers. I want to arrive somewhere foreign where I don't speak the language, go hiking, then plop down in a sunny square, have drinks, read a book, and see what happens.
---
In every walk with nature, one receives far more than he seeks.
---
The experienced mountain climber is not intimidated by a mountainhe is inspired by it.
---
May your trails be crooked, winding, lonesome, dangerous, leading to the most amazing view. May your mountains rise into and above the clouds.
---
I love being natural. I never feel more beautiful then after I've been to the beach and my hair's just a crazy mess of salt curls, or when I've just been outside all day hiking.
---
Another thing I like to do is sit back and take in nature. To look at the birds, listen to their singing, go hiking, camping and jogging and running, walking along the beach, playing games and sometimes being alone with the great outdoors. It's very special to me.
---
I love to exercise outside in the fresh air and sun: hiking, swimming, stand-up paddleboarding, and jogging.
---
I walked slowly to enjoy this freedom, and when I came out of the mountains, I saw the sky over the prairie, and I thought that if heaven was real, I hoped it was a place I never had to go, for this earth was greater than any paradise.
---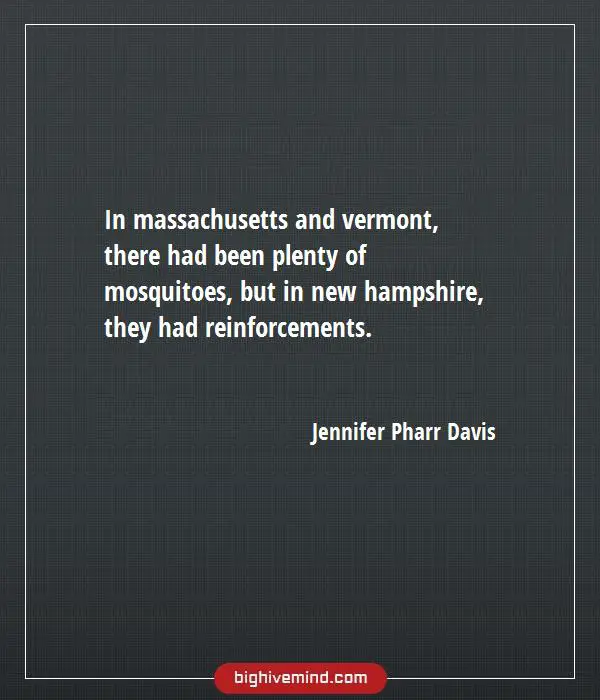 I refuse to let this suffering be for nothing. In fact, I refuse to suffer." I whispered to myself as I pushed each tent stake into the ground. "i can adapt. I am adapting." another long day was done and I was forty-two miles closer to canada.
---
In massachusetts and vermont, there had been plenty of mosquitoes, but in new hampshire, they had reinforcements.
---
I love hiking in the mountains in Aspen. Breathing the clean, fresh air is great. Plus, it gives me a cardiovascular workout and firms my legs.
---
For me, training is my meditation, my yoga, hiking, biking all rolled into one. Wake up early in the morning, generally around 4 o'clock, and I'll do my cardio on an empty stomach. Stretch, have a big breakfast, and then I'll go train.
---
When pressed, hunters who claim that they just want "to be out in the wilderness," will admit that the kill is essential—or at least the hope of a kill. As it turns out, there is no correlation between hunting and hiking, climbing, backpacking, kayaking, or any other outdoor activity. Hunters do not purposefully linger in the woods after a kill, but quickly begin the process of preparing to head home with the corpse. For hunters, the kill is the climax—the most important moment. They are not driving into the woods (or sometimes actually walking) for the sake of beauty, but in the hope of a kill.
---
There were times when I cursed the trail and the weather for hours. But after you sulk and consider your options, you eventually realize that you can sit there and cry, or you can walk… It doesn't matter so much if you cry or walk — I did a lot of both — but if you turn on your partner, you'll never make it together.
---
Mountains have a way of dealing with overconfidence.
---
I like playing sport, and I like doing physical stuff. I like hiking and I like climbing and I like playing sport. I do a lot. But I don't like the term 'exercising.' I feel like with sport, you're playing games. But with exercise, you're literally just trying to stop yourself from dying too young. It's weird.
---
There really is no correct way to hike the trail, and anyone who insists that there is ought not to worry so much about other people's experiences. Hikers need to hike the trail that's right for them…
---
I miss my family and friends from Cali a lot. I also miss late-night business hours, hiking in the Sierra Nevada, and house boating in Gold Country. But in Ohio, housing is cheaper, everything is green year-round, and we get glorious thunderstorms. In California, I lived in a place that was infested with black widow spiders.
---
The long distance hiker, a breed set apart,
from the likes of the usual pack.
he'll shoulder his gear, be hittin' the trail;
long gone, long 'fore he'll be back.
---
A significant fraction of thru-hikers reach katahdin, then turn around and start back to georgia. They just can't stop walking, which kind of makes you wonder.
---
At one time areas along the roadways [in the great smoky mountains national park] were carefully cut and trimmed, creating a lawnlike appearance. When a new superintendent was appointed, he ordered this practice stopped, which engendered a good deal of complain from visitors. The roadsides had been so attractive, they said, so neat, and now they had a rough and ungainly appearance. On this small but significant point the superintendent was adamant, however, and for exactly the right reason. Visitors to the park were reacting to a conventional, familiar, and deeply ingrained image of beauty – the trimmed and landscaped lawn. The goal should not be to stimulate that familiar response, but to confront the visitor with the less familiar setting of an unmanaged landscape. The mild shock of a scene to which there is no patterned response, and the engendering of an untutored personal response, is precisely what national park management should seek, even in such seemingly small details.
---
No matter how sophisticated you may be, a large granite mountain cannot be denied – it speaks in silence to the very core of your being.
---
I'm a huge camper, and love hiking and mountain biking.
---
There is nothing worse, after days of falling asleep by a babbling brook and waking up to a choir chirping birds, than to go inside a house with insulated walls and an obstructive roof. This torturous invention, a cage, a box, prevents you from seeing or hearing anything of natural importance. Make time to free yourself and find a bit of nature.
---
Walk away quietly in any direction and taste the freedom of the mountaineer. Camp out among the grasses and gentians of glacial meadows, in craggy garden nooks full of nature's darlings.
---
Hiking is the best workout! You can hike for three hours and not even realize you're working out. And, hiking alone lets me have some time to myself.
---
Set loose, a child would run down the paths, scramble up the rocks, lie on the earth. Grown-ups more often let their minds do the running, scrambling, and lying, but the emotion is shared. It feels good to be here.
---
It's a bridal veil waterfall. Folks come to cliff jump from the shorter waterfall beside it. I prefer a climb alongside to the top of the taller one. There are no trails to the top. I'll be with you the whole way." her hand warmed in his. "i'll catch you."
"but kiwis don't fly," charlotte said.
he laughed lightly with her reference to new zealand's iconic flightless bird…and the name they adopted for themselves. There was her sweetness. "you're well read. Nope, but I have mad skills.
---
Do not go where the path may lead, go instead where there is no path and leave a trail.
---
None of your knowledge, your reading, your connections will be of any use here: two legs suffice, and big eyes to see with. Walk alone, across mountains or through forests. You are nobody to the hills or the thick boughs heavy with greenery. You are no longer a role, or a status, not even an individual, but a body, a body that feels sharp stones on the paths, the caress of long grass and the freshness of the wind. When you walk, the world has neither present nor future: nothing but the cycle of mornings and evenings. Always the same thing to do all day: walk. But the walker who marvels while walking (the blue of the rocks in a july evening light, the silvery green of olive leaves at noon, the violet morning hills) has no past, no plans, no experience. He has within him the eternal child. While walking I am but a simple gaze.
---
You need mountains, long staircases don't make good hikers.
---
Mountain hikes instilled in me a life-long urge to get to the top of any inviting summit or peak.
---
I'm simple. I love hiking, going to the gym, doing some simple stuff. I love being outdoors, I love bike riding. Just stuff that's fun!
---
After finding the migration trail of the porcupine caribou, I began to cry uncontrollably, realizing that in this vast and untamed wilderness, I was like them: while being tortured by hellacious mosquitoes, soaked by torrential rains, and stalked by grizzlies and wolves, we were all trying to stay moving, and we slept and ate only to continue our forward progress.
---
Hiking is not escapism; it's realism. The people who choose to spend time outdoors are not running away from anything; we are returning to where we belong.
---
I'm really into rock climbing and hiking and stuff.
---
On a hike, the days pass with the wind, the sun, the stars; movement is powered by a belly full of food and water, not a noxious tankful of fossil fuels. On a hike, you're less a job title and more a human being. A periodic hike not only stretches the limbs but also reminds us: Wow, there's a big old world out there.
---
Hiking in undiscovered places is a lot of fun.
---
Within minutes my 115-mile walk through the desert hills becomes a thing apart, a disjunct reality on the far side of a bottomless abyss, immediately beyond physical recollection.
but it's all still there in my heart and soul. The walk, the hills, the sky, the solitary pain and pleasure—they will grow larger, sweeter, lovelier in the days to come, like a treasure found and then, voluntarily, surrendered. Returned to the mountains with my blessing. It leaves a golden glowing on the mind.
---
I love hiking out to Fallen Leaf Lake. It's a beautiful spot to go hike around, and it's at the base of one of the biggest mountains, Mount Tallac! And of course, I love to hit Sierra at Tahoe for snowboarding.
---
The old school of thought would have you believe that you'd be a fool to take on nature without arming yourself with every conceivable measure of safety and comfort under the sun. But that isn't what being in nature is all about. Rather, it's about feeling free, unbounded, shedding the distractions and barriers of our civilization—not bringing them with us.
---
Getting to the top is optional. Getting down is mandatory.
---
I enjoy hiking and skiing, like most Norwegians. In winter, there will be snow for months on end. In the summer, there are the long evenings to enjoy.
---
There are no shortcuts to any place worth going.
---
There are two kinds of climbers, those who climb because their heart sings when they're in the mountains, and all the rest.
---
If you face the rest of your life with the spirit you show on the trail, it will have no choice but to yield the same kind of memories and dreams.
---
Hiking in drag is hilarious!
---
How fabulous down was for those first minutes! down, down, down i'd go until down too became impossible and punishing and so relentless that i'd pray for the trail to go back up. Going down, I realized was like taking hold of the loose strand of yarn on a sweater you'd just spent hours knitting and pulling it until the entire sweater unraveled into a pile of string. Hiking the pct was the maddening effort of knitting that sweater and unraveling it over and over again. As if everything gained was inevitably lost.
---
Thousands of tired, nerve-shaken, over-civilized people are beginning to find out that going to the mountains is going home; that wildness is a necessity.
---
Great things are done when men and mountains meet; This is not done by jostling in the street.
---
I've got nothing against L.A. I think it is a really beautiful place. To be able to surf and get out in the Pacific Ocean every once in a while. The hiking, all of that is amazing. I love it there.
---
Mountains are not stadiums where I satisfy my ambition to achieve, they are the cathedrals where I practice my religion.
---
Everyone is an athlete. You want to go hiking, you want to go biking, you want to go jogging or for a walk? You're automatically an athlete.
---
Do you know how fast you are walking? … To get a close estimate, count the number of steps you take in a minute and divide by 30… :).
---
A crude meal, no doubt, but the best of all sauces is hunger.
---
The higher you climb on the mountain, the harder the wind blows.
---
What on earth would I do if four bears came into my camp? why, I would die of course. Literally sh*t myself lifeless.
---
What it is…is a place where I can return to myself. It's enough of a scramble to get to…that the energy expended is significant, and it translates into a change in my body chemistry and my psychological chemistry and my heart chemistry…
---
You never climb the same mountain twice, not even in memory. Memory rebuilds the mountain, changes the weather, retells the jokes, remakes all the moves.
---
When my father was posted to Malaysia, we'd take bacon-and-egg sandwiches in our backpacks and go hiking in the jungle or make bamboo rafts to sail down rivers.
---
I've been doing a lot of hiking, which I love.
---
If you are seeking creative ideas, go out walking. Angels whisper to a man when he goes for a walk.
---
I want to set a record. Not just any record, but an athletic record. One that everyone will know me for. One that my dad will be proud of. I don't know what it will be, but I will do it. I have a lot of weaknesses, but I have two critical strengths. I am stubborn and I am smart.
---
Climbing is as close as we can come to flying.
---
I love going out of my way, beyond what I know, and finding my way back a few extra miles, by another trail, with a compass that argues with the map…nights alone in motels in remote western towns where I know no one and no one I know knows where I am, nights with strange paintings and floral spreads and cable television that furnish a reprieve from my own biography, when in benjamin's terms, I have lost myself though I know where I am. Moments when I say to myself as feet or car clear a crest or round a bend, I have never seen this place before. Times when some architectural detail on vista that has escaped me these many years says to me that I never did know where I was, even when I was home.
---
I do as many fun activities as possible. A lot of hiking, beach bike riding and walking. And cardio barre, which is a dance-based workout at a ballet barre. It's a full-body workout for one hour on Monday, Wednesday and Friday in a studio.
---
I usually find myself hiking in a place that not a lot of people go hiking, just trying to find some solitude. I like being out in the middle of nowhere. Not always, but it's a good place to go to just reflect and think, and it's something I really enjoy.
---
Returning home is the most difficult part of long-distance hiking; you have grown outside the puzzle and your piece no longer fits.
---