Here's a selection of October Quotes, covering topics such as skies, Autumn and happy birthdays.
We really hope you enjoy these quotes and that they give you something to think about.
In October 1920 I went to Leeds as Reader in English Language, with a free commission to develop the linguistic side of a large and growing School of English Studies, in which no regular provision had as yet been made for the linguistic specialist.
---
October is crisp days and cool nights, a time to curl up around the dancing flames and sink into a good book.
---
After the first International Days of Protest in October, 1965, Senator Mansfield criticized the 'sense of utter irresponsibility' shown by the demonstrators.
---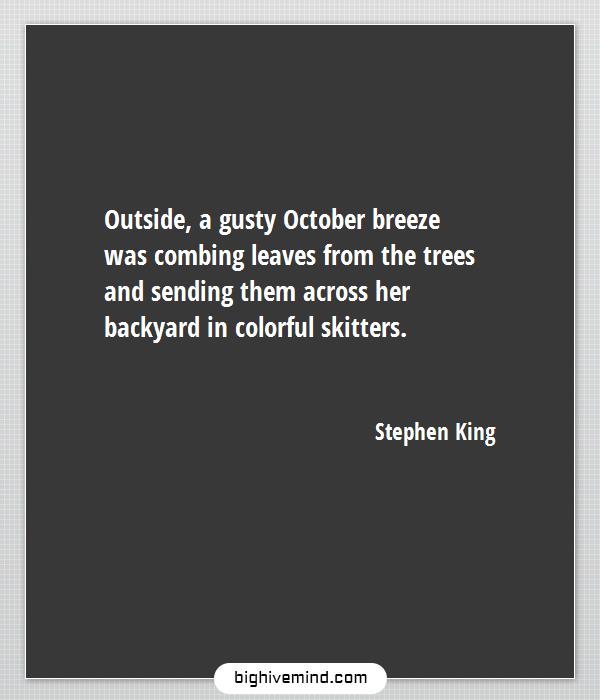 In october I confessed my love for her, and she allowed me to kiss her.
---
Bittersweet October. The mellow, messy, leaf-kicking, perfect pause between the opposing miseries of summer and winter.
---
It must be october, the trees are falling away and showing their true colors.
---
Late summer is perfect for classic mysteries – think of Raymond Chandler's hot Santa Anas and Agatha Christie's Mediterranean resorts – while big ambitious works of nonfiction are best approached in September and early October, when we still feel energetic and the grass no longer needs to be cut.
---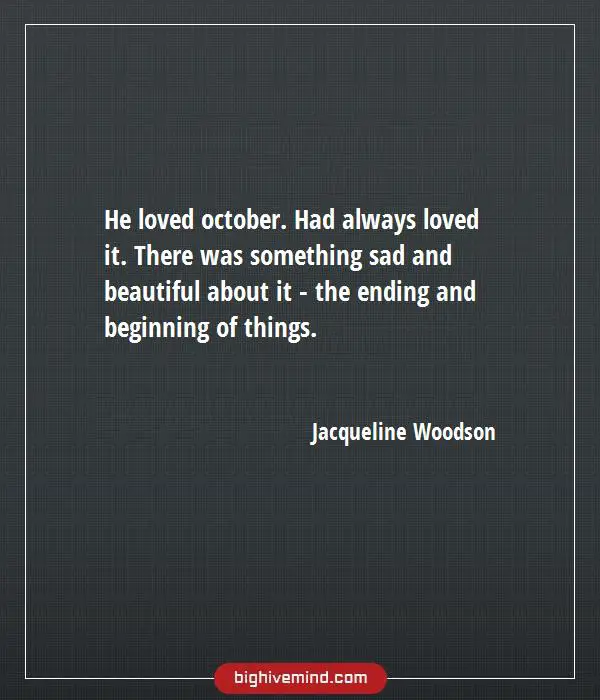 This is october for me: withdrawing into my own world, blocking out everything except the beauty of the season, my reflections and my relationship with god, I find that this is enough to sustain me through the long, cold, winter – and beyond…
---
In this experiment, made on the 9th of October, 1876, actual conversation, backwards and forwards, upon the same line, and by the same instruments reciprocally used, was successfully carried on for the first time upon a real line of miles in length.
---
I came to the University of Chicago on the morning of January 2, 1932. I wasn't yet a graduate of high school for another few months. And that was about the low point of the Herbert Hoover/Andrew Mellon phase after October of 1929. That's quite a number of years to have inaction.
---
I am falling for you sweet october.
---
There is something in october sets the gypsy blood astir: we must rise and follow her, when from every hill of flame she calls, and calls each vagabond by name.
---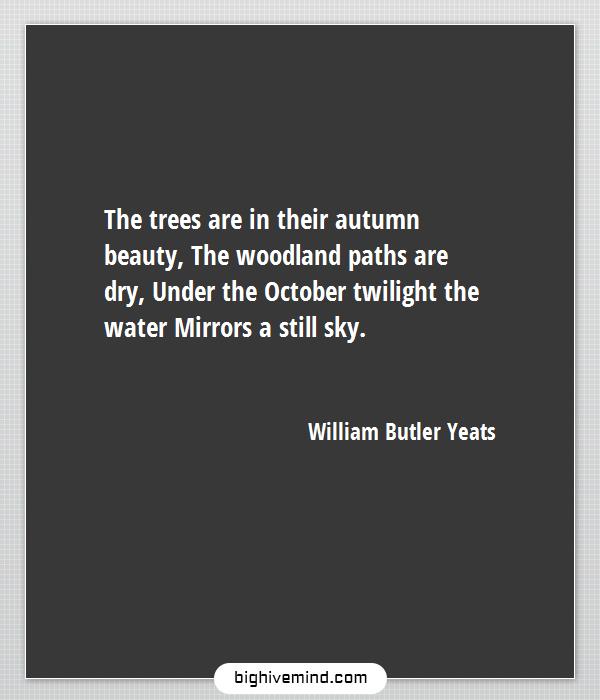 First of all, it was october, a rare month for boys.
---
October is nature's funeral month. Nature glories in death more than in life. The month of departure is more beautiful than the month of coming – October than May. Every green thin loves to die in bright colors.
---
What I really want from Music: That it be cheerful and profound like an afternoon in October.
---
Ah, lovely october, as you usher in the season that awakens my soul, your awesome beauty compels my spirit to soar like an leaf caught in an autumn breeze and my heart to sing like a heavenly choir.
---
O hushed October morning mild, Begin the hours of this day slow.Make the day seem to us less brief.
---
Like the assassination of JFK, everybody alive then can remember where they were that Doomsday Week of the Cuban Missile Crisis in October 1962. That Saturday, 27 October, was, and remains, the closest the world has come to nuclear holocaust – the blackest day of a horrendous week.
---
The stock market crash in October 1929 didn't destroy a particularly large amount of wealth or make people highly pessimistic. Rather, it made companies and consumers very unsure about future income, and so led them to stop spending as they waited for more information.
---
There is no season when such pleasant and sunny spots may be lighted on, and produce so pleasant an effect on the feelings, as now in October.
---
October has broken my heart before…
---
You ought to know that October is the first Spring month.
---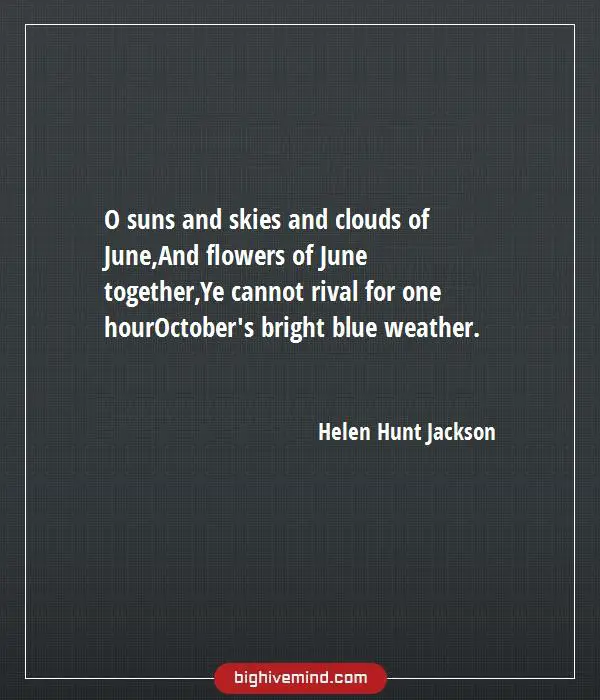 October is the fallen leaf, but it is also a wider horizon more clearly seen. It is the distant hills once more in sight, and the enduring constellations above them once again.
---
O hushed October morning mild, Begin the hours of this day slow, Make the day seem to us less brief… Retard the sun with gentle mist; Enchant the land with amethyst.
---
Autumn is a second spring when every leaf is a flower.
---
The sweet calm sunshine of October, nowWarms the low spot; upon its grassy mouldThe purple oak-leaf falls; the birchen boughDrops its bright spoil like arrow-heads of gold.
---
I was born October 5, 1957, on the South Side of Chicago, in the Woodlawn area, a neighborhood that hasn't changed much in forty-five years. Our house was on 66th and Blackstone, but the city tore it down when the rats took over.
---
October is a fine and dangerous season in America . . . a wonderful time to begin anything at all.
---
Outside, a gusty October breeze was combing leaves from the trees and sending them across her backyard in colorful skitters.
---
He loved october. Had always loved it. There was something sad and beautiful about it – the ending and beginning of things.
---
October baseball is what it's all about.
---
And close at hand, the basket stood With nuts from brown October's wood.
---
October's foliage yellows with his cold.
---
Let's spark up October and make it better than September.
---
October is a fine and dangerous season in America. a wonderful time to begin anything at all. You go to college, and every course in the catalogue looks wonderful.
---
Under the harvest moon,
When the soft silver
Drips shimmering
Over the garden nights,
Death, the gray mocker,
Comes and whispers to you
As a beautiful friend
Who remembers.
---
Sweet October, fill with praise,Rich and glowing as thy days,Every poet's heartfelt lays.
---
In October, a maple tree before your window lights up your room like a great lamp. Even on cloudy days, its presence helps to dispel the gloom.
---
Delicious autumn! My very soul is wedded to it.
---
You know, people talk about this being an uncertain time. You know, all time is uncertain. I mean, it was uncertain back in – in 2007, we just didn't know it was uncertain. It was – uncertain on September 10th, 2001. It was uncertain on October 18th, 1987, you just didn't know it.
---
The crickets still sing in october. And lilly, she's trying to bloom. Tho she's resting her head on the shoulder of death, she still shines by the light of the moon.
---
My goal is people associate November with COPD awareness month as much as they notice October with breast cancer and pink. That'd be a great thing if it happened. The fact that COPD kills more people than breast cancer and diabetes put together should raise some red flags.
---
The clear light that belongs to October was making the landscape radiant.
---
A boy who loved autumn.
a girl who was forever october.
---
October, tuck tiny candy bars in my pockets and carve my smile into a thousand pumpkins…. Merry October!
---
Delicious autumn! My very soul is wedded to it, and if I were a bird I would fly about the earth seeking the successive autumns.
---
Although I was born in april, i'm quite certain I was not fully awake until october.
---
I keep falling in love with october,
over and over again!.
---
Listen! the wind is rising, and the air is wild with leaves, we have had our summer evenings, now for October eves!
---
October, here's to you. Here's to the heady aroma of the frost-kissed apples, the winey smell of ripened grapes, the wild-as-the-wind smell of hickory nuts and the nostalgic whiff of that first wood smoke.
---
I take pride in knowing the NFL is pink in October, sparking conversations everywhere about breast cancer and prevention, all in the spirit of my mom.
---
In the entire circle of the year there are no days so delightful as those of a fine October.
---
October had tremendous possibility. The summer's oppressive heat was a distant memory, and the golden leaves promised a world full of beautiful adventures. They made me believe in miracles.
---
October is a symphony of permanence and change.
---
Older boys were allowed to beat younger ones at my 15th-century English boarding school, and every boy had to run a five-mile annual steeplechase through the sludge and rain of an October day, as horses do. We wrote poems in dead languages and recited the Lord's Prayer in Latin every Sunday night.
---
All things on earth point home in old October; sailors to sea, travellers to walls and fences, hunters to field and hollow and the long voice of the hounds, the lover to the love he has forsaken.
---
October is the opal month of the year. It is the month of glory, of ripeness. It is the picture-month.
---
October arrives in a swirl of fragrant blue leaf smoke, the sweetness of slightly frosted MacIntosh apples, and little hard acorns falling. We are in the midst of cool crisp days, purple mists, and Nature recklessly tossing her whole palette of dazzling tones through fields and woodlands.
---
Then in October, Indian Summer, the air turned so soft, the sunlight so fragile, and each day's loveliness so poignantly doomed that even self-ignorance and restlessness felt like profound states of being, and he just wandered the empty beaches and misty headlands in a state of serene confusion and awe.
---
I have come to regard November as the older, harder man's October. I appreciate the early darkness and cooler temperatures. It puts my mind in a different place than October. It is a month for a quieter, slightly more subdued celebration of summer's death as winter tightens its grip.
---
October, baptize me with leaves! swaddle me in corduroy and nurse me with split pea soup. October, tuck tiny candy bars in my pockets and carve my smile into a thousand pumpkins. O autumn! o teakettle! o grace!.
---
October turned my maple's leaves to gold;The most are gone now; here and there one lingers;Soon these will slip from out the twig's weak hold,Like coins between a dying miser's fingers.
---
And so by the fifteenth century, on October 8, the Europeans were looking for a new place to try to get to, and they came up with a new concept: the West.
---
I'm so glad I live in a world where there are Octobers. It would be terrible if we just skipped from September to November, wouldn't it?
---
I wanted to be the best street fighter in Houston, Texas. And I thought if I got a trophy or two, I'd go back home, and everyone would be afraid of me. I had one fight in '67, the first one. In '68 of October, I was an Olympic gold-medalist, a dream come true, with a total of 25 boxing matches.
---
I wish that every day was saturday and every month was october.
---
The trees are in their autumn beauty, The woodland paths are dry, Under the October twilight the water Mirrors a still sky.
---
October proved a riot a riot to the senses and climaxed those giddy last weeks before halloween.
---
October was always the least dependable of months … full of ghosts and shadows.
---
Chicago is an october sort of city even in spring.
---
I didn't realize it was October until I saw the Chicago Cubs choking.
---
O'er hill and field October's glories fade;
O'er hill and field the blackbirds southward fly;
The brown leaves rustle down the forest glade,
Where naked branches make a fitful shade,
And the lost blooms of Autumn withered lie.
---
October is the fallen leaf, but it is also a wider horizon more clearly seen.
---
When my son was little, we mothers always did the Halloween parties, and I would wear my orange-and-black Chanel. It comes in handy on October 31. I'm the chicest pumpkin around.
---
O suns and skies and clouds of June,And flowers of June together,Ye cannot rival for one hourOctober's bright blue weather.
---
October's poplars are flaming torches lighting the way to winter.
---
I'm so glad I live in a world where there are octobers.
---
This tree must be falling for me, as soon as I sat under it, it dropped its leaves.
oh sweet october!.
---
The end of the summer is not the end of the world. Here's to October…
---
Autumn serenades the breeze into dancing a cha cha cha; the mountains echo in the background. October sky never looked more charming nor the sublime leaves of the trees so graceful.
---
I'm an October baby, yes.
---
What happened in the missile crisis in October 1962 has been prettified to make it look as if acts of courage and thoughtfulness abounded. The truth is that the whole episode was almost insane.
---
October is a hallelujah! reverberating in my body year-round….
---
I have been younger in October than in all the months of spring.
---
She raised a sharp eyebrow at him. "vlad, no offense, but look at you. If you're not a vampire, you're clearly the most anemic goth i've ever seen."… "we believed you. Because that's what friends do."
pg267 october to vlad.
---