Here's a selection of Firefighter Quotes, covering topics such as volunteers, brotherhood, motivation, inspiration and courage.
We really hope you enjoy these quotes and that they give you something to think about.
I have no ambition in this world but one, and that is to be a fireman. The position may, in the eyes of some, appear to be a lowly one; but we who know the work which the fireman has to do believe that his is a noble calling. Our proudest moment is to save lives. Under the impulse of such thoughts, the nobility of the occupation thrills us and stimulates us to deeds of daring, even of supreme sacrifice.
---
Nothing cries out for compassion, concern, and danger as a fire engine screams by carrying firefighters ready to do battle without flinching from any demand.
---
One thing that's great about firefighters: If they don't have the equipment they desperately need, they don't have the help, they don't care. They'll do it on their own.
---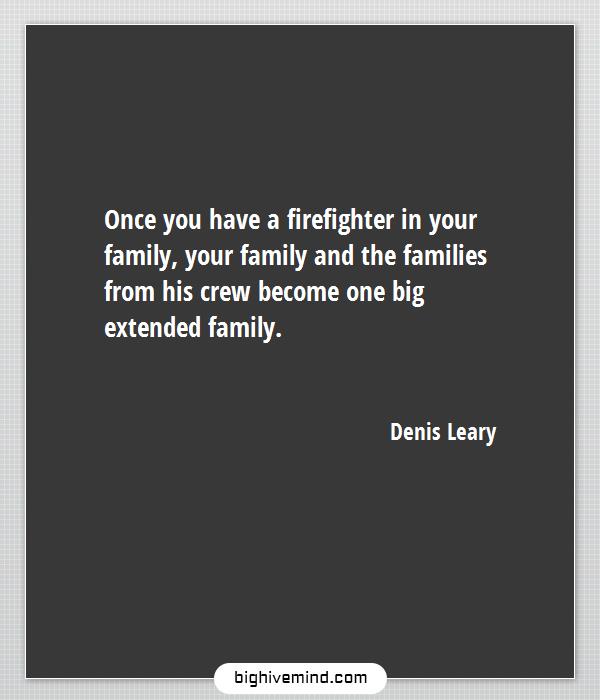 Firemen are going to get killed. When they join the department they face that fact. When a man becomes a fireman his greatest act of bravery has been accomplished. What he does after that is all in the line of work. They were not thinking of getting killed when they went where death lurked. They went there to put the fire out, and got killed. Firefighters do not regard themselves as heroes because they do what the business requires.
---
As the member of a firefighter family myself, supporting the widowed families of rescue workers is an important, personal cause of mine.
---
Those two songs condense the two albums. They also show what the audiences wanted. I was desperate to keep the band together and find something that the public would like.
---
I wanted to buy a candle holder, but the store didn't have one. So I got a cake.
---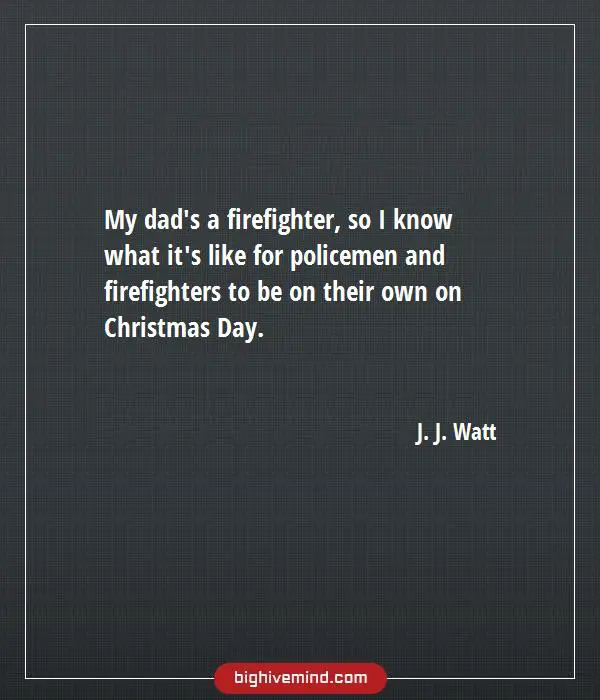 I'm so proud of Maryland's firefighters, risking their lives to protect others, but we need to protect our protectors with the best equipment training and resources.
---
Our firefighters are our last line of defense, baby.
---
The people that are serving you gas, the people that are in your restaurants serving you, the firefighters, and police officers are members of the gay and lesbian community. They're members of our broader community.
---
Police officers, firefighters, EMTs they are all out there every single day literally just a phone call away for anyone who needs them.
---
Courage is not the absence of fear…
---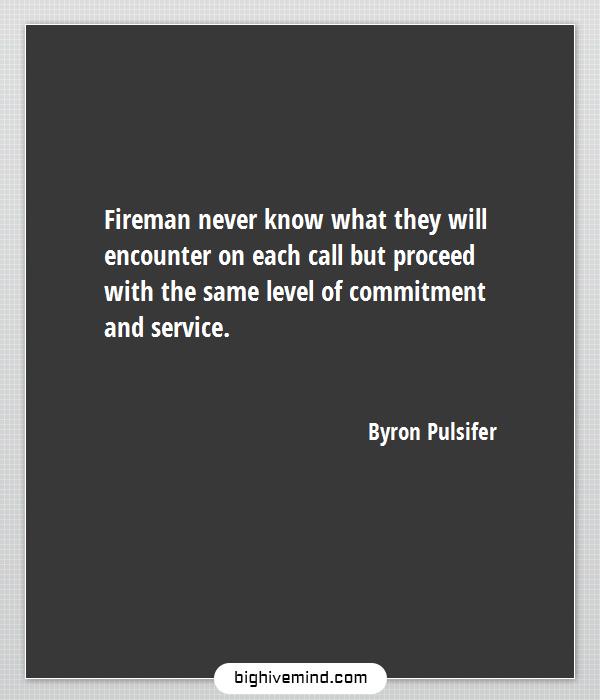 I used to go and flatten my nose against that window and absorb all I could of his art. It changed my life. I saw art then as I wanted to see it.
---
Firefighters are essential to the safety and security of our local communities. We owe it to these men and women to provide them with better training and equipment so they can do their jobs more effectively and safely.
---
Being a firefighter is as close as you get to being a modern day soldier in your home country.
---
That's the life, being a fireman. It sure beats being a ballplayer. I'd rather be a fireman.
---
Having dealt with a lot of real firefighters, I know there are a lot of guys who, for lack of a better term, become addicted to the grief because it has kept them connected to these guys that they felt responsible for having lost.
---
Once you have a firefighter in your family, your family and the families from his crew become one big extended family.
---
Firefighter is one of the few jobs kind enough to warn me away by containing two words I'm not interested in, unlike the deceptive bookkeeper.
---
My dad's a firefighter, so I know what it's like for policemen and firefighters to be on their own on Christmas Day.
---
The special ops guys and the firefighters around the world have this great phrase. They say, 'Slow is smooth, and smooth is fast,' and that is true. Everything I've accomplished in my life has been because of that attitude.
---
It's an interesting thing to play the heroes of our society, like cops and firefighters. They're the basic heroes that, as little boys and little girls, you look up to as the first heroes of your small, specific community.
---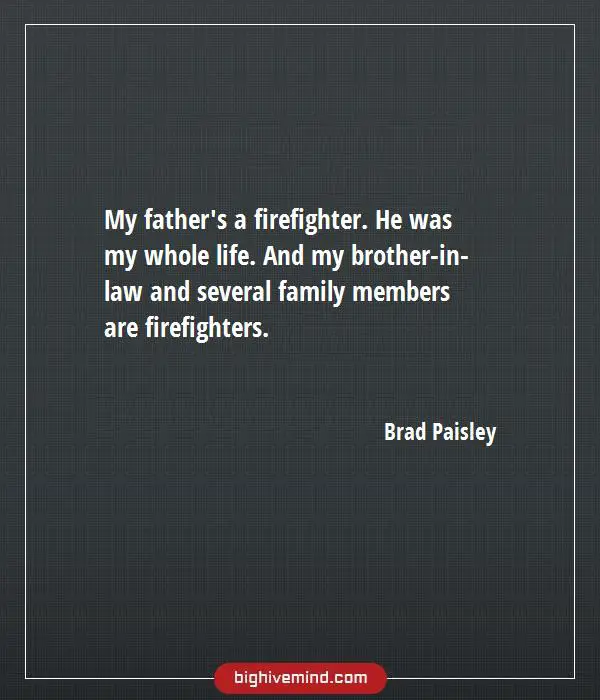 Every firefighter knows that he is always susceptible to this type of tragedy. They go to work every day knowing that they are doing something so positive, that people really respect them and appreciate them.
---
It would be great if firefighters across the country had the guarantee that they would be making enough money to support their family right from the get-go, but that's not the case.
---
My father's a firefighter. He was my whole life. And my brother-in-law and several family members are firefighters.
---
The innovative leader has to be an arsonist and a firefighter.
---
Fireman never know what they will encounter on each call but proceed with the same level of commitment and service.
---
In fire you can plan everything out to the minute, and a minute before that everything changes.
---
When you think of the sacrifices our firefighters make, think about the service of soldiers in foreign lands and listen to their lives, you have to be careful that whatever you do, don't cast a shadow on what these great people do.
---
A good firefighter knows how, an educated firefighter knows why.
---
Writing became an obsessive compulsive habit but I had almost no money so I thought about being an urban firefighter and having lots of free time in which to write or becoming an English teacher and thinking about books and writers on a daily basis. That swayed me.
---
What firefighters and people in our military and cops do is separate from what the rest of us do; basically these people say, 'I'm going to protect all these strangers.
---
Kids are always asked, What are you going to be when you grow up? I needed an answer. So instead of saying, a fireman, or a policeman, I said, a reporter.
---
I can think of no more stirring symbol of man's humanity to man than a fire engine.
---
But aloud the praises, and give the victor-crown. To our noble hearted Firemen, who fear not danger's frown.
---
Firefighter required to perform all the necessary task in order to control an emergency situation.
---
Public-sector union organisers have told me about how firefighters, police officers, and nurses can no longer afford to live in the cities they serve and protect.
---
We can no longer tolerate losing one more innocent child or putting one more firefighter at risk in a fire that could have been prevented at the cost of pennies by making a couple simple changes to the construction of a cigarette.
---
My charity is in the business of helping firefighters in any way that we can. For instance, after 9/11 we were the second-fastest charity to raise and distribute money to the widows and surviving family members of the 343 firefighters who died that day.
---
I wanted to do everything. I wanted to be a pilot. I wanted to be a secret agent. I wanted to be a fireman and a doctor, all that. So I related that through movies and stuff.
---
Firefighters, police officers and state troopers place themselves in harm's way every day, every week, every year.
---
How important it is for us to recognize and celebrate our heroes and she-roes!
---
Firemen never die, they just burn forever in the hearts of the people whose lives they saved.
---
The hero is commonly the simplest and obscurest of men.
---
With better gear, firefighters no longer surround and drown a fire they go in.
---
Let me get this straight: I can't defend the military because I didn't serve. So does that mean I can't support police officers or firefighters because I've never been one? How about teachers? Can I support them since I've never taught a class before?
---
You have to do something in your life that is honorable and not cowardly if you are to live in peace with yourself, and for the firefighter it is fire.
---
A fireman banged on my back door, and I couldn't breathe. It scared me to death. I came out the back door, and it just took my breath.
---
My cousin Jerry Lucey and five other firefighters died in a warehouse fire in Worcester, Mass. – my hometown – right in the middle of our old neighborhood downtown when a homeless couple started a fire to keep warm and the entire building went up. My cousin died trying to save homeless people who had already left the building.
---
Police and firefighters are great, but they don't create wealth. They protect it. That's crucial. Teaching is a wonderful profession. Teachers help educate people to become good citizens so that citizens can then go create wealth. But they don't create the wealth themselves.
---
My heroes are those who risk their lives every day to protect our world and make it a better place – police, firefighters and members of our armed forces.
---
True courage is being afraid, and going ahead and doing your job anyhow, that's what courage is.
---
I love race car drivers, I love gymnastics, I love UFC, I love police officers, I love firefighters. I just try to give them the same enjoyment they give me.
---
Let me completely condemn these sickening scenes; scenes of looting, scenes of vandalism, scenes of thieving, scenes of people attacking police, of people even attacking firefighters. This is criminality pure and simple and it has to be confronted.
---
Remember the hours after September 11th when we came together as one to answer the attack against our homeland. We drew strength when our firefighters ran upstairs and risked their lives so that others might live; when rescuers rushed into smoke and fire at the Pentagon; when the men and women of Flight 93 sacrificed themselves to save our nation's Capitol; when flags were hanging from front porches all across America, and strangers became friends. It was the worst day we have ever seen, but it brought out the best in all of us.
---
There are terrible, terrible memories of September 11th, things that I saw, people that I lost, the devastation, the identification of bodies. I mean, all these memories come back to you at different times. And then the other side of it this tremendous response with the firefighters and the police officers saving people, the rescue workers.
---
Why young men from the country become firefighters is hard to explain to people who are not from the country. For most of us, it's not about the rush, which fades with time, or the paycheck. We could earn more working for the railroad or a car dealership. I figure it's about the land.
---
Firefighters are some of the most selfless public servants you will ever encounter.
---
I talked to General Downer about some of the funding about the National Guard and some of the civil defense workers, the firefighters, the police officers, and the way that FEMA is making them spend that money. We have got a problem there.
---
Delaware's firefighters put their lives in jeopardy every day in an effort to keep families safe.
---
In addition to my cousin, there were 30 or 40 guys I grew up with who became firefighters as well. So, I've been around firefighters all my life.
---
In the 9/11 Commission Report, one of the things they point out is that firefighters saved just about everybody below the fire. I don't think they realize how proud the fire department is of that. Because, conceivably, that's all they could have done. They could not have gotten above that fire.
---
If Prometheus was worthy of the wrath of heaven for kindling the first fire upon earth, how ought all the gods honor the men who make it their professional business to put it out?
---
They were involved in a firefight and felt they were surrounded. Whether they escaped from that and were fleeing and went in the wrong direction, we don't know.
---
I never met anybody in my life who says, I want to be a critic. People want to be a fireman, poet, novelist.
---
Firefighters are indispensable foot soldiers here at home.
---
When a man becomes a fireman his greatest act of bravery has been accomplished. What he does after that is all in the line of work.
---
Firefighters don't go on strike.
---
Fire itself is very beautiful, and there's an attachment to fire that firefighters have.
---
Both my mother and father were very supportive of any career move any of us wanted to make.
---
Athletes and musicians make astronomical amounts of money. People get paid $100 million to throw a baseball! Shouldn't we all take less and pass some of that money onto others? Think about firefighters, teachers and policemen. We should celebrate people that are intellectually smart and trying to make this world a better place.
---