Here's a selection of Tim Burton Quotes, covering topics such as love, the cheshire cat, movies, life, darkness and nights before christmas.
We really hope you enjoy these quotes and that they give you something to think about.
(To Victor, after he calls her "Miss Everglot) Perhaps, in view of the circumstances…you could call me Victoria. *smiles*
---
But she knows she has a curse on her,
a curse she cannot win.
for if someone gets too close to her,
the pins stick further in.
---
Visions are worth fighting for. Why spend your life making someone else's dreams?
---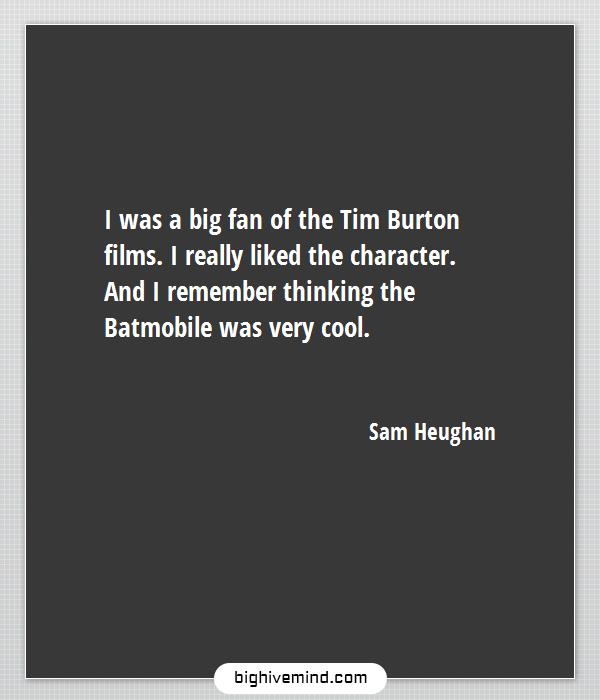 When you're talking about Tim Burton, you're talking about a guy that has such a visual sense, an aesthetic, a storytelling style. It's like he's got his own genre.
---
I am definitely a Tim Burton fan. I had seen 'Edward Scissorhands' enough times to know it by heart. That's exciting: to work on something you feel like you really get.
---
I've always been more comfortable making my decisions from the subconscious level, or more emotionally, because I find it is more truthful to me; Intellectually, I don't think like that because I get uncomfortable.
---
Tim Burton is an artist who has had a huge influence on me. I definitely share his sensibility. It's a joyful approach to darkness.
---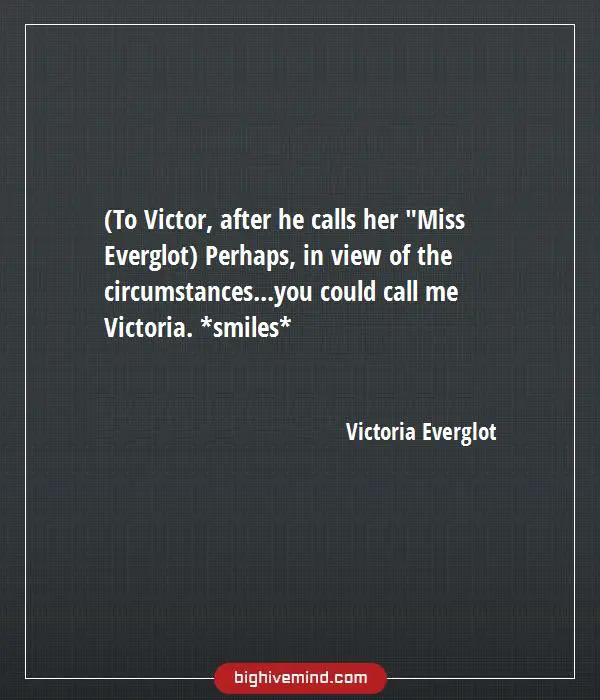 I try not to go back in retrospect and say oh, I shouldn't have done this or shouldn't have done that. You make your decisions and you live by them.
---
I am not a big technology person. I don't go on the Internet really much at all. Drawing is like a zen thing; it's private, which in this day and age is harder to come by.
---
It's hard to find logic in things sometimes. That's why I can't analyze things too much, because it often doesn't make much sense.
---
I don't know what it was, maybe the movie theaters in my immediate surrounding neighbourhood in Burbank, but I never saw what would be considered A movies.
---
My diagnosis," he said
"for better or worse,
is that your son is the result
of an old pharaoh's curse.
---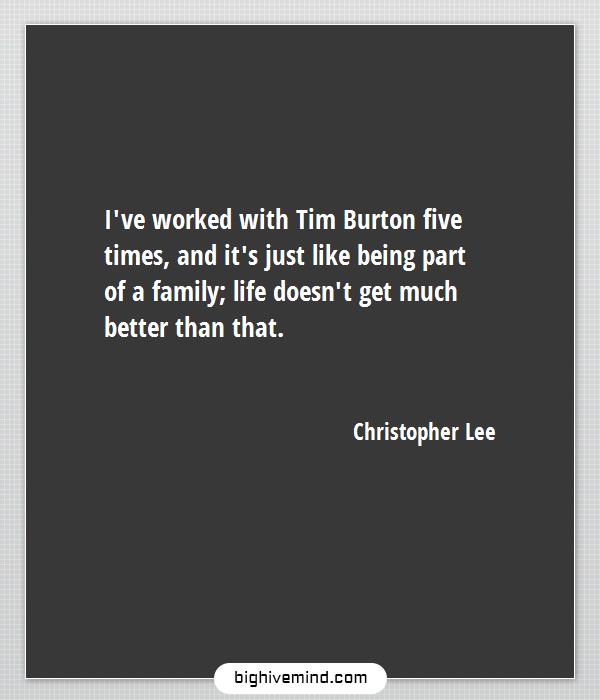 It's good as an artist to always remember to see things in a new, weird way.
---
I was a bride. My dreams were taken from me. But now – now I've stolen them from someone else. I love you, Victor, but you are not mine.
---
When I'm done with my last album, I want to make a movie with Tim Burton telling the story of all of the albums connected. That's my biggest dream.
---
*crawls out from underneath table, after all the dead people interrupt the wedding reception* That's it. We're going to take whatever money we can and get out of here.
---
I thought 'Charlie And The Chocolate Factory' was terrible. I'm a big fan of Johnny Depp and Tim Burton, so I don't know what went wrong with that.
---
When you're making a movie, it's a very interiorised world.
---
Stick boy liked match girl,
he liked her a lot.
he liked her cute figure,
he thought she was hot.
but could a flame ever burn
for a match and a stick?
it did quite literally;
he burned up quick.
---
I've worked with Tim Burton five times, and it's just like being part of a family; life doesn't get much better than that.
---
Don't worry about how you 'should' draw it. Just draw it the way you see it.
---
When I was a kid I always wanted to be a mad scientist. I don't know… a regular scientist just was no one.
---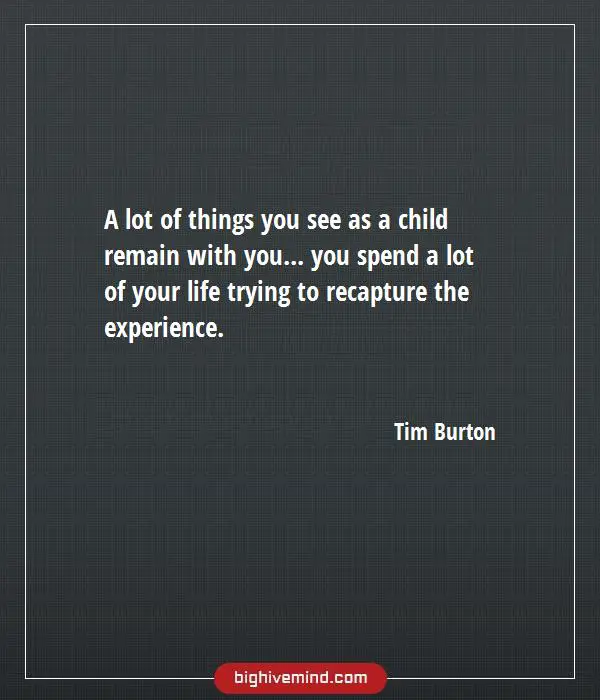 Most people say about graveyards: "Oh, it's just a bunch of dead people. It's creepy." But for me, there's an energy to it that it not creepy, or dark. It has a positive sense to it.
---
If I hadn't just been sitting in it, I'd say you've lost your mind.
---
I went and met with Tim Burton for the role of Batman. But I just couldn't really take it seriously; any man who wears his underpants outside his pants just cannot be taken seriously.
---
I was a big fan of the Tim Burton films. I really liked the character. And I remember thinking the Batmobile was very cool.
---
Isn't the view beautiful? It takes my breath away. Well, it would if I had any.
---
I did some sports. It was a bit frustrating. I wasn't the greatest sports person.
---
I'm a happy-go-lucky manic-depressive. It does get very deep and dark for me, and it gets scary at times when I feel I can't pull out of it. But I don't consider myself negative-negative. I'm positive-negative.
---
I don't consider 'American Rose' to be a biography so much as a microcosm of 20th-century America, told through Gypsy's tumultuous life – it's 'Horatio Alger meets Tim Burton.'
---
When I was growing up, Dr. Seuss was really my favorite. There was something about the lyrical nature and the simplicity of his work that really hit me.
---
From that moment on, batman returns was destined to become what it ultimately turned out to be: un film de tim burton…with batman in it.
---
Anybody with artistic ambitions is always trying to reconnect with the way they saw things as a child.
---
Son, are you happy?
i don't mean to pry,
but do you dream of heaven?
have you ever wanted to die?.
---
Mad matter: "have I gone mad?"
alice: "i'm afraid so. You're entirely bonkers. But i'll tell you a secret. All the best people are.
---
My favorite movies are from directors that have a vision, like Wes Anderson or Tim Burton.
---
I never saw Frankenstein or King Kong or the Creature from the Black Lagoon as bad guys. They were the good guys.
---
I'm being photographed, worrying about my hair – and yet here I am, I've directed a feature film, why do I care about the way I look? Who cares? Does Tim Burton care? Does Joel Coen?
---
I've always been misrepresented. You know, I could dress in a clown costume and laugh with the happy people but they'd still say i'm a dark personality.
---
I always wonder why some people see things as weird and some people don't.
---
I like the challenge of doing things you know that you maybe shouldn't do.
---
I'm gonna go live in a cave, just completely live in my interior world.
---
How many chances to you get to make a musical about a serial killer? The minute Tim Burton approached me, I was in.
---
Johnny Depp is somebody I really love working with because he doesn't care how he looks. He wants to become weird characters and I like that.
---
I was very lucky because Tim Burton really gave me a career. I don't think Hollywood would've known what to do with me. If I hadn't done 'Beetlejuice,' I think I would've just gone back to my school.
---
I think a lot of kids feel alone and slightly isolated and in their own world.
---
Everything in this room is edible. Even i'm edible. But, that would be called canibalism. It is looked down upon in most societies.
---
Tim also has enough confidence so that it always looks like a Tim Burton film, but it really is collaborative. You're allowed to do it your way but of course he's always going to choose his way.
---
But first! A toast, to Emily. Always the bridesmaid, never the bride! Tell me my dear, can a heart still break once it's stopped beating?
---
If youve ever had that feeling of loneliness, of being an outsider, it never quite leaves you. You can be happy or successful or whatever, but that thing still stays within you.
---
They took a baseball bat
and whacked open his head.
mummy boy fell to the ground;
he finally was dead.
inside of his head
were no candy or prizes,
just a few stray beetles
of various sizes.
---
I've got a… I've got a dwarf, and I'm not afraid to use him!
---
Whenever anybody asked me, 'Who is your number one director to work with?' I would always say Tim Burton.
---
You're entirely bonkers. But i'll tell you a secret. All the best people are.
---
I was betrothed, once along time ago but tragedy bestowed my love.
---
I get so tired of people saying, 'Oh, you only make fantasy films and this and that', and I'm like, 'Well no, fantasy is reality', that's what Lewis Carroll showed in his work.
---
First of all, you make a movie that you want to see and then you just hope for the best.
---
Live people ignore the strange and unusual. I myself, am strange and unusual.
---
My name is jimmy,
but my friends just call me
the hideous penguin boy.
---
There are not many A-list directors who get to make the movies they want to make. I know two: Woody Allen and Tim Burton. Two different textures, but both get to do what they want, and that's rare.
---
Maybe it's just in America, but it seems that if you're passionate about something, it freaks people out. You're considered bizarre or eccentric. To me, it just means you know who you are.
---
[Bonejangles creeps up behind Finnis; his eye falls into Finnis' bowl] There's an eye in me soup.
---
It's great when you know somebody and they keep surprising you.
---
I spent so long in the darkness….I'd almost forgotten how beautiful the moonlight is!
---
But she knows she has a curse on her, a curse she cannot win. For if someone gets too close to her, the pins stick further in.
---
There's something quite exciting when you have a history with somebody and you see them do new and different things.
---
A lot of things you see as a child remain with you… you spend a lot of your life trying to recapture the experience.
---
Die, die, we all pass away. Don't wear a frown 'cause it's really okay. You might try and hide, and you might and pray, but we all end up the remains of the day.
---
These last few years, working with Tim Burton, it's been the best time I've ever had.
---
I can't remember any dreams in my life. There's so much strange in real life that it often seems like a dream.
---
It's true, Victor married a dead woman! I saw her. We need to save him.
---
What a story it is. A tragic tale of romance, passion, and murder most foul.
---
I've found that the people who play villains are the nicest people in the world and people who play heroes are jerks.
---
When you're on film or TV, essentially you're in front of the camera. Unless it's a Tim Burton thing, the desire is to be real and grounded.
---
I always had trouble with the bruce wayne in the comic book," burton said. "i mean, if this guy is so handsome, so rich, and so strong, why the f*ck is he putting on a batsuit?.
---
I never really consider myself as a great artist. I just always like to draw.
---
I would love to work with Tim Burton. I think we would be very good together.
---
Son, are you happy? I don't mean to pry, but do you dream of Heaven? Have you ever wanted to die?
---
I was never interested in what everybody else was interested in. I was very interiorized. I always felt kind of sad.
---
I never really got nightmares from movies. In fact, I recall my father saying when I was three years old that I would be scared, but I never was.
---
And I jack, the pumpkin king, have grown so tired of the same old thing…
---
Oh, Hildegarde, what if….what if Victor and I don't….like each other?
---
I am the shadow on the moon at night/Filling your dreams to the brim with fright.
---
Excuse me. You don't know me, but I used to live in your dead mother.
---
People told me I couldn't kill nicholson, so I cast him in two roles and killed him off twice.
---