Whether the best Batman for you was Val Kilmer, Michael Keaton, George Clooney or
Christian Bale
, you are sure to enjoy the following quotes from his movies. Take a look even if you aren't a fan of the winged superhero because we have also gathered the most popular bits of dialogue from such iconic super-villains as the Joker and Bane as well as other characters in the Gotham universe.
It's not who I am underneath, but what I do that defines me.
---
This is what happens when an unstoppable force meets an immovable object. You truly are incorruptible, aren't you? You won't kill me out of some misplaced sense of self-righteousness. And I won't kill you because you're just too much fun. I think you and I are destined to do this forever.
---
He's the hero Gotham deserves, but not the one it needs right now. So we'll hunt him. Because he can take it. Because he's not our hero. He's a silent guardian, a watchful protector. A dark knight.
---
Don't talk like one of them. You're not! Even if you'd like to be. To them, you're just a freak, like me! They need you right now, but when they don't, they'll cast you out, like a leper! You see, their morals, their code, it's a bad joke. Dropped at the first sign of trouble. They're only as good as the world allows them to be. I'll show you. When the chips are down, these… these civilized people, they'll eat each other. See, I'm not a monster. I'm just ahead of the curve.
---
When Gotham is ashes, you have my permission to die.
---
You are as precious to me as you were to your own mother and father. I swore to them that I would protect you, and I haven't.
---
The night is darkest just before the dawn. And I promise you, the dawn is coming.
---
I knew Harvey Dent. I was his friend. And it will be a very long time before someone… Inspires us the way he did. I believed in Harvey Dent.
---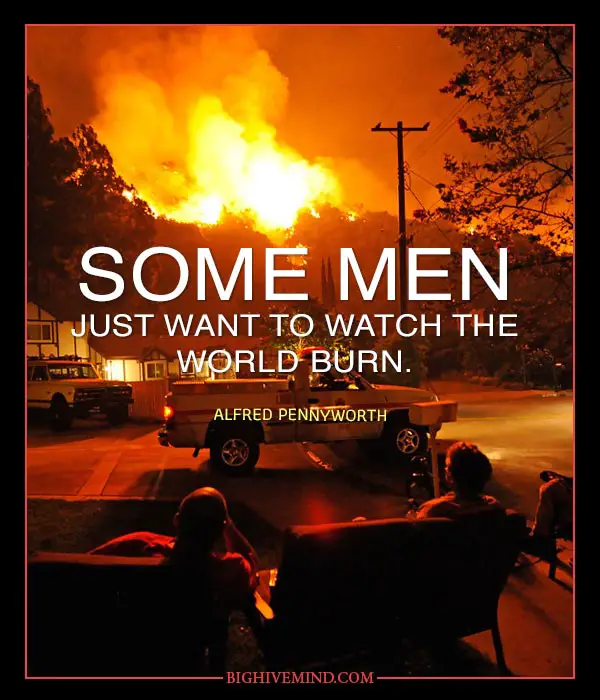 Some men just want to watch the world burn.
---
Drive sports cars, date movie stars, buy things that are not for sale… who knows, Master Wayne? You start pretending to have fun, you might even have a little by accident.
---
Bats frighten me. It's time my enemies share my dread.
---
Perhaps the knife was too slow.
---
Tell me where the trigger is, then you have my permission to die.
---
You'll hunt me. You'll condemn me. Set the dogs on me. Because that's what needs to happen. Because sometimes truth isn't good enough. Sometimes people deserve more. Sometimes people deserve to have their faith rewarded.
---
People need dramatic examples to shake them out of apathy and I can't do that as Bruce Wayne. As a man I'm flesh and blood, I can be ignored, I can be destroyed, but as a symbol, as a symbol I can be incorruptible. I can be everlasting.
---
It's not who I am underneath, but what I do that defines me.
---
I'm whatever Gotham needs me to be.
---
Not everything. Not yet.
---
I won't kill you, but I don't I have to save you.
---
A hero can be anyone, even a man doing something as simple and reassuring as putting a coat on a young boy's shoulders to let him know the world hadn't ended.
---
It's not about what I want. It's about what's fair!
---
The public likes you. That's the only reason that this might fly, but it's all on you. They're all gonna come after you, now. Politicians, journalists, cops. Anyone whose wallet is about to get tight. Are you up for it? You better be. Cause if they get anything on you, those criminals are put back on the streets, followed swiftly by you and me.
---
Because we have to chase him. Because he's the hero Gotham deserves, but not the one it needs right now, so we'll hunt him. Because he can take it, because he's not a hero. He's a silent guardian, a watchful protector, a Dark Knight.
---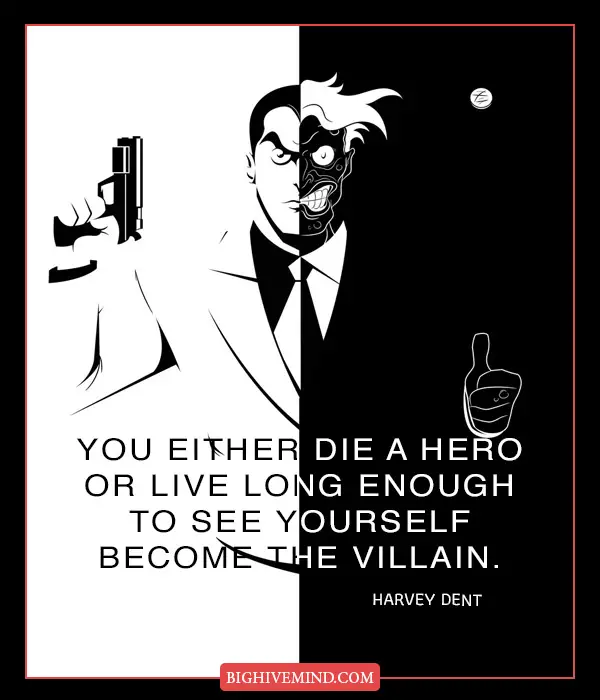 You either die a hero or live long enough to see yourself become the villain.
---
Gambol: You're just a freak in a cheap suit.
Joker: The suit, it ain't cheap, you oughta know you bought it.
---
Carbon fibre, 28 calibre, Made in China, if you want to kill a public servant Mr Maroni i recommend you buy American.
---
Alfred: Shall you be taking the Batpod sir?
Batman/Bruce Wayne: In the middle of the day Alfred?
Alfred: The Lamborghini then? Much more subtle.
---
Batman/Bruce Wayne: That wasn't exactly what I had in mind when, uh, I said I wanted to inspire people.
Alfred: I know.
---
Batman/Bruce Wayne: Targeting me won't get their money back. I knew the mob wouldn't go down without a fight, but this is different. They crossed the line.
Alfred: You crossed the line first, sir. You squeezed them, you hammered them to the point of desperation. And in their desperation, they turned to a man they didn't fully understand.
---
This city just showed you that it's full of people ready to believe in good.
---
Gotham, take control… take control of your city. Behold, the instrument of your liberation! Identify yourself to the world!
---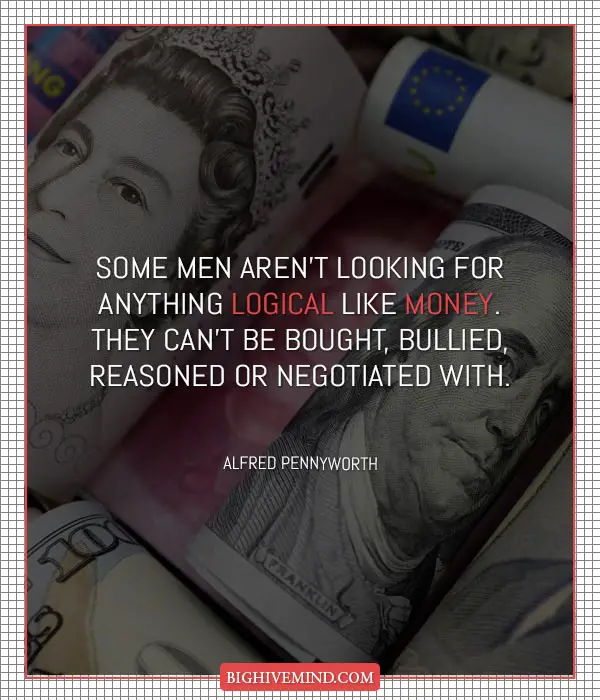 Some men aren't looking for anything logical like money. They can't be bought, bullied, reasoned or negotiated with.
---
It's not who we are underneath, but what we do that defines us.
---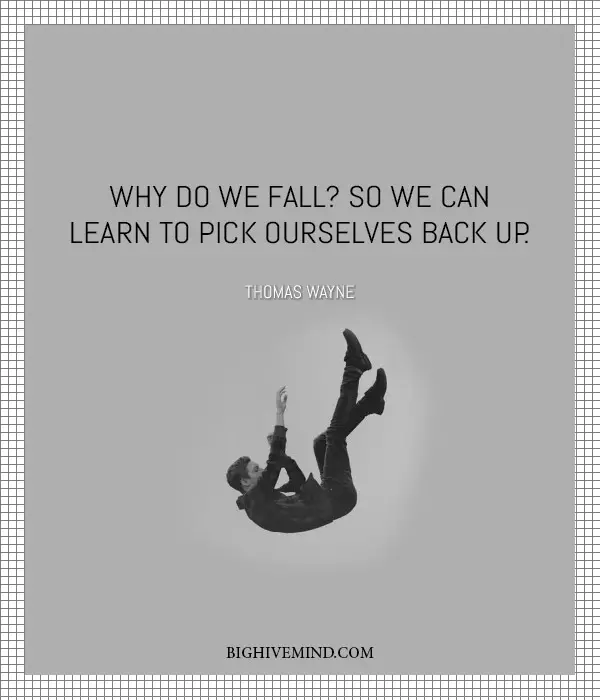 Why do we fall? So we can learn to pick ourselves back up.
---
Why so serious?
---
You're not the devil. You're practice
---
You thought we could be decent men in an indecent time! But you were wrong. The world is cruel.
---
It is a far, far better thing that I do than I have ever done; it is a far, far better rest that I go to than I have ever known.
---
Speak of the devil and he shall appear.
---
Now's not the time for fear. That comes later.
---
The first time I stole so that I wouldn't starve, I lost many assumptions about the simple nature of right and wrong. And when I traveled, I learned the fear before a crime and the thrill of success. But I never became one of them.
---
A criminal is not complicated. What you really fear is inside yourself. You fear your own power. You fear your anger, the drive to do great or terrible things.
---
Justice is balance. You burned my house and left me for dead. Consider us even.
---
Bruce…if you turn yourself in, they're not gonna let us be together.
---
You care about justice? Look beyond your own pain, Bruce. This city is rotting. People talk about the depression as if it's history. It's not. Things are worse than ever down here.
---
They told me there was nothing out there, nothing to fear. But the night my parents were murdered I caught a glimpse of something. I've looked for it ever since. I went around the world, searched in all the shadows. And there is something out there in the darkness, something terrifying, something that will not stop until it gets revenge… Me.
---
You cannot lead these men unless you are prepared to do what is necessary to defeat evil.
---
Bats may be, but even for billionaire playboys, three o'clock is pushing it. The price of leading a double life, I fear. Your theatrics made an impression.
---
A vigilante is just a man lost in the scramble for his own gratification. He can be destroyed, or locked up. But if you make yourself more than just a man, if you devote yourself to an ideal, and if they can't stop you, then you become something else entirely.
---
You have learned to bury your guilt with anger. I will teach you to confront it, and to face the truth. You know how to fight six men. We can teach you how to engage six hundred. You know how to disappear. We can teach you to become truly invisible.
---