The regret of my life is that I have not said 'I love you' often enough.
---
I have never regretted my silence. As for my speech, I have regretted it over and over again.
---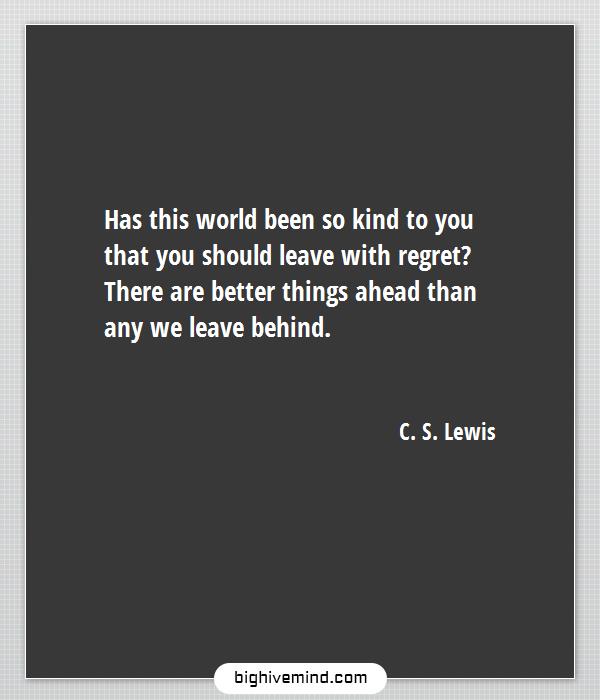 At the end of your life, you will never regret not having passed one more test, not winning one more verdict or not closing one more deal. You will regret time not spent with a husband, a friend, a child, or a parent.
---
It's not what your are, it's what you don't become that hurts.
---
Make it a rule of life never to regret and never to look back. Regret is an appalling waste of energy; you can't build on it; it's only good for wallowing in.
---
There are no words to express my sorrow and regret for the pain I have caused others by words and actions. To the people I have hurt, I am truly sorry.
---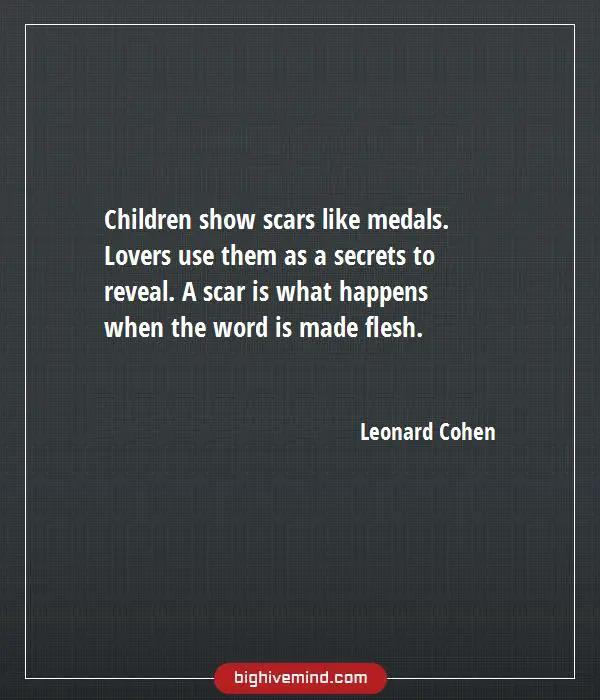 Life is too short, time is too precious, and the stakes are too high to dwell on what might have been.
---
When one door closes, another opens; but we often look so long and so regretfully upon the closed door that we do not see the one which has opened for us.
---
In history as in human life, regret does not bring back a lost moment and a thousand years will not recover something lost in a single hour.
---
Live with intention. Walk to the edge. Listen hard. Practice wellness. Play with abandon. Laugh. Choose with no regret. Appreciate your friends. Continue to learn. Do what you love. Live as if this is all there is.
---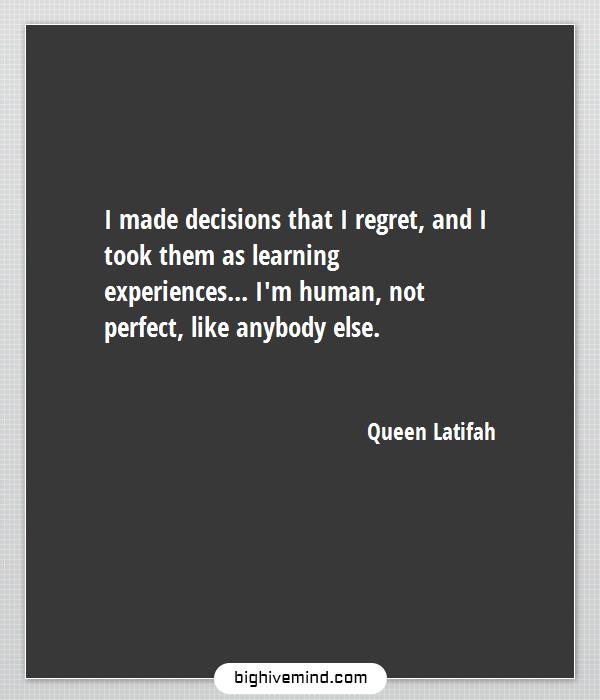 Don't waste your time in anger, regrets, worries, and grudges. Life is too short to be unhappy.
---
I regret those times when I've chosen the dark side. I've wasted enough time not being happy.
---
People seldom do what they believe in. They do what is convenient, then repent.
---
Never regret anything you have done with a sincere affection; nothing is lost that is born of the heart.
---
Nothing has a stronger influence psychologically on their environment and especially on their children than the unlived life of the parent.
---
We all do things we desperately wish we could undo. Those regrets just become part of who we are, along with everything else. To spend time trying to change that, well, it's like chasing clouds.
---
Regret of neglected opportunity is the worst hell that a living soul can inhabit.
---
I have always done my duty. I am ready to die. My only regret is for the friends I leave behind me.
---
Dear as remembered kisses after death, And sweet as those by hopeless fancy feign'd On lips that are for others; deep as love, Deep as first love, and wild with all regret; O Death in Life, the days that are no more!
---
I see it all perfectly; there are two possible situations — one can either do this or that. My honest opinion and my friendly advice is this: do it or do not do it — you will regret both.
---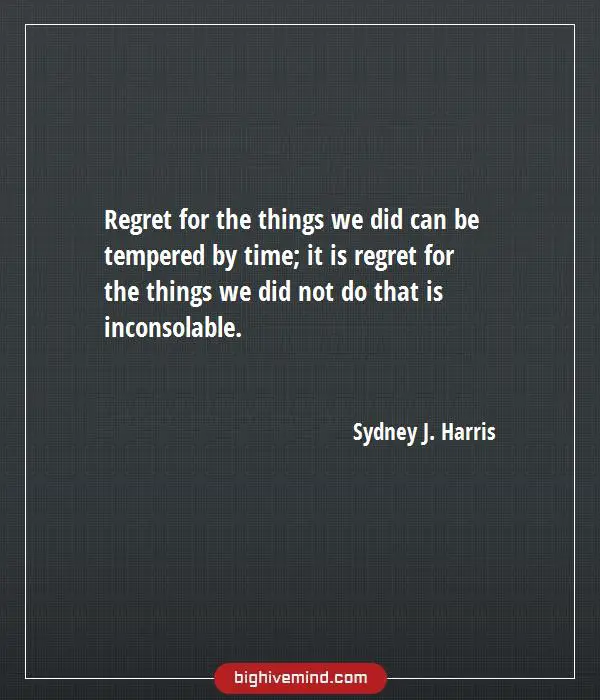 I think I don't regret a single 'excess' of my responsive youth – I only regret, in my chilled age, certain occasions and possibilities I didn't embrace.
---
We have to let go of all blame, all attacking, all judging, to free our inner selves to attract what we say we want.
---
I'm living with every step. I can't live with regret. The past is the past. I'm not worried about it. I can't change it. I can't fix it. It is what it is. I'm just living.
---
You were what you were and you are what you are. f*ck that regrets bullsh*t.
---
I made decisions that I regret, and I took them as learning experiences… I'm human, not perfect, like anybody else.
---
Accept everything about yourself – I mean everything, You are you and that is the beginning and the end – no apologies, no regrets.
---
Children show scars like medals. Lovers use them as a secrets to reveal. A scar is what happens when the word is made flesh.
---
Whoever said that the past isn't dead had it backward. It's the future that's already dead, already played out.
---
Make the most of your regrets; never smother your sorrow, but tend and cherish it till it comes to have a separate and integral interest. To regret deeply is to live afresh.
---
The bitterest tears shed over graves are for words left unsaid and deeds left undone.
---
Get correct views of life, and learn to see the world in its true light. It will enable you to live pleasantly, to do good, and, when summoned away, to leave without regret.
---
Something you need most might be something you turn away from, something you turn away from might be something you regret, and something you regret, in the end, might cost you the one chance you ever had.
---
Never regret yesterday. Life is in you today and you make your tomorrow.
---
I only regret that I have but one life to lose for my country.
---
If you aren't in the moment, you are either looking forward to uncertainty, or back to pain and regret.
---
Guard well within yourself that treasure, kindness. Know how to give without hesitation, how to lose without regret, how to acquire without meanness.
---
Regrets are idle; yet history is one long regret. Everything might have turned out so differently.
---
It is better to look ahead and prepare than to look back and regret.
---
I never regret anything. Because every little detail of your life is what made you into who you are in the end.
---
One day, perhaps, you will see for yourself that regrets are as nothing. The value lies in how they are answered.
---
It is human nature to want to go back and fix things or change things that weregret.
---
If i'm sincere today, what does it matter if I regret it tomorrow?.
---
The moving finger writes; and, having writ,
moves on: nor all thy piety nor wit
shall lure it back to cancel half a line,
nor all thy tears wash out a word of it.
---
There are so many things that I want so badly to tell you but I just can't.
---
The mistakes I've made are dead to me. But I can't take back the things I never did.
---
It's like I know what I gotta say, I just don't know how to say it to you.
---
Would 'sorry' have made any difference? does it ever? it's just a word. One word against a thousand actions.
---
One doesn't recognize the really important moments in one's life until it's too late.
---
People always say life is too short for regrets. But the truth is, it's too long.
---
They were involved in that awkward procedure of getting to unknow each other.
---
Oh, Lord, it is not the sins I have committed that I regret, but those which I have had no opportunity to commit
---
Do not brood over your past mistakes and failures as this will only fill your mind with grief, regret and depression. Do not repeat them in the future.
---
You can never regret anything you do in life. You kind of have to learn the lesson from whatever the experience is and take it with you on your journey forward.
---
Make it a rule of life never to regret and never to look back.
---
It's regrets that make painful memories. When I was crazy I did everything just right.
---
We don't have to be defined by the things we did or didn't do in our past. Some people allow themselves to be controlled by regret. Maybe it's a regret, maybe it's not. It's merely something that happened. Get over it.
---
Regret for the things we did can be tempered by time; it is regret for the things we did not do that is inconsolable.
---
Of all the words of mice and men, the saddest are, "it might have been.
---
For of all sad words of tongue or pen, The saddest are these: 'It might have been!
---
The true definition of mental illness is when the majority of your time is spent in the past or future, but rarely living in the realism of now.
---
Life is short, Break the Rules. Forgive quickly, Kiss slowly. Love truly. Laugh uncontrollably And never regret ANYTHING That makes you smile.
---
There was a long hard time when I kept far from me the remembrance of what I had thrown away when I was quite ignorant of its worth.
---
Never regret. If it's good, it's wonderful. If it's bad, it's experience.
---
I'm done with those; regrets are an excuse for people who have failed.
---
One of the most difficult things to think about in life is one's regrets. Something will happen to you, and you will do the wrong thing, and for years afterward you will wish you had done something different.
---
Your children make it impossible to regret your past. They're its finest fruits. Sometimes the only ones.
---
Maybe all one can do is hope to end up with the right regrets.
---
Time was passing like a hand waving from a train I wanted to be on.
i hope you never have to think about anything as much as I think about you.
---
Many of us crucify ourselves between two thieves – regret for the past and fear of the future.
---
One of the greatest regrets in life is being what others would want you to be, rather than being yourself.
---
Looking back, I have this to regret, that too often when I loved, I did not say so.
---
In the short term, it would make me happy to go play outside. In the long term, it would make me happier to do well at school and become successful. But in the very long term, I know which will make better memories.
---
In looking back, I see nothing to regret and little to correct.
---
A man has cause for regret only when he sows and no one reaps.
---
We all make mistakes, have struggles, and even regret things in our past. But you are not your mistakes, you are not your struggles, and you are here now with the power to shape your day and your future.
---
Speak when you are angry – and you'll make the best speech you'll ever regret.
---
Has this world been so kind to you that you should leave with regret? There are better things ahead than any we leave behind.
---
Never do today what you can do tomorrow. Something may occur to make you regret your premature action.
---
We must all suffer one of two things: the pain of discipline or the pain of regret or disappointment.
---
Often regret is very false and displaced, and imagines the past to be totally other than it was.
---
«regrets»… I regret how timid and meek I was back then… Always telling myself that I couldn't do anything, never even daring to try. That's definitely something I regret. " (p.330).
---
Life is about choices. Some we regret, some were proud of. Some will haunt us forever. 'Black Rain' was very much about choices. The message – we are what we chose to be.
---
Regret is an appalling waste of energy, you can't build on it – it's only good for wallowing in.
---
Regret is … an unavoidable result of any loss, for in loss we lose the tomorrow that we needed to make right our yesterday or today.
---