Here's a selection of Band Quotes, covering topics such as togetherness, brotherhodd, sisterhood, inspiration, love and life.
We really hope you enjoy these quotes and that they give you something to think about.
I'm wallowing in the whole idea of just being a guy out there with a band, with songs. It's a real enjoyment.
---
I started an all-girl punk band when I was 14, and I was the drummer, not the singer.
---
I got my first set of drums when I was around 3. I went from band to marching band to Latin jazz band – it's like riding a bike.
---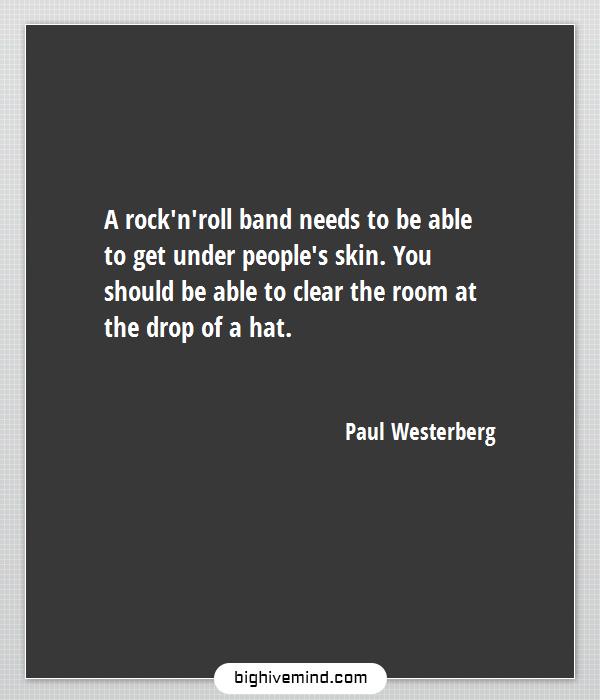 When I was 19, I joined a rock band, and that's when I began to say, 'Okay, this is something that I could take seriously.' When I came to Minneapolis, it just refined everything.
---
There's always some promoter having an '80s night, saying, We'll supply the band. All you can drink.
---
We are different people – you get a different take on the band whoever you speak to. Somehow, at the end of it, it goes through the filtering process and out comes the Radiohead thing.
---
When Ronald Reagan was elected I was on a bus traveling with a band in France. I wrote a little arrangement of The Star Spangled Banner in a minor key.
---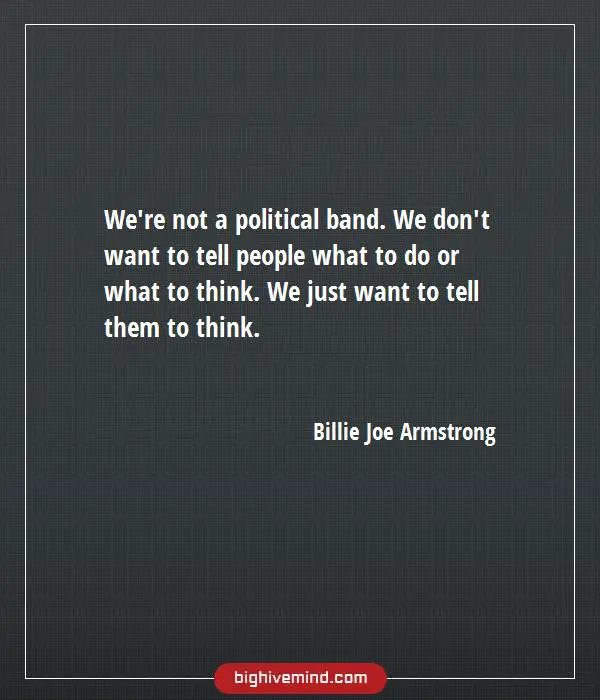 I did the marching band all throughout junior high and high school. Music was one of my favorite things in school.
---
Because the truth is, it isn't worth loving something if you aren't going to love it all the way.
---
I wish I could tell you me and my rock band were traveling around, strung out. No, we were a family band. Straight Partridge Family.
---
The Bad Seeds are a band I will travel a great distance to see whenever possible.
---
When I heard the Pixies for the first time, I connected with that band so heavily I should have been in that band – or at least in a Pixies cover band.
---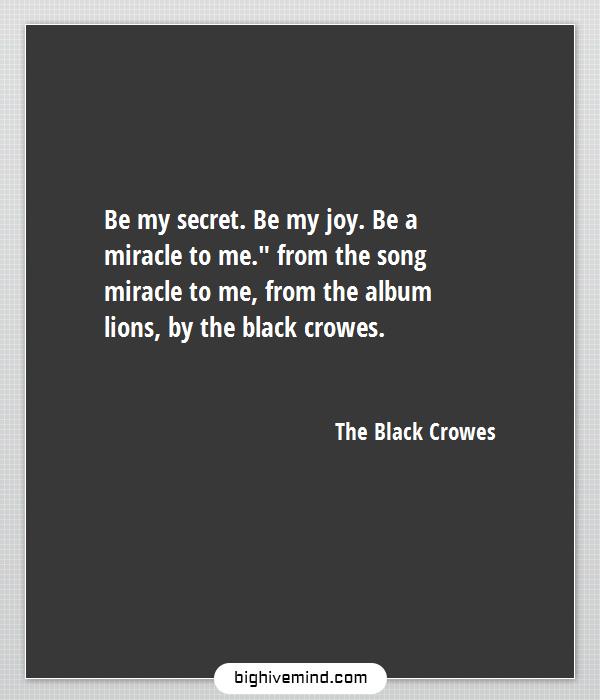 A rock'n'roll band needs to be able to get under people's skin. You should be able to clear the room at the drop of a hat.
---
As a rock band, you're slightly one foot in the past, playing instruments like guitar, bass and drums.
---
Venom was a band that strongly influenced the image and the idea behind Slayer.
---
GYBE are among my, erm, two favourite Montreal bands, Arcade Fire being the other.
---
And I had to look at the marching band. Skip accross the pavement, nobody's there.
---
How far is too far? when you love a band so much that its songs fill the empty spaces inside your head and heart, is that too far?.
---
And for once a band of thieves in ripped up jeans got to rule the world.
---
In the Bay Area, there was a resurgence of Dixieland jazz in the '40s – there was the Frisco Jazz Band, and Lu Watters and the Yerba Buena Jazz Band.
---
I was in a rock band; I was my own folk singer; I was in a death metal band for a very short time; I was in a cover band, a jazz band, a blues band. I was in a gospel choir.
---
Most bands out there are basically pretty boring. I try to affect people inside their bodies.
---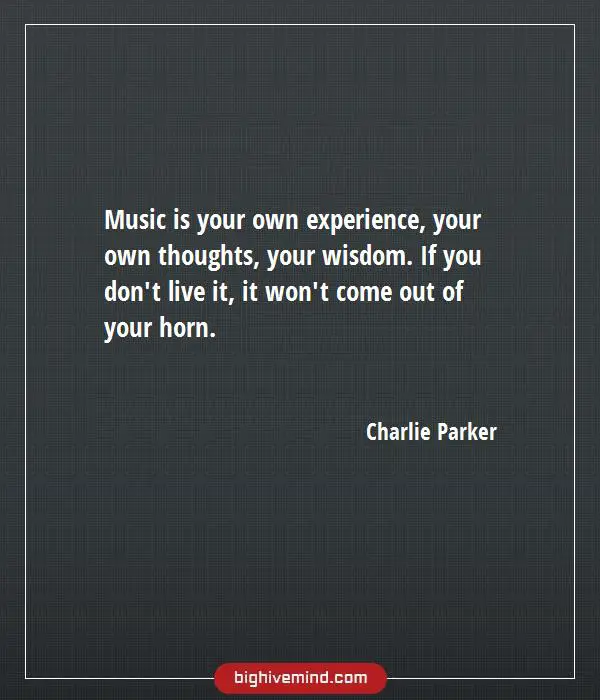 Bands today have to learn their craft by putting the hard work in that we did when we were young performers.
---
I'm about as privileged as you can get. I'm a white, male, heterosexual front man of a rock band.
---
As individuals they were each of them fallible, discordant as notes without harmony. But as a band they were something more, something perfect in its own intangible way.
---
We've worked very hard as a band and would like to think we've got this far on the strength of our music.
---
And, well of course, Count Basie, and I think all of the black bands of the late thirties and early forties, bands with real players. They had an influence on everybody, not just drummers.
---
This is my own little rock theory: In my mind, Nirvana slayed the hair bands. They shot the top off the poodles.
---
If you listen to the way I speak and watch the way I conduct myself – there's nothing about me that's rock n' roll. It's like, 'Hello, I'm in a rock n' roll band'. 'No, you're a narc.'
---
I was at the first Minor Threat show, and you could tell, 'This band is going to be the king of the town.' It was obvious. They were so good.
---
That awkward moment when you realize the marching band works harder than the foortball team.
---
Followed like a goat on a halter, hungry dog closing on his just-filled dinner bowl, water-bottle and towel carrier behind the tuba section of a marching band.
---
This man is freed from servile bands, Of hope to rise, or fear to fall; Lord of himself, though not of lands, And leaving nothing, yet hath all.
---
All bands eventually break up because of one or more of the four p's: power, property, prestiege, p*ssy.
---
From one generation to the next, The Beatles will remain the most important rock band of all time.
---
It was harder to break into comics than it was to become a singer in a rock band.
---
I have so many indie bands on my iPod. What I don't really understand is the attitude that if a band is unknown, they're good, and if they get fans, then you move on to the next band.
---
As soon as it was understood that we could handle things in our own way, it was the thrill of my life to walk out on that stage with people just hemming the band in.
---
Rock is about finding who you are. You don't necessarily have to play your instrument very well at all. You can just barely get by and you can be in a rock band.
---
Shay sometimes talked in a mysterious way, like she was quoting the lyrics of some band no one else listened to.
---
I can always tell if a band has a British rhythm section due to the gritty production.
---
The Ruts were a great punk rock band from England whose songs were as excellent as their time together was short.
---
We're not a political band. We don't want to tell people what to do or what to think. We just want to tell them to think.
---
When a band becomes as truly iconic as the Velvet Underground, there will often be a box set released, overburdened with mediocre material that dilutes what was fine left on its own.
---
Band is not proud because it performs well; it performs well because it is proud.
---
The best compliment I get every year is that a band will write me and say, 'We were just on tour, and we had people coming to our show saying they had never heard us before they heard us on your show.'
---
If I could be in any band, I think it would have to be The Beatles. That would have been a lot of fun.
---
The misunderstanding out there is that we are a 'hard rock' band or a 'heavy metal' band. We've only ever been a rock n' roll band.
---
I chose the trombone because the trombone players in the marching band got to be up front with the majorettes (because of the slides) and I loved that!
---
Trying to write music, be in a band and keep it all happening is one of the hardest, morale-destroying, heartbreaking things you will ever try to do – and that's when it's going well.
---
Interscope is run more like a rock band than a record company. It's run in a very spontaneous, heartfelt way.
---
Contemporary bands often will do tour-only releases pressed and sold only in Australia. Crikey!
---
I would definitely say the Oakland Raiders are the punk rock band of football.
---
I have a lot of compact discs. I need them for radio play and convenience. Many bands and artists I am a fan of don't always release their work on vinyl, so I take what they feel like giving me.
---
Watching nic rayne strut around the stage
half-naked like some absurd peacock is enough to make me gag.
---
I get angry about stuff, I get very emotionally intense about stuff and that's how I get it out – with books, with the band, on my own onstage, but it's always kind of a wail.
---
Shoe Suede Blues is ten years old this year. The Band consists of four members.
---
With 'Elect the Dead,' I learned how to make a rock record without a rock band and make the rock record I've always wanted to make.
---
Super-envious of the fact that Daft Punk can wear robot helmets and be one of the most famous bands in the world, while also understanding that will never be my situation.
---
Music is your own experience, your own thoughts, your wisdom. If you don't live it, it won't come out of your horn.
---
I was in every band class I could get in, like after school jazz band and marching band, and that's where I really learned to read music from elementary all the way through junior high and high school.
---
Marching band is life. The marching band brings about memories that you would never get anywhere else.
---
Be my secret. Be my joy. Be a miracle to me." from the song miracle to me, from the album lions, by the black crowes.
---
I was extreme… from skateboarder to hip-hopper to rave child to lead singer of a rock band – I did it all, and all at the same time.
---
Would you like to sit?" kellen asked her.
"you'd better do it soon," owen whispered close to her ear, "or i'm going to bend you over that table and break the club's no-penetration-in-the-lounge rule.
---
When it comes time to dance, they're like a regiment; they do the same steps – except for the Mike Teavee dance, where the Oompas play in a rock band. I learned to play the guitar for that one.
---
I used to play the piano in the band, and so there's some horrendous scenes of me playing the keyboards.
---
Boy band fangirls are a species that are more focused, determined and powerful in large numbers than just about any other group of people I can think of.
---
I have been lucky to experience a lot of the spoils that can happen in a rock band. But being with the three guys in this band from such a young age, we aren't going to let any of the spoils change us.
---
Most artists lose their voice, their hair, and their bands. That's not going to happen to me.
---
There is something about having a charismatic blonde at the front that seems to lift any random collection of axe wielding blokes out of the ordinary. Just look at the thatcher government.
---
In 1996, I was in was in an acoustic kind of rock band, we were called Feeble. We were just playing locally.
---
And as the players tried to take the field, the Marching Band refused to yield.
---
I'm not the one who's so far away
when I feel the snake bite enter my veins.
never did I wanna be here again,
and I don't remember why I came.
---
See, I never wrote arrangements for the band for Judy Garland; I did strictly special material, special lyrics, put together all of her medleys.
---
For a long time, when I was very young, I went to go see arena rock bands. I was 16, and it was all I could get in to see, legally. And I saw Led Zeppelin and Ted Nugent and Van Halen and all that.
---
Well, a sort of epiphany: I was in a great band. And it's very cool to be at 53 and realise that when you were a kid you were in a great band.
---
Most bands don't work out. A small unit democracy is very, very difficult. Very, very difficult.
---
Certainly, there are huge, multiplatinum bands whose singers command their audience's attention. Sadly, much of the time they have little to say.
---
One of my favorite hip-hop artists is Makonnen. One of my favorite bands is Fall Out Boy. You put those two together, and that's Lil Peep.
---
That a man can take pleasure in marching in formation to the strains of a band is enough to make me despise him. He has only been given his big brain by mistake; a backbone was all he needed.
---
The regular rhythm and upbeat tunes of military music or marching bands positively affect your mood even if you don't actually 'enjoy' listening to it.
---
Marching band, sacrificing all respect from your peers so that you get to wear funny hats.
---
Most bands don't work out. A small unit democracy is very, very difficult.
---
One performer whose band played my music better than I could myself was Art Farmer. He recorded 'Sing Me Softly of the Blues' and 'Ad Infinitum'.
---