The morning is such an important time of the day, which is why many successful people establish morning rituals. Why not make reading something inspirational part of yours? The following words of wisdom will ensure that you get out of bed on the right side. With quotes from
Khalil Gibran
to Jennifer Aniston, we are here to help you have a good start no matter who you are or what you are going through.
Good Morning Quotes For Her
Good morning sleeping beauty. It is time to open those stunning peepers and face the day. Armed with these quotes, there is nothing you cannot do. We believe in you!
Let me wake up next to you, have coffee in the morning and wander through the city with your hand in mine, and I'll be happy for the rest of my little life.
---
I would rather spend one lifetime with you, than face all the ages of this world alone.
---
The best love is the kind that awakens the soul; that makes us reach for more, that plants the fire in our hearts and brings peace to our minds. That's what I hope to give you forever.
---
The hours I spend with you I look upon as sort of a perfumed garden, a dim twilight, and a fountain singing to it. You and you alone make me feel that I am alive. Other men, it is said have seen angels, but I have seen thee and thou art enough.
---
If you live to be a hundred, I want to live to be a hundred minus one day so I never have to live without you.
---
Morning without you is a dwindled dawn.
---
The next morning dawned bright and sweet, like ribbon candy.
---
I hope you know that every time I tell you to get home safe, stay warm, have a good day, or sleep well what I am really saying is I love you. I love you so damn much that it is starting to steal other words' meanings.
---
The sun just touched the morning;
The morning, happy thing,
Supposed that he had come to dwell,
And life would be all spring.
---
Have you ever seen the dawn? Not a dawn groggy with lack of sleep or hectic with mindless obligations and you about to rush off on an early adventure or business, but full of deep silence and absolute clarity of perception? A dawning which you truly observe, degree by degree. It is the most amazing moment of birth. And more than anything it can spur you to action. Have a burning day.
---
Look out of the window and take in the brightness from the sun.
Forget the clouds and shadows of doubt and fear.
Life awaits you in all its fullness, its another beautiful day.
Good Morning!
---
Your pretty face keeps playing on my mind all night long.
All I wait for is for sun rays and the break of dawn.
I can't stop thinking about you my darling.
I will run over to hug you and wish you Good Morning!
---
Stay strong girl and don't let your feelings be like the
garden where everyone walks and tramples but let your feelings be as high as the sky where people cannot hurt but can only wish to reach.
---
I wonder what you look like when you wake up early in the morning with the sun shining on your
face, your silky smooth hair flowing. I wish I could get a cup of coffee for you by the bed and wish you good morning.
---
The best feeling in the world is to know that you belong to me and you are mine. Every morning that is all I need to know and that itself is enough for me to have a good day.
---
Say goodbye to the stars of the night and let the moon pass away. Welcome the bright sunshine and let the rays of the sun brighten you up all over. Enjoy a good morning.
---
From that morning I met you until this morning, I always cherish the fact that I received the chance to meet a wonderful person like you. I have so many beautiful memories with you and I want to create many more.
---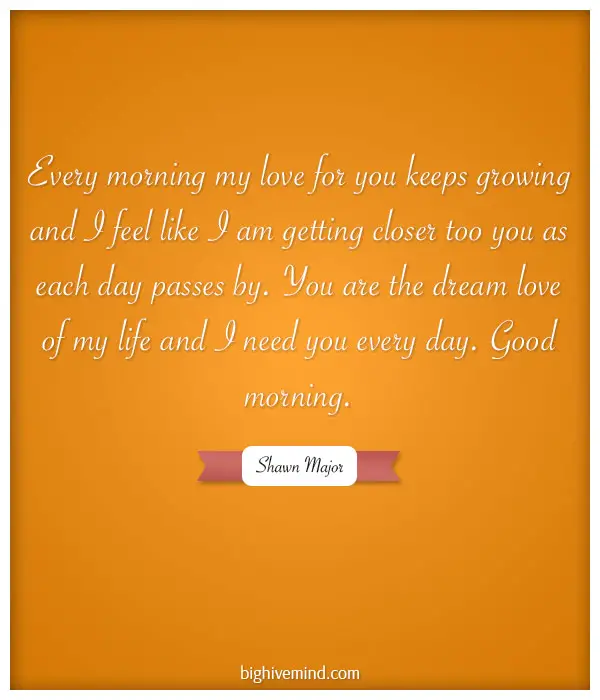 Every morning my love for you keeps growing and I feel like I am getting closer too you as each day passes by. You are the dream love of my life and I need you every day. Good morning.
---
Loving you was the best decision of my life. Like the rays of the sun you shine through my heart every day. You bring joy into my life and fill me with happiness. I love you!
---
Here is a sweet quote for a special someone who has always been good to me. No matter where you are or what people say about you, remember that you will always be a special part of my life.
---
Good Morning Love Quotes
Waking up next to a loved one? It is the perfect time to go through these quotes and ensure that you both start the day on a harmonious, loving note.
If I know what love is, it is because of you.
---
If I had a flower for every time I thought of you, I could walk in my garden forever.
---
When you arise in the morning, think of what a precious privilege it is to be alive -to breathe, to think, to enjoy, to love.
---
Meeting you was not the first day of the rest of my life, it was actually the best.
---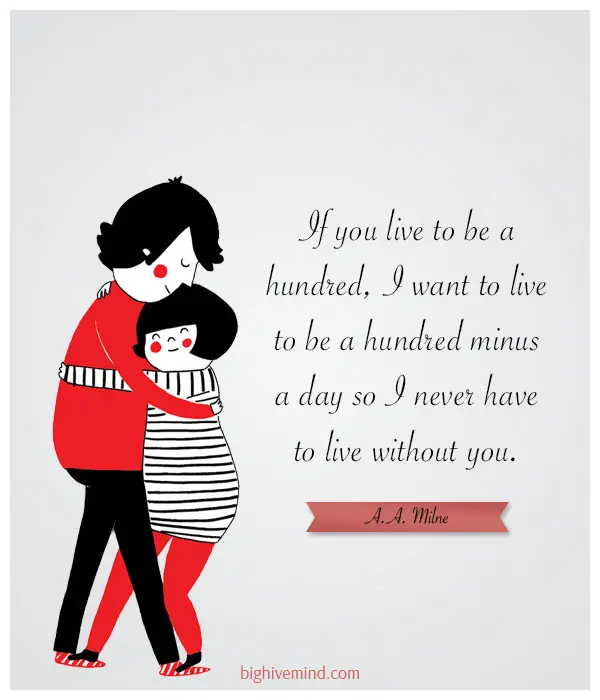 If you live to be a hundred, I want to live to be a hundred minus a day so I never have to live without you.
---
I love you not only for what you are, but for what I am with you.
---
Come live with me, and be my love, and we will some new pleasures prove, of golden sands, and crystal brooks, with silken lines and silver hooks.
---
If I knew I would be so happy one day, I would have searched for you harder and found you before so that I could spend more time with you.
---
I don't know if I ever told you this before, but you're the only one I've ever waited for this long.
---
Every morning was a cheerful invitation to make my life of equal simplicity, and I may say innocence, with Nature herself.
---
I love you, and I will love you until I die, and if there's a life after that, I'll love you then.
---
I saw that you were perfect, and so I loved you. Then I saw that you were not perfect and I loved you even more.
---
I'm in love with you, and I'm not in the business of denying myself the simple pleasure of saying true things. I'm in love with you, and I know that love is just a shout into the void, and that oblivion is inevitable, and that we're all doomed and that there will come a day when all our labor has been returned to dust, and I know the sun will swallow the only earth we'll ever have, and I am in love with you.
---
You are my today and all of my tomorrows.
---
To love is nothing. To be loved is something. But to love and be loved, that's everything.
---
I love you, with no beginning, no end. I love you as you have become an extra necessary organ in my body. I love you without fear. Without expectations. Wanting nothing in return, except that you allow me to keep you here in my heart, that I may always know your strength, your eyes, and your spirit that gave me freedom and let me fly.
---
The best and most beautiful things in this world cannot be seen or even heard, but must be felt with the heart.
---
I swear I couldn't love you more than I do right now, and yet I know I will tomorrow.
---
When you realize you want to spend the rest of your life with somebody, you want the rest of your life to start as soon as possible.
---
If I know what love is, it is because of you.
---
Good Morning Quotes For Him
Rise and shine tough guy! These quotes will get you in fine fighting form. Reading just a couple of these will make you ready to tackle anything life decides to throw at you today.
You know you're in love when you can't fall asleep because reality is finally better than your dreams.
---
I will love you always. When the smooth softness of youth is replaced by the delicate softness of age, I will still want to touch your skin. When your face is full of the lines of every smile you have ever smiled, of every surprise I have seen flash through your eyes when every tear you have ever cried has left its mark upon your face, I will treasure you all the more, because I was there to see it all. I will share your life with you, and I will love you until the last breath leaves your body or mine.
---
Ask me to define my love for you and I'll say it's captured in every beautiful memory of our past, detailed out in vivid visions of our dreams and future plans, but most of all it's right now, in the moment where everything I've ever wanted in my life is standing right in front of me.
---
No matter what has happened. No matter what you've done. No matter what you will do. I will always love you. I swear it.
---
No matter where I went, I always knew my way back to you. You are my compass star.
---
I wanted to tell you that wherever I am, whatever happens, I'll always think of you, and the time we spent together, as my happiest time. I'd do it all over again if I had the choice. No regrets.
---
Your words are my food, your breath my wine. You are everything to me.
---
For it was not into my ear you whispered, but into my heart. It was not my lips you kissed, but my soul.
---
Men always want to be a woman's first love, women like to be man's last romance.
---
I'm thinking of you, that's all I do, all the time. You're always the first and the last thing on this heart of mine. No matter where I go, or what I do, I'm thinking of you.
---
What I do and what I dream include thee, as the wine must taste of its own grapes.
---
Love has nothing to do with what you are expecting to get, only with what you are expecting to give, which is everything.
---
I love that feeling of being in love, the effect of having butterflies when you wake up in the morning. That is special.
---
Beauty, sweet love, is like the morning dew, whose short refresh upon tender green, Cheers for a time, but till the sun doth show And straight is gone, as it had never been.
---
Love. Fall in love and stay in love. Write only what you love, and love what you write. The key word is love. You have to get up in the morning and write something you love, something to live for.
---
What is love? It is the morning and the evening star.
---
I didn't plan it, but you're the best thing that's ever happened to me.
---
I still get butterflies even though I've seen you a hundred times.
---
You're the one that I love and I can't let you go.
---
I didn't cho0se this life. I chose HIM. The life was just part of the deal.
---
Funny Good Morning Quotes
Get your laughter therapy first thing in the morning with these funny quotes. They have been hand-picked by us to ensure that you start your day the best way possible, with a big grin on your face.
Some mornings I just feel like breaking the damn alarm but then one thing always stops me. I paid hundreds of dollars to buy my phone.
---
Twinkle twinkle sleepy star, wake up now its the 11th hour, up above the world so high, the sun has risen in the sky.
---
Angels usually show up in the morning but I have showed up now. So all you need to do is bow down a bit and wish yourself a happy morning as a sign of respect. Cheers mate!
---
The doctor has a new suggestion for you this morning. Laugh a little more in he morning for breakfast, give a beautiful smile in the afternoon. Stay far more happy for dinner. What is the doctors fee? Think more about me" : )
---
Without any friends, life is a waste. Without any love, heart is almost a waste. Without any story, a movie is almost a waste and without a quote from me, your morning is a waste. Have a great day!
---
Every single day I wake up and make up my mind that I am going to work really hard. Then my mind laughs at me and says "Good joke". Then we laugh for some more time and I go back to bed.
---
Its morning time already and its time to widen those teeny tiny eyes. Stretch those tough buff arms, wiggle that silky slinky hair and eat some salty malty fries.
---
If your eyes hurt after you drink coffee, you have to take the spoon out of the cup.
---
I wake up every morning at nine and grab for the morning paper. Then I look at the orbituary page. If my name is not on it, I get up.
---
A yawn is a silent scream for coffee.
---
Workout in the morning before your brain figures out what you're doing.
---
Trust me, when I woke up today, I had no plans to be awesome. But sh*t happens.
---
I hate the part of the morning where I have to get out of bed and participate in real life.
---
Everyone wants me to be a morning person. I could be one…only if morning began after noon.
---
You are going to read the sweetest quote of your life around 9 am in the morning from one of the most loving persons on earth. Then when you read it, smile and say that I am the best. Thanks and good morning.
---
I want to end this by wishing you a day full of good people who will smile and take care of you. I hope you get closer to success and live the life of happiness you have always dreamed of. Good morning.
---
Everyone should experience a sunrise atleast once a day.
---
Lose an hour in the morning and you will spend all day looking for it.
---
Morning is wonderful. Its only drawback is that it comes at such an inconvenient time of day.
---
I hate when I dream of alarm clocks going off.
---
Good Morning Quotes About Life
We love
Forrest Gump
, but we have to disagree with him. Life is not always a box of chocolate. These quotes will make you feel good on sweet mornings and bitter ones.
Smile in the mirror. Do that every morning and you'll start to see a big difference in your life.
---
Today I choose life. Every morning when I wake up I can choose joy, happiness, negativity, pain… To feel the freedom that comes from being able to continue to make mistakes and choices – today I choose to feel life, not to deny my humanity but embrace it.
---
There was never a night or a problem that could defeat sunrise or hope.
---
Be pleasant until ten o'clock in the morning and the rest of the day will take care of itself.
---
When you rise in the morning, give thanks for the light, for your life, for your strength. Give thanks for your food and for the joy of living. If you see no reason to give thanks, the fault lies in yourself.
---
Every day I feel is a blessing from God. And I consider it a new beginning. Yeah, everything is beautiful.
---
Some people dream of success, while other people get up every morning and make it happen.
---
Opportunities are like sunrises. If you wait too long, you miss them.
---
In the sweetness of friendship let there be laughter, and sharing of pleasures. For in the dew of little things the heart finds its morning and is refreshed.
---
Prayer is the key of the morning and the bolt of the evening.
---
Be pleasant until ten o'clock in the morning and the rest of the day will take care of itself.
---
The world is beautiful outside when there is stability inside.
---
Waking up this morning, I smile. 24 brand new hours are before me. I vow to live fully in each moment.
---
Morning is an important time of day, because how you spend your morning can often tell you what kind of day you are going to have.
---
Not the day only, but all things have their morning.
---
An early-morning walk is a blessing for the whole day.
---
Life is too short, she panicked, I want more. He nodded slowly, Wake up earlier.
---
The sun has not caught me in bed in fifty years.
---
Early morning cheerfulness can be extremely obnoxious.
---
You have to get up every morning and tell yourself I can do this.
---
Good Morning Quotes For Sunday
Whether you have planned an active hiking day or a lazy morning in bed, maximise your day of rest by ensuring that it is off to a good start with our quotes.
Sunday clears away the rust of the whole week.
---
There is always something new to learn and feel each Sunday.
---
Sunday. A day to refuel your soul and be grateful for your blessings. Take a deep breath and relax. Enjoy your family, your friends, and a cup of coffee.
---
Just don't give up trying to do what you really want to do. When there is love and inspiration, I don't think you can go wrong.
---
Experience life in all possible ways – good-bad, bitter-sweet, dark-light, summer-winter. Experience all the dualities. Don't be afraid of experience, because the more experience you have, the more mature you become.
---
Oh dear Sunday, I want to sleep in your arms and fun day.
---
On Sunday morning, I'm not nervous… I can't wait to tell what God wants me to say.
---
I've been saying for a couple of years now that people need to let God out of the Sunday morning box, that He doesn't want to just be with you for an hour or two on Sunday morning and then put back in His box to sit there until you have an emergency, but He wants to invade your Monday, Tuesday, Wednesday, Thursday, Friday, Saturday, and Sunday.
---
Sunday is my favorite day.
---
When I woke up Sunday morning at the Open and stepped outside and felt the wind and rain in my face, I knew I had an excellent chance to win if I just took my time and trusted myself.
---
I'm obsessed with radio. It's a good start to Sunday morning.
---
I love waking up to Sunday morning pancakes. The whole process of making them, just out in the kitchen together making pancakes on a Sunday morning; that's an experience every girl should have.
---
A Sunday morning spent reading the paper together, maybe drinking some mimosas, alone, and talking until noon. That would be pretty amazing. Married couples with kids will understand.
---
I'm going to marry a Jewish woman because I like the idea of getting up Sunday morning and going to the deli.
---
Just in terms of allocation of time resources, religion is not very efficient. There's a lot more I could be doing on a Sunday morning.
---
Have a lovely Sunday!
Wherever you go, no matter what the weather, always bring your own sunshine.
---
Happy Sunday!
Smile more than you cry, give more than you take and love more than you hate.
---
The feeling of Sunday is the same everywhere, heavy, melancholy, standing still.
---
Sunday clears away the rust of the whole week.
---
Weekends are a bit like rainbows; they look good from a distance but disappear when you get up close to them.
---
Good Morning Quotes For Friday
TGIF! Enjoy it. It comes but once a week. Jump start your final day of work with these quotes. With a good start, you will sail across the finish line and straight into the weekend.
If you must have motivation, think of your paycheck on Friday.
---
If it comes back, I think that Friday night is not a good night to be on.
---
Friday' is about hanging out with friends, having fun. I felt like it was my personality in that song.
---
To be honest, when I'm home, every day is a Friday for me. It doesn't really matter what day it is for me. A lot of my friends actually have time off during the week, and so it doesn't prohibit me from enjoying myself when I am home on a Monday or a Tuesday.
---
Fridays are the hardest in some ways: you're so close to freedom.
---
It's always difficult to keep Fridays confined within themselves..they tend to spill over..
---
Make a Friday a day to celebrate work well done that you can be proud of knowing that you just didn't put in time to the next pay check.
---
It's Friday…any plan of being a productive member of society is officially thrown out the window.
---
Welcome to Friday. In preparation for takeoff, please ensure all negative attitudes are properly stowed. On behalf of your captain, Jack Daniels and myself, welcome aboard. I expect sunshine and good attitudes today for our trip. Enjoy the ride.
---
I always give 100% at work: 13% Monday, 22% Tuesday, 26% Wednesday, 35% Thursday, 4% Friday.
---
Your hair may be brushed, but your mind's untidy. You've had about seven hours of sleep since Friday. No wonder you feel that lost sensation. You're sunk from a riot of relaxation
---
There is a vast world of work out there in this country, where at least 111 million people are employed in this country alone–many of whom are bored out of their minds. All day long. Not for nothing is their motto TGIF — 'Thank God It's Friday.' They live for the weekends, when they can go do what they really want to do.
---
Waiting for the fish to bite or waiting for wind to fly a kite. Or waiting around for Friday night or waiting perhaps for their Uncle Jake or a pot to boil or a better break or a string of pearls or a pair of pants or a wig with curls or another chance. Everyone is just waiting.
---
Friday. The golden child of the weekdays. The superhero of the workweek. The welcome wagon to the weekend. The famous F word we thank God for every week.
---
Good Friday morning all….Make it happen today, we all have choices to make. Make them count, no matter how small.
---
I have never in my life found myself in a situation where I've stopped work and said, 'Thank God it's Friday.' But weekends are special even if your schedule is all over the place. Something tells you the weekend has arrived and you can indulge yourself a bit.
---
Employers are at their happiest on Mondays. Employees are at their happiest on Fridays.
---
When we least expect it, life sets us a challenge to test our courage and willingness to change; at such a moment, there is no point in pretending that nothing has happened or in saying that we are not yet ready. The challenge will not wait. Life does not look back. A week is more than enough time for us to decide whether or not to accept our destiny.
---
Be thankful for what you have; you'll end up having more. If you concentrate on what you don't have, you will never, ever have enough.
---
It is not for me to judge another man's life. I must judge, I must choose, I must spurn, purely for myself. For myself, alone.
---
Good Morning Quotes To A Friend
Do you have a friend who is going through a tough spot? Why not brighten up his or her morning with one of these quotes? It might make a bigger difference than you realise.
You've got to get up every morning with determination if you're going to go to bed with satisfaction.
---
How am I going to live today in order to create the tomorrow I'm committed to?
---
Great attitude is like a perfect cup of coffee – don't start you day without it.
---
No matter how bad things are, you can at least be happy that you woke up this morning.
---
I am not a product of my circumstances. I am a product of my decisions.
---
The world is new to us every morning – this is God's gift and every man should believe he is reborn each day.
---
I'd like my mornings better if my mornings started with you.
---
Every morning I get up and look through the Forbes list of the richest people in America. If I'm not there, I go to work.
---
First say to yourself what you would be; and then do what you have to do.
---
Life always offers you a second chance, it's called tomorrow.
---
You are not just a friend, you are my morning sunshine. I think of you and all the fun we have had all these years and I hope this friendship continues as long as I live. Have a great day!
---
This morning don't let the worries of life put you down. Remember that I was, I am and I will always be with you like a faithful friend. Good morning!
---
Friends like you are like a sip of hot cup of coffee. You refresh my mind away from the boring sleepy times and excite me for the good times ahead of us.
---
Its amazing how we always have something to talk about and the stories never seem to end. You are a complete entertainment package and I value your friendship more than any other. Have a great day my friend.
---
There are so many strangers I will meet today, so many friends I will speak to. But never forget that you are different from the others because you are the best among all friends and I share all my secrets and happy times with you.
---
Friends are a blessing from almighty God and a faithful friend is worth more than gold. What can be a better time to wish friends than early morning? Have a good day buddy!
---
This very start of the day, be happy for the breathe of fresh air. Be thankful for the goodness that surrounds you. Most of all thank God for this beautiful friendship that you and I share. Good Morning!
---
As the morning breeze touches your face, remember that someone far away is thinking about you and hoping that you will have a good day. Good morning!
---
The more you count yourself as blessed, the more blessed you will be. Thank God for this beautiful morning and let friendship and love prevail this morning.
---
Happiness is a gift to those who think good thoughts early morning. So wake up and lets welcome this day with love and a sweet smile.
---
Good Morning Encouragement Quotes
Are you having one of those days? If the last thing you want to do right now is start your day, read on. By the time you are through with these quotes, you will be leaping out of bed.
You've got to get up every morning with determination if you're going to go to bed with satisfaction.
---
Life is 10% what happens to me and 90% of how I react to it.
---
Great attitude is like a perfect cup of coffee – don't start you day without it.
---
Life is a daring adventure or nothing at all.
---
Life isn't about finding yourself. Life is about creating yourself.
---
Persistence: fall down seven times, stand up eight.
---
Once you replace negative thoughts with positive ones, you'll start having positive results.
---
I quit being afraid when my first venture failed and the sky didn't fall down.
---
Only those who risk going too far can possibly find out how far one can go.
---
You only live once, but if you do it right, once is enough.
---
Wake up knowing and believing that you are blessed. You are not just going to survive but succeed to live a beautiful day full of happiness and success. Have an amazing day ahead!
---
If no one else has made the attempt to tell you yet, let me tell you…You are a wonderful person. You have great talents inside you and you can achieve your dreams. Go ahead and live happily and spread selfless love everywhere you go.
---
Don't just drag out of bed every morning. Get alive and awaken your mind and body for the gift of a brand new day gift wrapped with sun light and air. Not just another ordinary day, it is the day of new opportunities.
---
Leave the worries of last night to darkness and let the light of motivation and inspiring things take control of your mind and actions. Start a beautiful morning and end up with a successful and blessed day.
---
Good morning is not just a word, its an action and a belief to live the entire day well. Morning is the time when you set the tone for the rest of the day. Set it right!
---
No you are not too late nor are you too old. This morning
make up your mind to live anew. Life is not in the mundane boring things but in being alive and doing exciting things.
---
Don't underestimate the power of thoughts and words. What you tell yourself every morning will set your mind and life on that path. Talk success, victory, happiness and blessings over your destiny.
---
Fill your mind with seeds of greatness. Surround yourself with people who want to see you prosper. Act like you are a winner and are winning your way to victory. That is the way to start your morning to find success.
---
Helping people, being kind, doing something new is my new agenda every day. That is the way I build up my morning and stay vibrant all day long.
---
Do your best everyday and the results will follow. You need to create that mindset not at sunset or night but at the earliest morning after prayers.
---
Good Morning Quotes For Monday
Monday mornings don't have to be a drag, not if you arm yourself with these quotes. We prescribe a minimum of five quotes–take them with a strong cup of coffee.
I hope our friendship will not end at the end of the week. See you on Monday!
---
Monday?! But I wasn't even finished with saturday yet…
---
Promise! Bring in some good news on Monday! I will miss you! Make sure you'll have a good weekend!
---
Our greatest glory is not in never falling but in rising every time we fall.
---
To be successful, the first thing to do is fall in love with your work.
---
Today, you are you that is truer than true. There is no one alive who is youer than you!
---
Turning your passion into your job is easier than finding a job that matches your passion.
---
It's Monday. Get a new perspective. Whatever obstacle you're facing, it's not permanent.
---
If only one of the presidential candidates would make it part of his platform to do something about making Monday part of the weekend. I think he would get a lot of votes.
---
I can always tell how good my weekend was by how many pictures I have to untag on "I must break the routines and become a person who becomes productive every Monday. I must break the mindset of unhappiness and turn myself into a happy magnet for Mondays.
---
Mondays are a lot like getting fat. They make you feel sad, sometimes angry and there is not much scope for liking either fat or Mondays for any reason.
---
When people go to work, they shouldn't leave their hearts at home.
---
Go confidently in the direction of your dreams! Live the life you've imagined.
---
Mondays are the start of the work week which offer new beginnings 52 times a year!
---
Sometimes it pays to stay in bed in Monday, rather than spending the rest of the week debugging Monday's code.
---
Oh! Yeah I have to go to work on Mondays and yes every one hates Mondays. But i look at it a little differently. I don't have to work, I GET to work. I am blessed to have a job while many don't have one.
---
To find joy in work is to discover the fountain of youth.
---
Imagine having Mondays as a holiday and then it wold be the best thing. Will someone please assist me in making it a official holiday and solve all our Monday blues.
---
Monday is great if I can spend it in bed. I'm a man of simple pleasures, really.
---
All men tend to become angry and irritated on the start of the week. It is the start of the week but is the end of all fun and happiness in life.
---
---