Though he wrote more than 2000 years ago, the words of
Socrates
are as relevant today as they ever were. His writing covers a wide range of topics from knowledge and virtue to marriage and food. As high-brow as his reputation might be, some of it is even humorous. In any case, the following quotes are a great starting point for reflection.
The only true wisdom is in knowing you know nothing.
---
I know that I am intelligent, because I know that I know nothing.
---
True wisdom comes to each of us when we realize how little we understand about life, ourselves, and the world around us.
---
By all means, marry. If you get a good wife, you'll become happy; if you get a bad one, you'll become a philosopher.
---
Be as you wish to seem.
---
Death may be the greatest of all human blessings.
---
Worthless people live only to eat and drink; people of worth eat and drink only to live.
---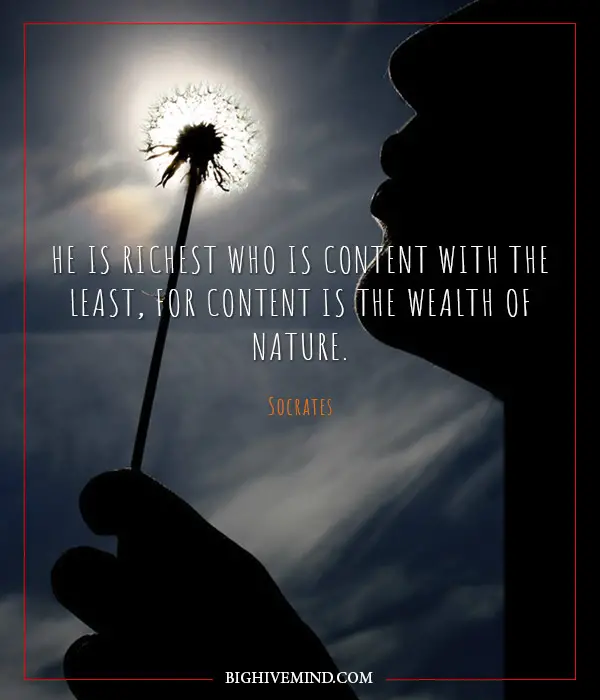 He is richest who is content with the least, for content is the wealth of nature.
---
Wisdom begins in wonder.
---
From the deepest desires often come the deadliest hate.
---
Employ your time in improving yourself by other men's writings so that you shall come easily by what others have labored hard for.
---
Well I am certainly wiser than this man. It is only too likely that neither of us has any knowledge to boast of; but he thinks that he knows something which he does not know, whereas I am quite conscious of my ignorance. At any rate it seems that I am wiser than he is to this small extent, that I do not think that I know what I do not know.
---
The beginning of wisdom is a definition of terms.
---
What a lot of things there are a man can do without.
---
I cannot teach anybody anything. I can only make them think.
---
Slanderers do not hurt me because they do not hit me.
---
I was afraid that by observing objects with my eyes and trying to comprehend them with each of my other senses I might blind my soul altogether.
---
He who is not contented with what he has, would not be contented with what he would like to have.
---
If a man is proud of his wealth, he should not be praised until it is known how he employs it.
---
Where there is reverence there is fear, but there is not reverence everywhere that there is fear, because fear presumably has a wider extension than reverence.
---
I decided that it was not wisdom that enabled poets to write their poetry, but a kind of instinct or inspiration, such as you find in seers and prophets who deliver all their sublime messages without knowing in the least what they mean.
---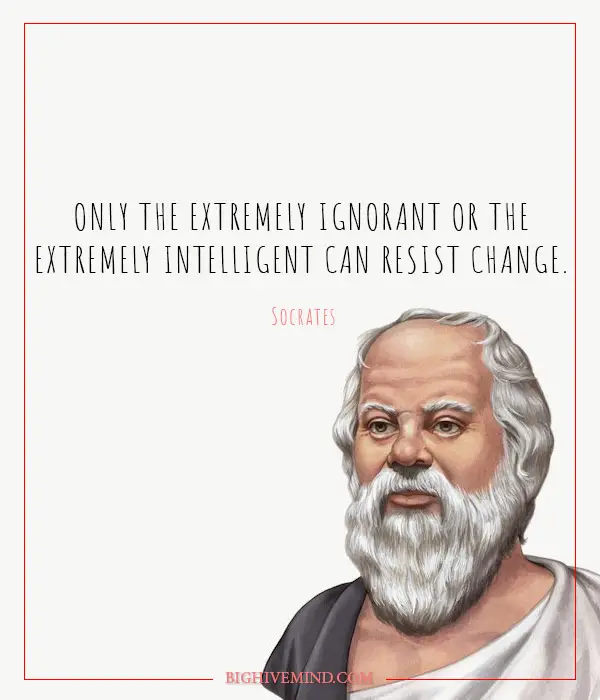 Only the extremely ignorant or the extremely intelligent can resist change.
---
Virtue does not come from wealth, but. . . wealth, and every other good thing which men have. . . comes from virtue.
---
The only good is knowledge and the only evil is ignorance.
---
The unexamined life is not worth living.
---
I do nothing but go about persuading you all, old and young alike, not to take thought for your persons or your properties, but and chiefly to care about the greatest improvement of the soul. I tell you that virtue is not given by money, but that from virtue comes money and every other good of man, public as well as private. This is my teaching, and if this is the doctrine which corrupts the youth, I am a mischievous person.
---
I thought to myself, 'I am wiser than this man neither of us knows anything that is really worthwhile, but he thinks he has knowledge when he has not, while I, having no knowledge, do not think that I have. I seem, at any rate, to be a little wiser than he is on this point I do not think that I know what I do not know.
---
Envy is the ulcer of the soul.
---
Bad men live that they may eat and drink, whereas good men eat and drink that they may live.
---
True knowledge exists in knowing that you know nothing. And in knowing that you know nothing, that makes you the smartest of all.
---
To know, is to know that you know nothing. That is the meaning of true knowledge.
---
Education is the kindling of a flame, not the filling of a vessel.
---
Strong minds discuss ideas, average minds discuss events, weak minds discuss people.
---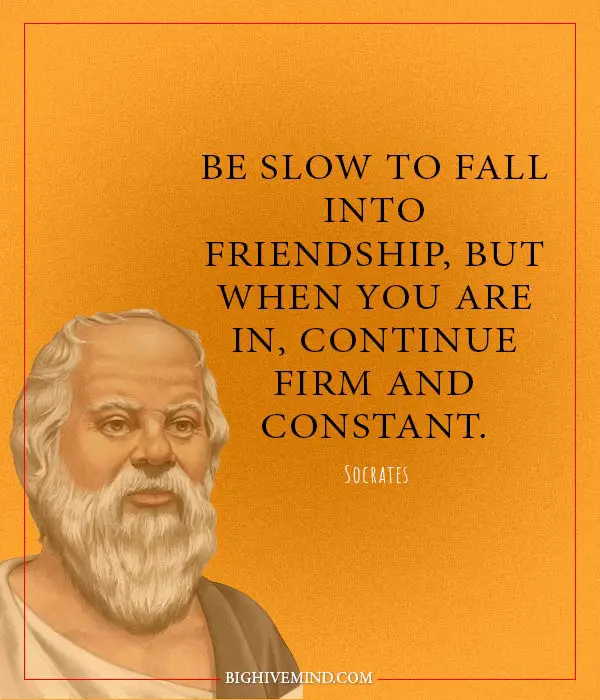 Be slow to fall into friendship, but when you are in, continue firm and constant.
---
Sometimes you put walls up not to keep people out, but to see who cares enough to break them down.
---
Contentment is natural wealth, luxury is artificial poverty.
---
Do not do to others what angers you if done to you by others.
---
The secret of change is to focus all of your energy, not on fighting the old, but on building the new.
---
Those who are hardest to love, need it the most.
---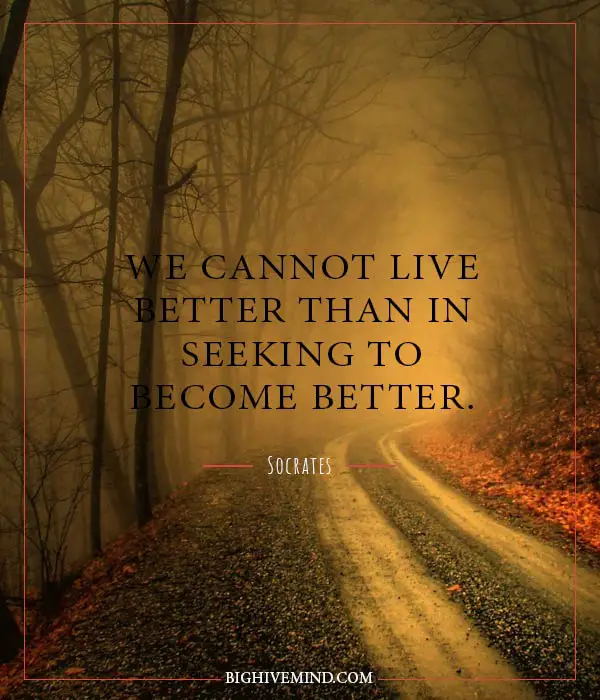 We cannot live better than in seeking to become better.
---
Beware the barrenness of a busy life.
---
A system of morality which is based on relative emotional values is a mere illusion, a thoroughly vulgar conception which has nothing sound in it and nothing true.
---
There is only one good, knowledge, and one evil, ignorance.
---
Be kind, for everyone you meet is fighting a hard battle.
---
To find yourself, think for yourself.
---
Get not your friends by bare compliments, but by giving them sensible tokens of your love.
---
Regard your good name as the richest jewel you can possibly be possessed of – for credit is like fire; when once you have kindled it you may easily preserve it, but if you once extinguish it, you will find it an arduous task to rekindle it again. The way to gain a good reputation is to endeavor to be what you desire to appear.
---
Remember that there is nothing stable in human affairs; therefore avoid undue elation in prosperity, or undue depression in adversity.
---
Remember what is unbecoming to do is also unbecoming to speak of.
---
The shortest and surest way to live with honour in the world, is to be in reality what we would appear to be; and if we observe, we shall find, that all human virtues increase and strengthen themselves by the practice of them.
---