As the spiritual leader of the Tibetan people, it is no surprise that the
Dalai Lama
has much to say about compassion, happiness, religion, love and life in general. Heed his advice to think a positive thought in the morning by reading one of his quotes first thing when you wake up.
Calm mind brings inner strength and self-confidence, so that's very important for good health.
---
Be kind whenever possible. It is always possible.
---
Old friends pass away, new friends appear. It is just like the days. An old day passes, a new day arrives. The important thing is to make it meaningful: a meaningful friend – or a meaningful day.
---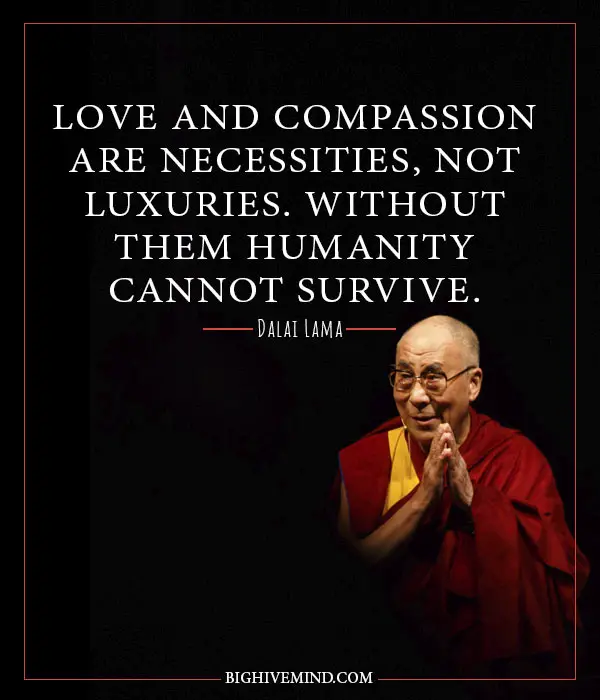 Love and compassion are necessities, not luxuries. Without them humanity cannot survive.
---
In order to carry a positive action we must develop here a positive vision.
---
This is my simple religion. There is no need for temples; no need for complicated philosophy. Our own brain, our own heart is our temple; the philosophy is kindness.
---
Our prime purpose in this life is to help others. And if you can't help them, at least don't hurt them.
---
Happiness is not something ready made. It comes from your own actions.
---
When we meet real tragedy in life, we can react in two ways – either by losing hope and falling into self-destructive habits, or by using the challenge to find our inner strength. Thanks to the teachings of Buddha, I have been able to take this second way.
---
My religion is very simple. My religion is kindness.
---
Give the ones you love wings to fly, roots to come back and reasons to stay.
---
Time passes unhindered. When we make mistakes, we cannot turn the clock back and try again. All we can do is use the present well.
---
An open heart is an open mind.
---
An eye for an eye….we are all blind.
---
A spoon cannot taste of the food it carries. Likewise, a foolish man cannot understand the wise man´s wisdom even if he associates with a sage.
---
There is a saying in Tibetan, 'Tragedy should be utilized as a source of strength.'
No matter what sort of difficulties, how painful experience is, if we lose our hope, that's our real disaster.
---
Remember that the best relationship is one in which your love for each other exceeds your need for each other.
---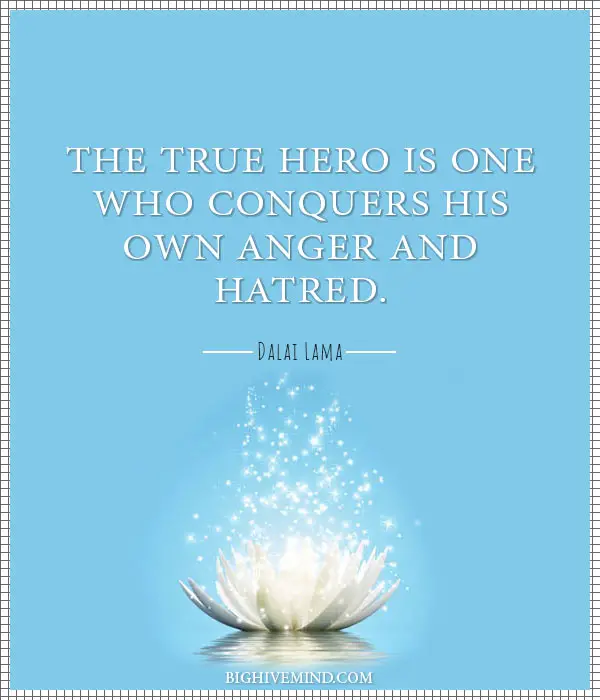 The true hero is one who conquers his own anger and hatred.
---
In our struggle for freedom, truth is the only weapon we possess.
---
Know the rules well, so you can break them effectively.
---
Don't ever mistake my silence for ignorance, my calmness for acceptance or my kindness for weakness. Compassion and tolerance are not a sign of weakness, but a sign of strength.
---
Man surprised me most about humanity.Because he sacrifices his health in order to make money. Then he sacrifices money to recuperate his health.And then he is so anxious about the future that he does not enjoy the present; the result being that he does not live in the present or the future; he lives as if he is never going to die, and then dies having never really lived.
---
Do not let the behavior of others destroy your inner peace.
---
If you think you are too small to make a difference, try sleeping with a mosquito.
---
Just one small positive thought in the morning can change your whole day.
---
If it can be solved, there's no need to worry, and if it can't be solved, worry is of no use.
---
When you think everything is someone else's fault, you will suffer a lot. When you realize that everything springs only from yourself, you will learn both peace and joy.
---
Follow the three R's: – Respect for self. – Respect for others. – Responsibility for all your actions.
---
True happiness comes from having a sense of inner peace and contentment, which in turn must be achieved by cultivating altruism, love and compassion, and by eliminating anger, selfishness and greed.
---
When you talk you are only repeating something you already know. But, if you listen you may learn something new.
---
The goal is not to be better than the other man, but your previous self.
---
We need to learn to want what we have, not to have what we want, in order to get stable and steady happiness.
---
It is under the greatest adversity that there exists the greatest potential for doing good, both for oneself and others.
---
Compassion is the radicalism of our time.
---
To conquer oneself is a greater victory than to conquer thousands in a battle.
---
People take different roads seeking fulfillment and happiness. Just because they're not on your road doesn't mean they've gotten lost.
---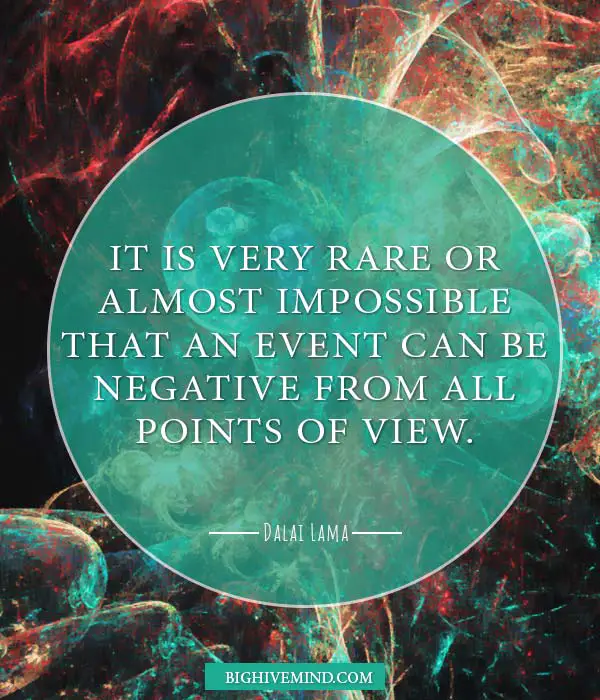 It is very rare or almost impossible that an event can be negative from all points of view.
---
If you want others to be happy, practice compassion. If you want to be happy, practice compassion.
---
Sometimes one creates a dynamic impression by saying something, and sometimes one creates as significant an impression by remaining silent.
---
The world doesn't belong to leaders. The world belongs to all humanity.
---
A good friend who points out mistakes and imperfections and rebukes evil is to be respected as if he reveals the secret of some hidden treasure.
---
Hard times build determination and inner strength. Through them we can also come to appreciate the uselessness of anger. Instead of getting angry nurture a deep caring and respect for troublemakers because by creating such trying circumstances they provide us with invaluable opportunities to practice tolerance and patience.
---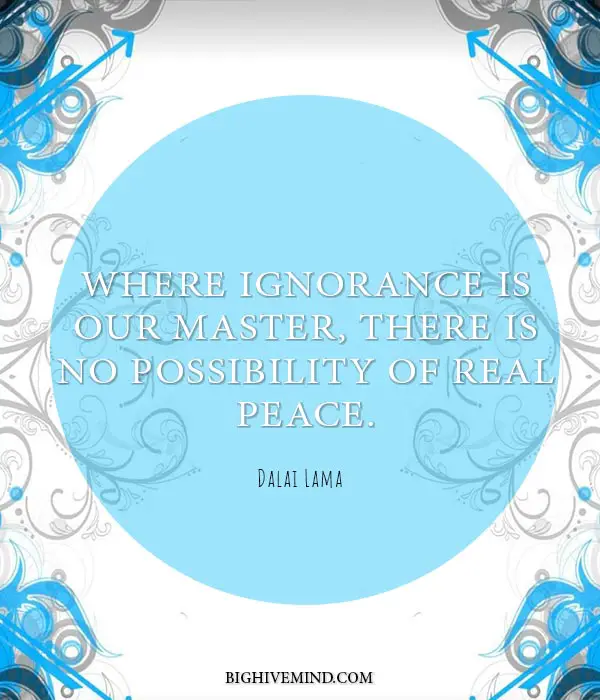 Where ignorance is our master, there is no possibility of real peace.
---
You must not hate those who do wrong or harmful things; but with compassion, you must do what you can to stop them — for they are harming themselves, as well as those who suffer from their actions.
---
If scientific analysis were conclusively to demonstrate certain claims in Buddhism to be false, then we must accept the findings of science and abandon those claims.
---
When we feel love and kindness toward others, it not only makes others feel loved and cared for, but it helps us also to develop inner happiness and peace.
---
Compassion is not religious business, it is human business, it is not luxury, it is essential for our own peace and mental stability, it is essential for human survival.
---
Life is as dear to a mute creature as it is to man. Just as one wants happiness and fears pain, just as one wants to live and not die, so do other creatures.
---
I don't know whether the universe, with its countless galaxies, stars and planets, has a deeper meaning or not, but at the very least, it is clear that we humans who live on this earth face the task of making a happy life for ourselves. Therefore, it is important to discover what will bring about the greatest degree of happiness.
---
Anger or hatred is like a fisherman's hook. It is very important for us to ensure that we are not caught by it.
---