While you might liken yourself to a modern Don Juan or your lover's soulmate, not all of us are poetic masters; we could all use a little eloquent inspiration to make that special someone swoon with just words. With the help of these endearing words, a cute night in with The Notebook or a romantic Florentine honeymoon can transform into an even sweeter moment of intimacy. Whether you decide to send these quotes over a flirty text or commit them to memory and recite them from the heart, your boyfriend or girlfriend will appreciate these tender affirmations of your adoration.
I love you without knowing how, or when, or from where. I love you simply, without problems or pride: I love you in this way because I do not know any other way of loving but this, in which there is no I or you, so intimate that your hand upon my chest is my hand, so intimate that when I fall asleep your eyes close.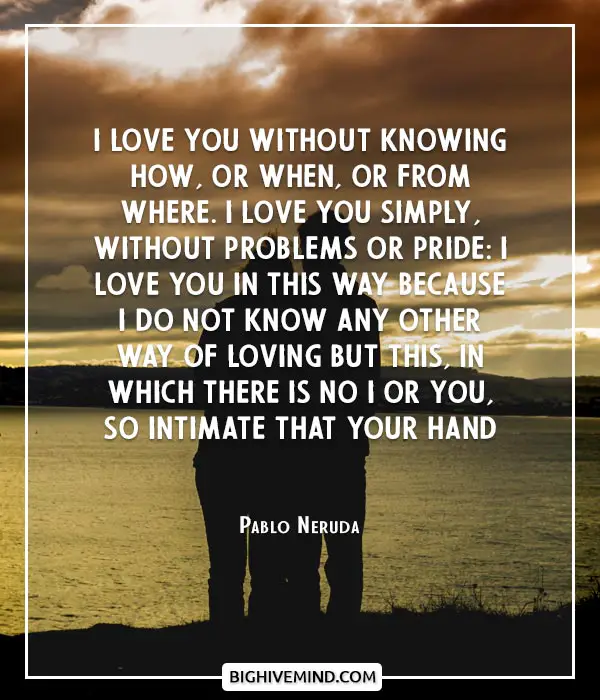 ---
I loved you like a man loves a woman he never touches, only writes to, keeps little photographs of.
---
Tis better to have loved and lost
Than never to have loved at all.
---
You may not be her first, her last, or her only. She loved before she may love again. But if she loves you now, what else matters? She's not perfect—you aren't either, and the two of you may never be perfect together but if she can make you laugh, cause you to think twice, and admit to being human and making mistakes, hold onto her and give her the most you can. She may not be thinking about you every second of the day, but she will give you a part of her that she knows you can break—her heart. So don't hurt her, don't change her, don't analyze and don't expect more than she can give. Smile when she makes you happy, let her know when she makes you mad, and miss her when she's not there.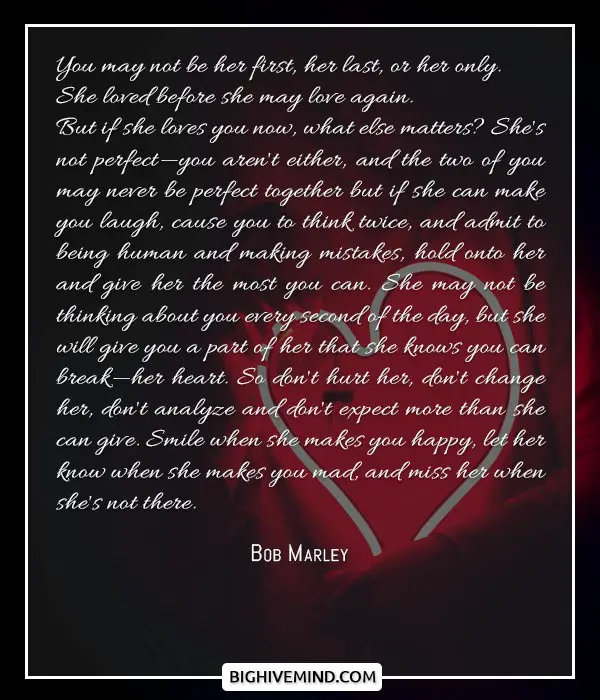 ---
I think… if it is true that
there are as many minds as there
are heads, then there are as many
kinds of love as there are hearts.
---
Sometimes when I look at you, I feel I'm gazing at a distant star.
It's dazzling, but the light is from tens of thousands of years ago.
Maybe the star doesn't even exist any more. Yet sometimes that light seems more real to me than anything.
---
Love is that condition in which the happiness of another person is essential to your own.
---
When love is not madness it is not love.
---
If you remember me, then I don't care if everyone else forgets.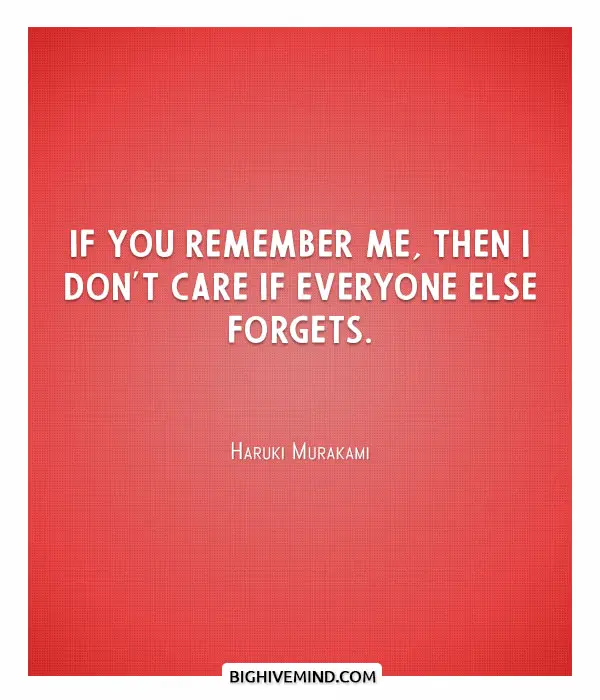 ---
I fell in love with him. But I don't just stay with him by default as if there's no one else available to me. I stay with him because I choose to, every day that I wake up, every day that we fight or lie to each other or disappoint each other. I choose him over and over again, and he chooses me.
---
When I saw you I fell in love, and you smiled because you knew.
---
Then I realize what it is. It's him. Something about him makes me feel like I am about to fall. Or turn to liquid. Or burst into flames.
---
As he read, I fell in love the way you fall asleep: slowly, and then all at once.
---
I loved her against reason, against promise, against peace, against hope, against happiness, against all discouragement that could be.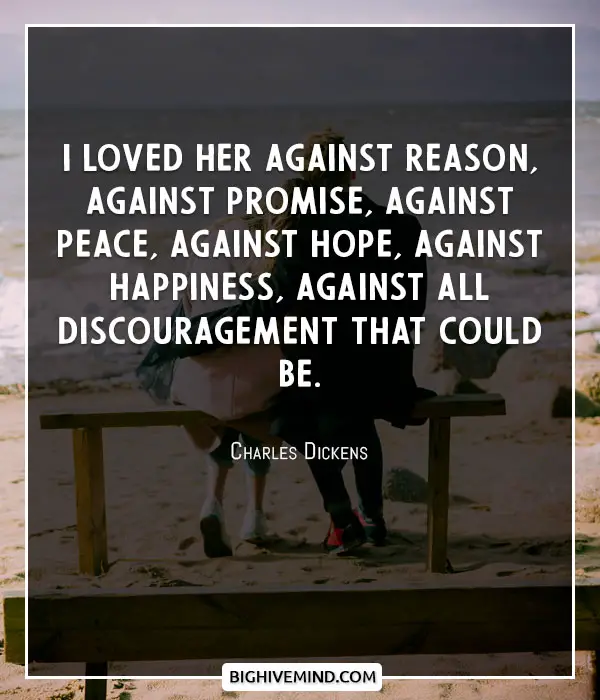 ---
You don't love someone because they're perfect, you love them in spite of the fact that they're not.
---
I love you as certain dark things are to be loved,
in secret, between the shadow and the soul.
---
Two people in love, alone, isolated from the world, that's beautiful.
---
The heart was made to be broken.
---
If you like her, if she makes you happy, and if you feel like you know her—then don't let her go.
---
Darkness cannot drive out darkness: only light can do that. Hate cannot drive out hate: only love can do that.
---
Every heart sings a song, incomplete, until another heart whispers back. Those who wish to sing always find a song. At the touch of a lover, everyone becomes a poet.
---
I love you also means I love you more than anyone loves you, or has loved you, or will love you, and also, I love you in a way that no one loves you, or has loved you, or will love you, and also, I love you in a way that I love no one else, and never have loved anyone else, and never will love anyone else.
---
We waste time looking for the perfect lover, instead of creating the perfect love.
---
They say when you are missing someone that they are probably feeling the same, but I don't think it's possible for you to miss me as much as I'm missing you right now
---
When I say it's you I like, I'm talking about that part of you that knows that life is far more than anything you can ever see or hear or touch. That deep part of you that allows you to stand for those things without which humankind cannot survive. Love that conquers hate, peace that rises triumphant over war, and justice that proves more powerful than greed.
---
Being with you never felt wrong. It's the one thing I did right. You're the one thing I did right.
---
What she had realized was that love was that moment when your heart was about to burst.
---
Let there be spaces in your togetherness, And let the winds of the heavens dance between you. Love one another but make not a bond of love: Let it rather be a moving sea between the shores of your souls.
---
It is a curious thought, but it is only when you see people looking ridiculous that you realize just how much you love them.
---
For the two of us, home isn't a place. It is a person. And we are finally home.
---
I could not tell you if I loved you the first moment I saw you, or if it was the second or third or fourth. But I remember the first moment I looked at you walking toward me and realized that somehow the rest of the world seemed to vanish when I was with you.
---
Have enough courage to trust love one more time and always one more time.
---
It was love at first sight, at last sight, at ever and ever sight.
---
When we love, we always strive to become better than we are. When we strive to become better than we are, everything around us becomes better too.
---
Being deeply loved by someone gives you strength, while loving someone deeply gives you courage.
---
There is never a time or place for true love. It happens accidentally, in a heartbeat, in a single flashing, throbbing moment.
---
Have you ever been in love? Horrible isn't it? It makes you so vulnerable. It opens your chest and it opens up your heart and it means that someone can get inside you and mess you up.
---
Come sleep with me: We won't make Love, Love will make us.
---
In your light I learn how to love. In your beauty, how to make poems. You dance inside my chest where no-one sees you, but sometimes I do, and that sight becomes this art.
---
If she's amazing, she won't be easy. If she's easy, she won't be amazing. If she's worth it, you wont give up. If you give up, you're not worthy. … Truth is, everybody is going to hurt you; you just gotta find the ones worth suffering for.
---
Doubt thou the stars are fire;
Doubt that the sun doth move;
Doubt truth to be a liar;
But never doubt I love.
---
I want
To do with you what spring does with the cherry trees.
---
I will love you always. When this red hair is white, I will still love you. When the smooth softness of youth is replaced by the delicate softness of age, I will still want to touch your skin. When your face is full of the lines of every smile you have ever smiled, of every surprise I have seen flash through your eyes, when every tear you have ever cried has left its mark upon your face,I will treasure you all the more, because I was there to see it all. I will share your life with you, Meredith, and I will love you until the last breath leaves your body or mine.
---
We love the things we love for what they are.
---
If you love somebody, let them go, for if they return, they were always yours. If they don't, they never were.
---
Love does not consist of gazing at each other, but in looking outward together in the same direction.
---
Yes, I was infatuated with you: I am still. No one has ever heightened such a keen capacity of physical sensation in me. I cut you out because I couldn't stand being a passing fancy. Before I give my body, I must give my thoughts, my mind, my dreams. And you weren't having any of those.
---
Once upon a time there was a boy who loved a girl, and her laughter was a question he wanted to spend his whole life answering.
---
So, I love you because the entire universe conspired to help me find you.
---
Time was passing like a hand waving from a train I wanted to be on.
I hope you never have to think about anything as much as I think about you.
---
Love reckons hours for months, and days for years; and every little absence is an age
---
If I had a flower for every time I thought of you…I could walk through my garden forever.
---
There is always some madness in love. But there is also always some reason in madness.
---
You know you're in love when you can't fall asleep because reality is finally better than your dreams.
---
He's more myself than I am. Whatever our souls are made of, his and mine are the same.
---
The most painful thing is losing yourself in the process of loving someone too much, and forgetting that you are special too.
---
I am yours. Don't give myself back to me.
---
Only once in your life, I truly believe, you find someone who can completely turn your world around.
---
I will find that special person who is wrong for me in just the right way.
---
Tonight I can write the saddest lines
I loved her, and sometimes she loved me too.
---
Be with me always – take any form – drive me mad! only do not leave me in this abyss, where I cannot find you! Oh, God! it is unutterable! I can not live without my life! I can not live without my soul!
---
When I am with you, we stay up all night.
When you're not here, I can't go to sleep.
Praise God for those two insomnias!
And the difference between them.
---
Gravitation is not responsible for people falling in love.
---
Happiness is holding someone in your arms and knowing you hold the whole world.
---
How do I love thee? Let me count the ways.
I love thee to the depth and breadth and height
My soul can reach
---
Promise me you'll never forget me because if I thought you would, I'd never leave.
---
I fell in love with her courage, her sincerity, and her flaming self respect. And it's these things I'd believe in, even if the whole world indulged in wild suspicions that she wasn't all she should be. I love her and it is the beginning of everything.
---
One day you will kiss a man you can't breathe without, and find that breath is of little consequence.
---
When I looked at you, my life made sense. Even the bad things made sense. They were
necessary to make you possible.
---
When we are in love, we open to all that life has to offer with passion, excitement, and acceptance.
---
Goodbyes are only for those who love with their eyes. Because for those who love with heart and soul there is no such thing as separation.
---