Here's a selection of American Horror Story Quotes, covering topics such as hotels, murder houses, covens and asylums.
We really hope you enjoy these quotes and that they give you something to think about.
At any rate, I'm not going to kill you, well maybe after dessert. I put a lot of effort into the Key Lime Pie. I do love a Key Lime Pie. Even more than a île flottante… call me a Philistine.
---
Too much? well, I don't know. Maybe you're right. Then here's my other offer: you can all just die.
---
(to Marie Laveau) I'm not afraid of you. (Marie Laveau cuts Delphine's arm) OOOOOW (at several times)!
---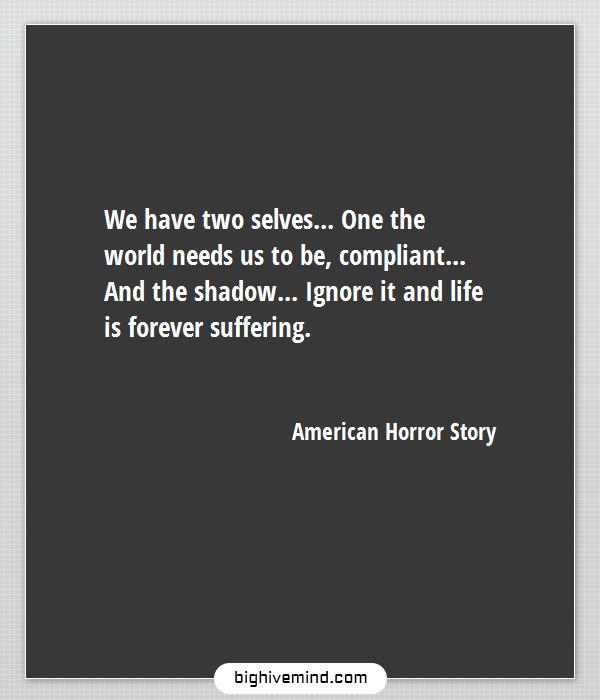 Cordelia: [to Myrtle] Any last words?
Myrtle:
Only one: BALENCIAGA! (Cordelia throws a cigarette at Myrtle) (burns/screams/cries on fire)
---
Axeman: You must pay for what you've done!
Madison: Wow, did you walk into the wrong house?
Axeman: I'll kill all of you!
---
I think everyone in this world thinks they're either blessed or cursed.
---
You're the only light i've ever known.
---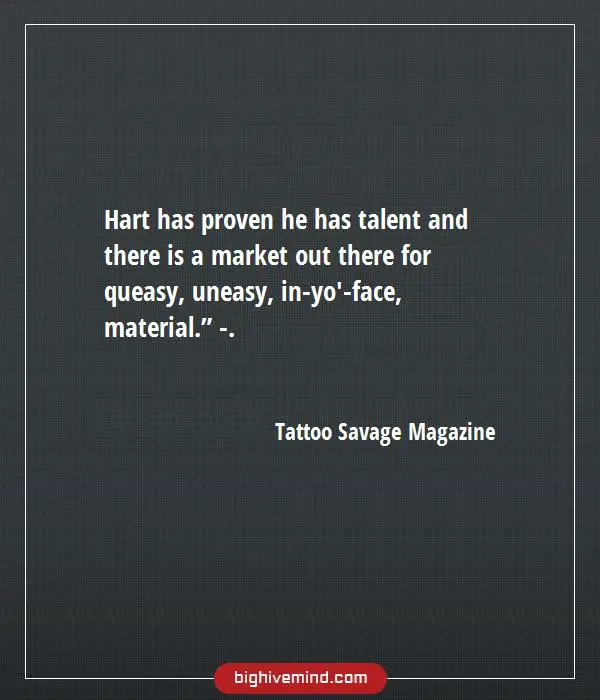 I'm starting to look less Samantha and more Endora every day.
---
[to Spalding] Alright you twisted, tea-serving necrophiliac, what'd you do to Madison?
---
Cordelia: Careful, girls, it's not a game.
Madison: It's the best game and we need a g*dd*mn break.
Zoe: Can't we just have a little fun?
---
[to Zoe, Madison, Nan & Queenie] You girls need to learn to fight. When witches don't fight, we burn.
---
The world can be such a… Dangerous place…
---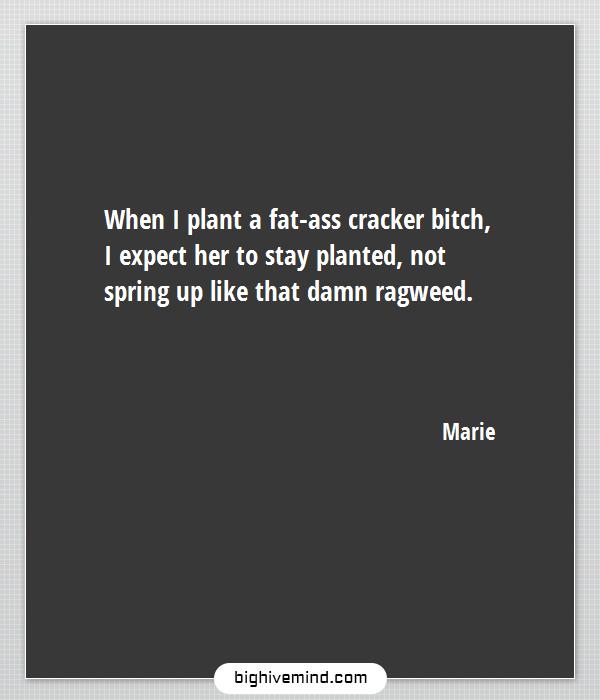 Did we just marry the Devil? Because I'm not down with that.
---
Everyone here is a witch. I'm so sorry. Please don't send us to jail.
---
One dog moves out, another moves in. It's the circle of life.
---
(to Madame) NO (DON'T DIE), PLEASE, MOTHER! (to Marie Laveua) NO! (Madame and Borquita scream) (Madame gets burned/killed by Marie Laveau)
---
Queenie: (to Marie Laveau) I love to.
Madame: (to Queenie) No, no, you stay away from me, you stay away from me you, hear me?! YOU STAY AWAAAAAAAAAAAAAY!
---
Allow me to introduce myself… I'm the countess…
---
[to Cordelia] Don't make me drop a house on you.
---
In this whole wide wicked world the only thing you have to be afraid of is me.
---
Fiona: Oh..Sweet Jesus !
Myrtle: He gets no credit. It was I who restored our beloved Cordelia.
---
[to Fiona] Feel the fear and the pain, let it all in, and then let it all go.
---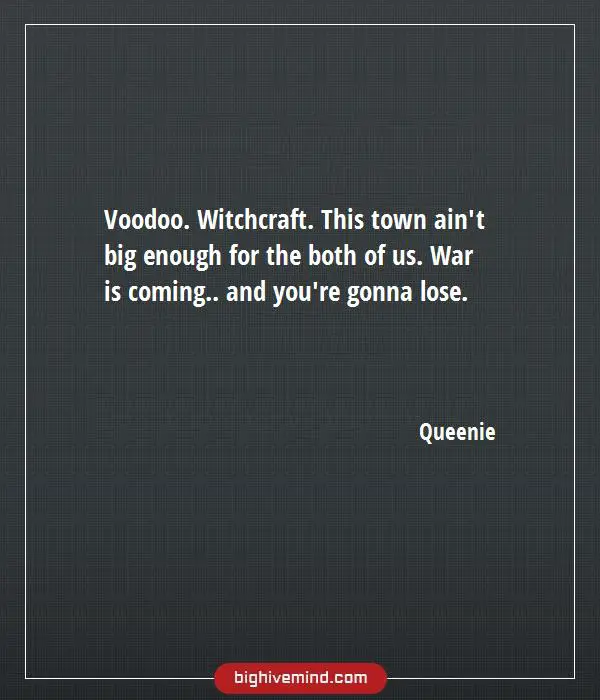 [to Queenie] It's absinthe. Drink of the divine, which we are.
---
(to Papa Legba) You've seen the last of me.
---
Yeah, well before we hop on our broomsticks, let's think it through.
---
You were always my fondest creation… I wanted to be here to help you transition… One last time…
---
Voodoo. Witchcraft. This town ain't big enough for the both of us. War is coming.. and you're gonna lose.
---
(to the axeman) NOOOOOOOOOOOOOOOOOOOOOOOO (2 times), (the axeman breaks glasses) no, noooooooooooooo!
---
Misty's probably twirled her way to the everglades by now. Don't bother.
---
Madison: Is this where we all sing Kum-Bah-Yah?
Queenie: b*tch! I will eat you.
---
Oh, my life is pure torment. One book signing after another. Travel, travel, travel. It's, like, get me off the bestseller list already.
---
I'm part of a sacred order, a soldier in a shadow war, a war that's been raging since before the time of Salem; we are a brotherhood pledged in blood, dedicated to stamping out the pestilence of witchery on the North American continent.
---
You think you can just throw me away for some junior varsity mall rat?.
---
Cordelia: (as Myrtle plays the theramin) What is that thing? It's hideous and weird.
Myrtle: Don't be a hater, dear.
---
Maybe in another century, you can have two shithole salons.
---
Myrtle: If you wouldn't listen,…..
Fiona: YOU will sit! (Myrtle sits on a chair)
---
[to the Axeman] Haven't you heard? I have no soul. I'll just kill 'em all.
---
If you look at evil, evil is going to look right back at you.
---
[to Papa Legba] She's innocent! Mostly… She killed the neighbor, but the b*tch had it coming.
---
(to Queenie) Throw me back in the box. I've seen enough of this world. I'll take no part in a country that has a darkie in the White House.
---
Myrtle: Fiona, it's been a long time.
Fiona: Myrtle Snow… Look at you, developing a sense of style when no one was paying attention.
---
The world's not going to miss a bunch of assholes in Ed Hardy t-shirts.
---
Kyle: You let her (Zoe) die, why did you let her die?
Madison: I did it for us, I love you. I love you… Please, please!
Kyle: You're not that good an actress.
---
[to Fiona] You didn't throw that acid but you might as well have.
---
[to Kyle] As for you, Ken doll. Well, putting you together was fun… [burns the cigarette] But taking you apart's gonna be even more fun.
---
We have two selves… One the world needs us to be, compliant… And the shadow… Ignore it and life is forever suffering.
---
They got some real power in that witch house now.
---
(to Fiona) I love you more than jazz, baby doll
---
Please tell me this is a hallucination driven by my bouquet of atropa belladonna.
---
Can you imagine those poor Salem witches traveling all the way down here in covered wagons without a proper charcuterie platter or a bidet? Absolutely savage!
---
Oh, honey… Goddesses don't speak in whispers. They scream.
---
That man was a particular kind of liar. The kind that lies to himself about being a liar. Who is so corrupt, and deluded, he believed his own lies. Lies are like scars on your soul. They destory you.
---
Hart has proven he has talent and there is a market out there for queasy, uneasy, in-yo'-face, material."
-.
---
I couldn't toast a piece of bread with the heat they were putting on you.
---
[to Queenie] Oh Jesus, go change your clothes. Wear something… black.
---
Papa Legba: [to Fiona] I don't give a donkey sh*t about title.
I want only one thing: your soul.
---
And now we must say goodbye to nan… Who fell in the bathtub.
---
I was Leisl (from her Sound of Music the recorded movie dream).
---
CORDELIA! (tries to unlock and open the door and save Cordelia from the axeman.)
---
Tonight I'm going to let the whole world in and get a good look at me. Who's the baddest witch in town?
---
[to Fiona] Surprise, b*tch. I bet you thought you'd seen the last of me.
---
Messes are always forgiven… The first time…
---
You will learn, its not our precious virus that makes you, its not who you kill or who you screw… Its the heartbreaks… The bigger… The better… And I know better than any of us.
---
[to Madame LaLaurie] C'mon, Mary Todd Lincoln. I'll buy you a drink.
---
When I plant a fat-*ss cracker b*tch, I expect her to stay planted, not spring up like that damn ragweed.
---
The devil is real. And he's not a little red man with horns and a tail. He can be beautiful. Because he's a fallen angel, and he used to be god's favorite.
---
I am not a human being, but a spirit. A foul demon from hottest Hell.
---
Queenie: Where is Marie Laveau?
Fiona: She's probably off in some unholy nether realm, cavorting with that half-baked Beetlejuice. Papa Legaboo-boo, or whatever the hell his name is.
---
I can't bring someone back once they're gator sh*t.
---
If you look into the face of evil, evil's gonna look right back at you.
---
This coven doesn't need a new supreme, it needs a new rug.
---
[about her own daughter] She had a monster for a mother. Her death was the only kindness I ever did for her.
---
You took my power the minute I gave birth to you.
---
[to Delphine] A dog returns to his vomit.
---
Madison Montgomery is a stone-cold b*tch who loves hard drinking, big dicks and trouble. If she's dead, it's probably 'cause she got wasted and offered the Grim Reaper a hand job or something.
---
Fiona: [to Madison] You'
re missing the pointMadison: What's the point?
Fiona: The point is in this whole wide wicked world the only thing you have to be afraid of is me.
---
These are my last words, Miss Fiona. I have always loved you.
---
[to The Delphi Trust men] Here's my other offer. You can all just die.
---
Fiona: You know why I got a female attack dog?
Hank: Because bitches stick together?
Fiona: Because females are more loyal and aggressive when it comes to protecting their family.
---
[to Madison] Put out that cigarette. Now stick it in your vagina.
---
[to Zoe about Kyle] Get him out of here. He broke Stevie.
---
[to her reanimated corpse army] Begin.
---
It's too hot. My frickin' vagina's sweating.
---
[to Cordelia] I just want to find a good husband and have three kids. I think I have a good shot. I work out and play fantasy football.
---
[to Fiona & Marie from putting/killing Nan in the water in the tub] You two together are in biiiiiig trouble.
---