Envy, insecurity, and 

jealousy

 prevent relationships from growing: if you cannot trust your partner, you don't have a solid enough base for a healthy relationship. Jealousies enhance and reflect the anxieties already present in our daily lives, but jealous feelings don't need to be acted upon: it is more important to recognize the emotions you're feeling so they can be dealt with, instead of letting your insecurities go unnoticed. 

Instead of jeopardizing your relationships

, take a look at the following quotes that will give you the wisdom necessary for overcoming feelings of insecurity in search of a more fulfilling, loving, 

healthy relationship

 with your partner.
The problem with human attraction is not knowing if it will be returned.
Becca Fitzpatrick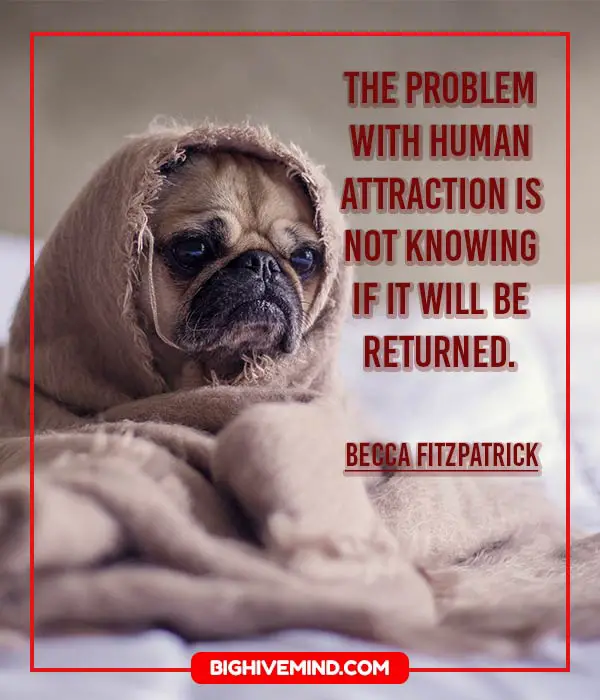 ---
Insecure people only eclipse your sun because they're jealous of your daylight and tired of their dark, starless nights.
Shannon L. Alder
---
I was feeling insecure you might not love me anymore.
John Lennon
---
Insecurity kills more dreams than failure ever will.
Suzy K*ssem
---
I have self-doubt. I have insecurity. I have fear of failure. I have nights when I show up at the arena and I'm like, 'My back hurts, my feet hurt, my knees hurt. I don't have it. I just want to chill.' We all have self-doubt. You don't deny it, but you also don't capitulate to it. You embrace it.
Kobe Bryant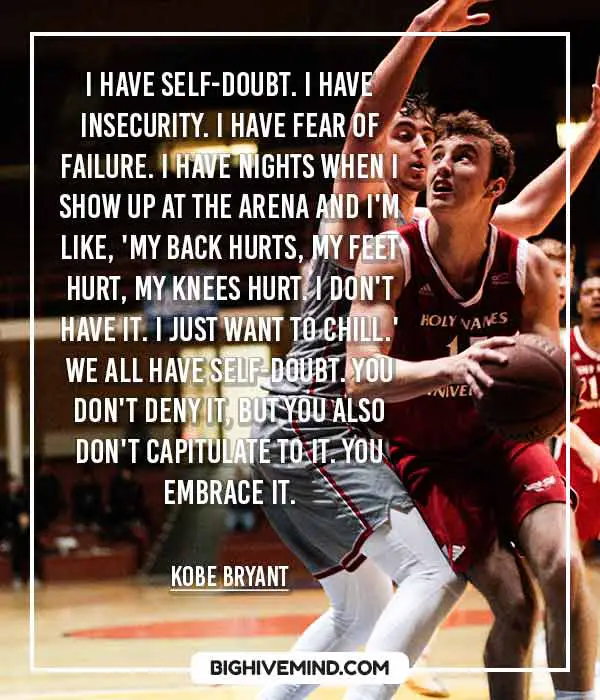 ---
Be careful not to mistake insecurity and inadequacy for humility! Humility has nothing to do with the insecure and inadequate! Just like arrogance has nothing to do with greatness!
C. JoyBell C.
---
Only the insecure strive for security.
Wayne Dyer
---
Most bad behaviour comes from insecurity.
Debra Winger
---
There is no external solution to the problem of insecurity.
Stefan Molyneux
---
I have insecurities, of course, but i don't hang out with anyone who points them out to me.
Adele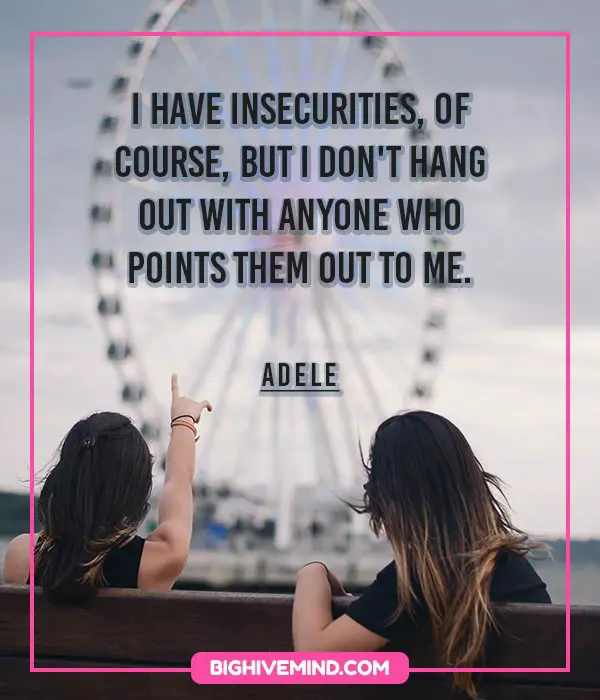 ---
It stands to the everlasting credit of science that by acting on the human mind it has overcome man's insecurity before himself and before nature.
Albert Einstein
---
We're quick to think of people as snobs, little realizing that perhaps they suffer from the same insecurities that we do.
Ken Puddicombe
---
If you are insecure, guess what? The rest of the world is, too.
Tim Ferriss
---
Insecurity prevents young artists from 'flying' and older artists from being 'down to earth.' Young artists should work on their confidence and the older ones on their humility.
Igor Babailov
---
The hallmark of insecurity is bravado.
Brandon Sanderson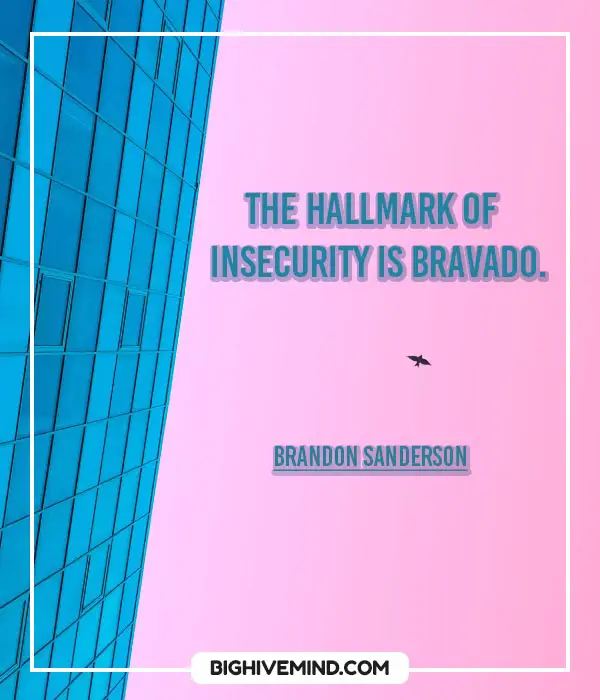 ---
Guys have a level of insecurity and vulnerability that's exponentially bigger than you think. With the primal urge to be alpha comes extreme heartbreak. The harder we fight, the harder we fall.
John Krasinski
---
People confuse ego, lust, insecurity with true love.
Simon Cowell
---
Ask no guarantees, ask for no security, there never was such an animal. And if there were, it would be related to the great sloth which hangs upside down in a tree all day every day, sleeping its life away.
Ray Bradbury
---
I always felt that I had anxiety of survival in terms of livelihood even when I was making plenty of money.
Leonard Baskin
---
Don't let fear or insecurity stop you from trying new things. Believe in yourself. Do what you love. And most importantly, be kind to others, even if you don't like them.
Stacy London
---
Creative people are very insecure people because they don't know whether people like them or are in awe of them. That insecurity always comes out. It makes them a better actor, I feel.
Presis Khambatta
---
I have my moments of insecurity and figuring out what's going on and what I'm supposed to do, but if you don't push yourself, you're not growing, so where do you go?
Selena Gomez
---
Happiness is only available with total acceptance of who you are, including all your fears, worries, and anxiety. It will be there for you when you can see your own inner beauty. You cannot achieve happiness without using your past, your flaws, insecurities, and imperfections in a positive way. It is about letting go and detaching from unhealthy people, ideas, and lifestyle choices, and replacing them with interdependent, pro-active ways of thinking and responding.
Lucinda B*ssett
---
The question is whether or not our insecurities are substantial enough to hurt, limit, or even distract us from profound effectiveness or fulfillment of purpose.
Beth Moore
---
Whenever you feel unloved, unimportant or insecure remember to whom you belong.
Ephesians
---
It takes a lot of courage to release the familiar and seemingly secure, to embrace the new. But there is no real security in what is no longer meaningful. There is more security in the adventurous and exciting, for in movement there is life, and in change there is power.
Alan Cohen
---
For good and evil, man is a free creative spirit. This produces the very queer world we live in, a world in continuous creation and therefore continuous change and insecurity.
Joyce Cary
---
I'm actively working hard on learning to appreciate yourself no matter what. If what someone else says can easily derail you, it means your sense of self isn't that firmly established in the first place. It's an inside job. You're beautiful and worthy and totally unique. People insult each other based on their own insecurities – even though it may feel personal, it really never is. Really. Seriously.
Emma Stone
---
A lack of transparency results in distrust and a deep sense of insecurity.
Dalai Lama
---
Fear and insecurity are signs of a strong heart.
Jack Skellington
---
Anger is a manifestation of a deeper issue… and that, for me, is based on insecurity, self-esteem and loneliness.
Naomi Campbell
---
I never have been insecure, because I see what a waste it is. I know there is a solution to insecurity. I don't tend to be thrown by problems that don't have solutions. And insecurity has a wealth of alternatives.
Drew Barrymore
---
I have six locks on my door all in a row. When I go out, I lock every other one. I figure no matter how long somebody stands there picking the locks, they are always locking three.
Elayce Boosler
---
I don't let anyone's insecurities, emotions, or opinions bother me. I know that if I am happy, that's all that matters to me.
Demi Lovato
---
Parents can be very influential in designing those little creepy-crawlers that jump around in your mind for the rest of your life. It's the fear of not being good enough.
Kim Basinger
---
An expectation is a shelter – it gives you a security feeling. So when someone breaks your expectations he is breaking your shelter, making you insecure, fearful.
Osho
---
Our deepest fear is not that we are inadequate. Our deepest fear is that we are powerful beyond measure. It is our light, not our darkness, that most frightens us. We ask ourselves, who am I to be brilliant, to be gorgeous, talented, and fabulous. Actually, who are you not to be? You are a child of God. Your playing small doesn't serve the world. There is nothing enlightened about shrinking so that others won't feel insecure around you. We are born to make manifest the glory of God within us. And as we let our light shine, we consciously give others permission to do the same. As we are liberated from our fear, our presence automatically liberates others.
Marianne Williamson
---
I had to confront my fears and master my every demonic thought about inferiority, insecurity, or the fear of being black, young, and gifted in this Western culture.
Lauryn Hill
---
The reason we struggle with insecurity is because we compare our behind-the-scenes with everyone else's highlight reel.
Steve Furtick
---
I have a very positive attitude in life. My insecurity, fear and need to know about tomorrow has fortunately eased. What is going to happen will happen anyway. So why break my head over it?
Katrina Kaif
---
Most bad behavior comes from insecurity.
Debra Winger
---
A man who goes into a restaurant and blatantly disrespects the servers shows a strong discontent with his own being. Deep down he knows that restaurant service is the closest thing he will ever experience to being served like a king.
Criss Jami
---
Change is always tough. Even for those who see themselves as agents of change, the process of starting a new thing can cause times of disorientation, uncertainty and insecurity.
Joyce Meyer
---
Uncertainty is the only certainty there is, and knowing how to live with insecurity is the only security.
John Allen Paulos
---
Inside it drives me crazy, my insecurities could eat me alive.
Eminem
---
I get insecure about a lot of things. In my line of work, unfortunately, your appearance is important, and I'm always like, 'Am I going to the gym enough this month? Have I been taking care of myself?' I get insecure about things from time to time.
Jesse Mccartney
---
It is no use. I find it impossible to work with security staring me in the face.
Sherwood Anderson
---
It's insecurity that is always chasing you and standing in the way of your dreams.
Vin Diesel
---
Comparison is the thief of joy.
Theodore Roosevelt
---
Insecurity is your intuition telling you that something's not right.. either with them or with you.
Charles J. Orlando
---
I think we are all insecure, and there is nothing wrong in accepting that. But the problem arises when we try to counter this insecurity by cultivating this illusion of control, and we start taking ourselves and everything we know too seriously.
Sushant Singh Rajput
---
I spent too much of my life feeling insecure
Steve McQueen
---
I'm a combination between extreme insecurity and extreme confidence.
Alexandra Daddario
---
The task we must set for ourselves is not to feel secure, but to be able to tolerate insecurity.
Erich Fromm
---
Be who you are and say what you feel because those who mind don't matter and those who matter don't mind.
Dr. Seuss
---
Arrogance is the camouflage insecurity.
Tim Fargo
---
I love playing ego and insecurity combined.
Jim Carrey
---
He seemed to be talking about my fears, my insecurity, and my unwillingness to see what was wonderful because tomorrow it might disappear and I might suffer. The gods throw the dice, and they don't ask whether we want to be in the game or not.
Paulo Coelho
---
Success can make you go one of two ways. It can make you a prima donna – or it can smooth the edges, take away the insecurities, let the nice things come out.
Barbara Walters
---
Photographers deal in things which are continually vanishing and when they have vanished there is no contrivance on earth which can make them come back again. We cannot develop and print a memory.
Henri Cartier-Bresson
---
Failure is not about insecurity. Its about lack of execution.
Jeffrey Gitomer
---
Uncertainty and expectation are the joys of life. Security is an insipid thing, though the overtaking and possessing of a wish discovers the folly of the chase.
William Congreve
---
As your insecurity becomes nourished our relationship becomes poisoned.
Dr. Steve Maraboli
---
What you collect for your security makes you all the more insecure.
Shri Prashant
---
A competent and self-confident person is incapable of jealousy in anything. Jealousy is invariably a symptom of neurotic insecurity.
Robert A. Heinlein
---
Perhaps we just need little reminders from time to time that we are already dignified, deserving, worthy. Sometimes we don't feel that way because of the wounds and the scars we carry from the past or because of the uncertainty of the future. It is doubtful that we came to feel undeserving on our own. We were helped to feel unworthy. We were taught it in a thousand ways when we were little, and we learned our lessons well.
Jon Kabat-Zinn
---
Most men have an insecurity of some sort. But we're brought up to believe that we can't show them.
Luke Evans
---
If you are judging a person, you might be exposing an insecurity of your own.
Victor Prince
---
One of the greatest journeys in life is overcoming insecurity and learning to truly not give a sh*t.
J.A. Konrath
---
A man's spirit is free, but his pride binds him with chains of suffocation in a prison of his own insecurities.
Jeremy Aldana
---