Whether you are religious or not, it is worth going through the following quotes about Christianity. It is not for nothing that the Bible is the best-selling book of all time as well as the most widely distributed. People through the ages have learned a great deal about life from this holy book.
Christian Quotes About Life
You don't have to read the whole Bible to learn from it. We have gathered its wisdom here with some important quotes about life and hope they will help you in the same way that they have helped countless others.
Life is wasted if we do not grasp the glory of the cross, cherish it for the treasure that it is, and cleave to it as the highest price of every pleasure and the deepest comfort in every pain. What was once foolishness to us—a crucified God—must become our wisdom and our power and our only boast in this world.
---
God loves each of us as if there were only one of us.
---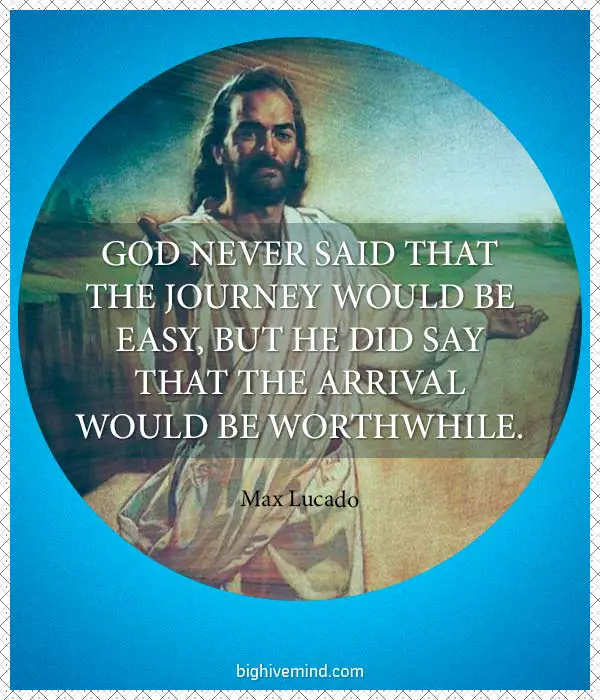 God never said that the journey would be easy, but He did say that the arrival would be worthwhile.
---
God's work done in God's way will never lack God's supplies.
---
God will meet you where you are in order to take you where He wants you to go.
---
Let God's promises shine on your problems.
---
Christ literally walked in our shoes.
---
He is no fool who gives what he cannot keep, to gain what he cannot lose.
---
Remember who you are. Don't compromise for anyone, for any reason. You are a child of the Almighty God. Live that truth.
---
If you can't fly, then run, If you can't run, then walk, If you can't walk, then crawl, but whatever you do, you have to keep moving forward.
---
I've read the last page of the Bible. It's all going to turn out all right.
---
If God called us to a task, He will then qualify us for the job.
---
When you understand that life is a test, you realize that nothing is insignificant in your life.
---
Success is on the same road as failure; success is just a little further down the road.
---
God has a purpose behind every problem. He uses circumstances to develop our character. In fact, he depends more on circumstances to make us like Jesus than he depends on our reading the Bible.
---
We have a God who delights in impossibilities.
---
One touch of Christ is worth a lifetime of struggling.
---
God grades on the Cross not on the curve.
---
We may speak about a place where there are no tears, no death, no fear, no night; but those are just the benefits of heaven. The beauty of heaven is seeing God.
---
I'm not afraid of the devil. The devil can handle me – he's got judo I never heard of. But he can't handle the One to whom I'm joined; he can't handle the One to whom I'm united; he can't handle the One whose nature dwells in my nature.
---
Christian Quotes About Faith
Faith is certainly one of the main values of Christianity. Strengthen yours with the following quotes or simply use the opportunity to reflect on the quality if you are not a Christian.
If God is your partner, make your plans BIG
---
You are the only Bible some unbelievers will ever read.
---
God does not give us everything we want, but He does fulfill His promises, leading us along the best and straightest paths to Himself.
---
The Christian life is not a constant high. I have my moments of deep discouragement. I have to go to God in prayer with tears in my eyes, and say, 'O God, forgive me,' or 'Help me.
---
Always, everywhere God is present, and always He seeks to discover Himself to each one.
---
If you believe in a God who controls the big things, you have to believe in a God who controls the little things. It is we, of course, to whom things look 'little' or 'big'.
---
There is no one who is insignificant in the purpose of God.
---
Relying on God has to start all over everyday, as if nothing has yet been done.
---
This is our time on the history line of God. This is it. What will we do with the one deep exhale of God on this earth? For we are but a vapor and we have to make it count. We're on. Direct us, Lord, and get us on our feet.
---
Be faithful in small things because it is in them that your strength lies.
---
The ultimate measure of a man [or women] is not where he [she] stands in moments of comfort and convenience, but where he [she] stands at times of challenge and controversy.
---
Faith looks not at what happens to him but at Him Whom he believes.
---
Faith and works are bound up in the same bundle. He that obeys God trusts God; and he that trusts God obeys God. He that is without faith is without works; and he that is without works is without faith.
---
Faith upholds a Christian under all trials, by assuring him that every painful dispensation is under the direction of his Lord.
---
Faith is trust or commitment to what you think is true.
---
The issue of faith is not so much whether we believe in God, but whether we believe the God we believe in.
---
If you are not firm in faith, you will not be firm at all.
---
Faith is not something that goes against the evidence, it goes beyond it.
---
The steps of faith fall on the seeming void, but find the rock beneath.
---
I believe the promises of God enough to venture an eternity on them.
---
Christian Quotes About Love
The following quotes teach us a great deal about love in all its forms. Whether it be love for your family and friends or for your significant other, you are sure to feel plenty of warm and fuzzy feelings by the time you are through with them.
He said "Love…as I have loved you." We cannot love too much.
---
Love the Lord, all you his saints! The Lord preserves the faithful but abundantly repays the one who acts in pride.
---
Faith never knows where it is being led, but it loves and knows the One who is leading.
---
The art of love is God at work through you.
---
God's love is the most powerful love there is. It is a bond that draws us to God and motivates us to serve Him successfully.
---
Those in the circle of Christ had no doubt of his love; those in our circles should have no doubt about ours.
---
Love leaves a legacy. How you treated other people, not your wealth or accomplishments, is the most enduring impact you can leave on earth.
---
We are to enjoy what we have while we have it, but we are never to get to the point where we think we could not love without it.
---
The more we love, the more love we have to offer. So it is with God's love for us. It is inexhaustible.
---
If we claim to love God but don't love each other our love is nothing and meaningless.
---
As believers in Christ, we are part of Him-God the Father decided before the foundation of the world that anyone who loved Christ would be loved and accepted by Him.
---
Love pays attention. Love listens to the fears and the doubts of others and treats them with respect. Love accepts others the way Jesus accepts you.
---
God is not keeping score with our bank accounts, our trophies, or what people are saying about us. The only thing that matters is how we spend our love.
---
At best we are but clay, animated dust; but viewed as sinners, we are monsters indeed. Let it be published in heaven as a miracle that the Lord Jesus should set His heart's love upon people like us.
---
Whatever a person may be like, we must still love them because we love God.
---
Love is the sum of all virtue, and love disposes us to good.
---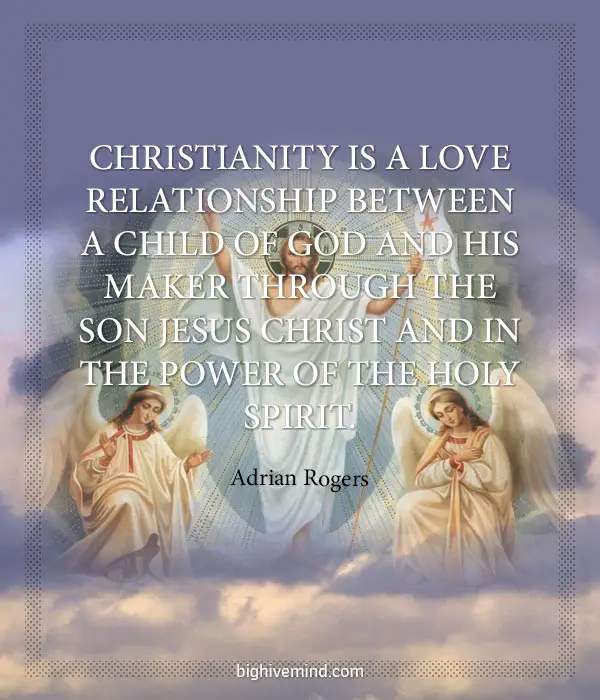 Christianity is a love relationship between a child of God and his Maker through the Son Jesus Christ and in the power of the Holy Spirit.
---
You can see God from anywhere if your mind is set to love and obey Him.
---
Though we cannot think alike may we not love alike?
---
To love is to be venerable.
---
Christian Quotes About Death
All kinds of people have found solace in the Bible through the ages when faced with the inevitability of death and the loss of loved ones. Perhaps the following quotes will help you too.
He who lays up treasures on earth spends his life backing away from his treasures. To him, death is loss. He who lays up treasures in heaven looks forward to eternity; he's moving daily toward his treasures. To him, death is gain.
---
Let us consider this settled, that no one has made progress in the school of Christ who does not joyfully await the day of death and final resurrection.
---
When we die we leave behind us all we have, and take with us all we are.
---
Many Christians dread the thought of leaving this world. Why? Because so many have stored up their treasures on earth, not in heaven. Each day brings us closer to death. If your treasures are on earth, that means each day brings you closer to losing your treasures.
---
I don't so much pray that my death will be without pain, but that it will be without doubt.
---
Death is never the last word in the life of a…man. When a man leaves this world, be he righteous or unrighteous, he leaves something in the world. He may leave something that will grow and spread like a cancer or a poison, or he may leave something like the fragrance of perfume or a blossom of beauty that permeates the atmosphere with blessing.
---
Death is not the end of the road; it is only a bend in the road. The road winds only through those paths through which Christ Himself has gone. This Travel Agent does not expect us to discover the trail for ourselves. Often we say that Christ will meet us on the other side. That is true, of course, but misleading. Let us never forget that He walks with us on this side of the curtain and then guides us through the opening. We will meet Him there, because we have met Him here.
---
Your life preaches your funeral.
---
Depend upon it, your dying hour will be the best hour you have ever known! Your last moment will be your richest moment, better than the day of your birth will be the day of your death. It shall be the beginning of heaven, the rising of a sun that shall go no more down forever!
---
Living is death; dying is life. On this side of the grave we are exiles, on that, citizens; on this side, orphans, on that, children; on this side, captives; on that, freemen; on this side, disguised, unknown; on that, disclosed and proclaimed as the sons of God.
---
Tears are a tribute to our deceased friends. When the body is sown, it must be watered. But we must not sorrow as those that have no hope; for we have a good hope through grace both concerning them and concerning ourselves.
---
Life is a great sunrise. I do not see why death should not be an even greater one.
---
It is foolish and wrong to mourn the men who died.
Rather we should thank God that such men lived.
---
I believe that when death closes our eyes we shall awaken to a light, of which our sunlight is but the shadow.
---
We want to reach the kingdom of God, but we don't want to travel by way of death. And yet there stands Necessity saying: 'This way, please.' Do not hesitate, man, to go this way, when this is the way that God came to you.
---
Death may be the King of terrors… but Jesus is the King of kings!
---
Our nature consists in motion; complete rest is death.
---
Life is but a moment, death also is but another.
---
You have come into a hard world. I know of only one easy place in it, and that is the grave.
---
The bitterest tears shed over graves are for words left unsaid and deeds left undone.
---
Christian Quotes On Hope
The Bible holds hope in high esteem. The following quotes will help you to take heart and continue forging on regardless of the obstacles life has laid on your path.
The best thing about the future is that it comes only one day at a time.
---
Your potential is the sum of all the possibilities God has for your life.
---
The best and most beautiful things in this world cannot be seen or even heard, but must be felt with the heart.
---
We are all faced with a series of great opportunities brilliantly disguised as impossible situations.
---
The greater your knowledge of the goodness and grace of God on your life, the more likely you are to praise Him in the storm.
---
God is most glorified in us when we are most satisfied in Him.
---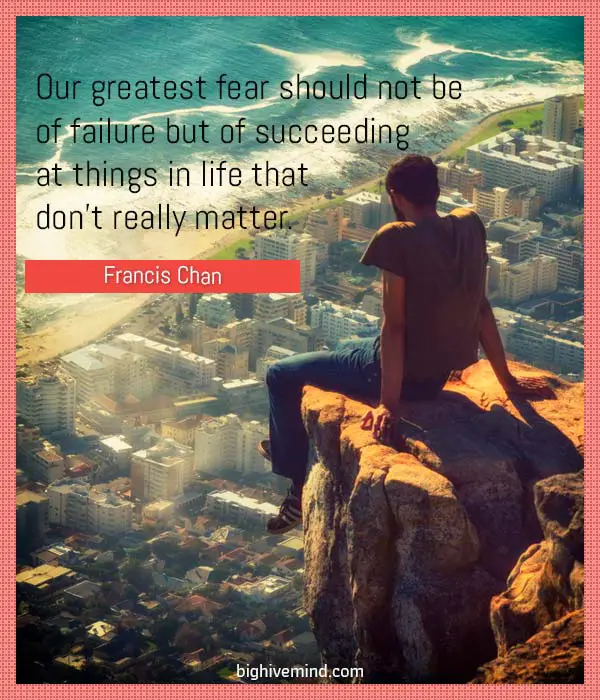 Our greatest fear should not be of failure but of succeeding at things in life that don't really matter.
---
God has been good and He will continue to manifest His goodness. Let us approach these days expecting to see the goodness of the Lord manifest. Let us be strong and of good courage, for the Lord will fight for us if we stand in faith.
---
Seek not to understand that you may believe, but believe that you may understand.
---
Now faith is the assurance of things hoped for, the conviction of things not seen.
---
Hope begins in the dark, the stubborn hope that if you just show up and try to do the right thing, the dawn will come. You wait and watch and work: You don't give up.
---
If God can bring blessing from the broken body of Jesus and glory from something that's as obscene as the cross, He can bring blessing from my problems and my pain and my unanswered prayer. I just have to trust Him.
---
Pray, and let God worry.
---
[I]t's never too late. You can't screw up so badly that God can't find something worth building in the wreckage, that life can't assert its return when it is time.
---
God is the only one who can make the valley of trouble a door of hope.
---
God does not always heal us instantly the way we think. He is not a jack-in-the-box God. But God is walking with me through this.
---
You've got to believe that God is in control of your life. It may be a tough time but you've got to believe that God has a reason for it and he's going to make everything good.
---
What gives me the most hope every day is God's grace; knowing that his grace is going to give me the strength for whatever I face, knowing that nothing is a surprise to God.
---
To live without Hope is to Cease to live.
---
The safest place in all the world is in the will of God, and the safest protection in all the world is the name of God.
---
Christian Quotes About Strength
The value and significance of inner strength are discussed in the following quotes. You will find advice for cultivating it as well as reminders about the kind of strength that is truly important.
We gain strength, and courage, and confidence by each experience in which we really stop to look fear in the face…we must do that which we think we cannot.
---
Continuous effort — not strength nor intelligence — is the key to unlocking our potential.
---
Outside of Christ, I am weak; in Christ, I am strong.
---
God's strength in your weakness is His presence in your life.
---
People are always more encouraged when we share how God's grace helped us in weakness than when we brag about our strengths.
---
To fully release the power of the Holy Spirit within us, we must allow God to deal with us and do with us as He wills.
---
The Bible isn't hocus pocus and reading it doesn't give you magical powers, but it does reveal to you who you really are and illumines a path that you were created to walk. Mitting a weakness is a sign of strength.
---
God can even give you the strength to keep going within those difficult situations. God calls us to maintain our faith and integrity and we respond by trusting in Him.
---
Don't let circumstances distress you. Rather, look for the will of God for your life to be revealed in and through those circumstances.
---
Failing to focus on our strengths may prevent us from accomplishing the unique tasks God has called us to do.
---
One of the ways we come to know God is in adversity. We draw close to Jesus in suffering. The very One who calls us to follow Him was well acquainted with suffering and sorrow.
---
Do you need strength? Peace? Wisdom? Direction? Discipline? Ask for it! God will hear you.
---
The inwards fortitude needed to face life's difficulties comes only as we open our hearts to Christ in the quiet moment, ceasing from activity and letting Him supply guidance, confidence, and direction we reflect on His word.
---
Unbelief is infectious! The unbelief of one strengthens the unbelief of another, just as the faith of one strengthens the faith of another.
---
Trying to do the Lord's work in your own strength is the most confusing, exhausting, and tedious of all work. But when you are filled with the Holy Spirit, then the ministry of Jesus just flows out of you.
---
One who gains strength by overcoming obstacles possesses the only strength which can overcome adversity.
---
Do not strive in your own strength; cast yourself at the feet of the Lord Jesus, and wait upon Him in the sure confidence that He is with you, and works in you. Strive in prayer; let faith fill your heart-so will you be strong in the Lord, and in the power of His might.
---
We are a long time in learning that all our strength and salvation is in God.
---
Nothing is so strong as gentleness, nothing so gentle as real strength.
---
A holy act strengthens the inward holiness. It is a seed of life growing into more life.
---
Christian Quotes About Marriage
The sacredness with which Christians hold marriage is well demonstrated by the following quotes. Read them with your husband or wife to be reminded of the specialness of your connection.
God created marriage. No government subcommittee envisioned it. No social organization developed it. Marriage was conceived and born in the mind of God.
---
Then the LORD God said, 'It is not good that the man should be alone; I will make him a helper fit for him.
---
Take wives and have sons and daughters; take wives for your sons, and give your daughters in marriage, that they may bear sons and daughters; multiply there, and do not decrease.
---
For as a young man marries a young woman, so shall your sons marry you, and as the bridegroom rejoices over the bride, so shall your God rejoice over you.
---
To encounter Christ is to touch reality and experience transcendence. He gives us a sense of self-worth or personal significance, because He assures us of God's love for us. He sets us free from guilt because He died for us and from paralyzing fear because He reigns. He gives meaning to marriage and home, work and leisure, personhood and citizenship.
---
As God by creation made two of one, so again by marriage He made one of two.
---
Sexual expression within a marriage is not an option or an extra. It is certainly not, as it has sometimes been considered, a necessary evil in which spiritual Christians engage only to procreate children. It is far more than a physical act. God created it to be the expression an experience of love on the deepest human level and to be a beautiful and powerful bond between husband and wife.
---
Jesus' teaching in general [implies] that happy and fulfilling sexual relations in marriage depend on each partner aiming to give satisfaction to the other. If it is the joy of each to make the other happy, a hundred problems will be solved before they happen.
---
Sex appeal alone is the poorest basis in the world for a happy marriage.
---
According to the Bible, the marriage act is more than a physical act. It is an act of sharing. It is an act of communion. It is an act of total self-giving wherein the husband gives himself completely to the wife, and the wife gives herself to the husband in such a way that the two actually become one flesh.
---
Marriage is getting to have a sleep over with your best friend, every single night of the week.
---
Love me when I least deserve it because that is when I really need it.
---
They slipped briskly into an intimacy from which they never recovered.
---
Do not be depressed. Do not let your weakness make you impatient. Instead, let the serenity of your spirit shine through your face. Let the joy of your mind burst forth.
---
Ladies, a real man does more than pay for you, he prays for you.
---
The best love is the kind that awakens the soul and makes us reach for more, that plants a fire in our hearts and brings peace to our minds.
---
The most important thing a father can do for his children is to love their mother.
---
God has set the type of marriage everywhere throughout the creation. Every creature seeks its perfection in another. The very heavens and earth picture it to us.
---
The man who loves his wife above all else on earth gains the freedom and power to pursue other noble, but lesser, loves.
---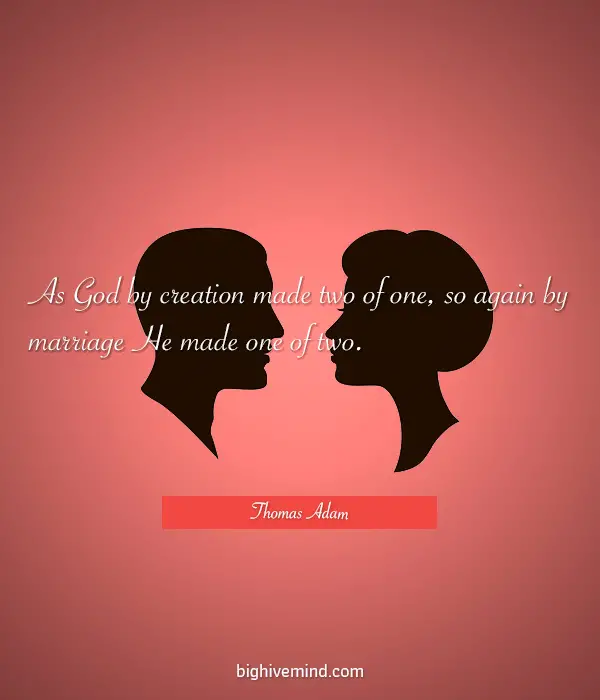 As God by creation made two of one, so again by marriage He made one of two.
---
Christian Quotes About The Family
The following quotes can help you renew the bonds of your family. Filled with wisdom and sage advice about the unique connections you have with each of your relations, they have inspired people for thousands of years.
The same Jesus Who turned water into wine can transform your home, your life, your family, and your future. He is still in the miracle-working business, and His business is the business of transformation.
---
This is all the inheritance I give to my dear family. The religion of Christ will give them one which will make them rich indeed.
---
The Church is everywhere represented as one. It is one body, one family, one fold, one kingdom. It is one because pervaded by one Spirit. We are all baptized into one Spirit so as to become, says the apostle, on body.
---
No man hath a right to claim God as his Father, unless he feeleth in his soul, and believeth, solemnly, through the faith of God's election, that he has been adopted into the one family of which is in heaven and earth, and that he has been regenerated or born again.
---
After all is said that can be said upon the liquor traffic, its influence is degrading upon the individual, the family, politics and business, and upon everything that you touch in this old world.
---
Family education and order are some of the chief means of grace; if these are duly maintained, all the means of grace are likely to prosper and become effectual.
---
If therefore our houses be houses of the Lord, we shall for that reason love home, reckoning our daily devotion the sweetest of our daily delights; and our family-worship the most valuable of our family-comforts… A church in the house will be a good legacy, nay, it will be a good inheritance, to be left to your children after you.
---
A man ought to live so that everybody knows he is a Christian… and most of all, his family ought to know.
---
A family is a place where principles are hammered and honed on the anvil of everyday living.
---
The family is the test of freedom; because the family is the only thing that the free man makes for himself and by himself.
---
You don't choose your family. They are God's gift to you, as you are to them.
---
Families are the compass that guide us. They are the inspiration to reach great heights, and our comfort when we occasionally falter.
---
Other things may change us, but we start and end with the family.
---
The only rock I know that stays steady, the only institution I know that works is the family.
---
Call it a clan, call it a network, call it a tribe, call it a family: Whatever you call it, whoever you are, you need one.
---
Feelings of worth can flourish only in an atmosphere where individual differences are appreciated, mistakes are tolerated, communication is open, and rules are flexible — the kind of atmosphere that is found in a nurturing family.
---
No matter what you've done for yourself or for humanity, if you can't look back on having given love and attention to your own family, what have you really accomplished?
---
We cannot destroy kindred: our chains stretch a little sometimes, but they never break.
---
Your family and your love must be cultivated like a garden. Time, effort, and imagination must be summoned constantly to keep any relationship flourishing and growing.
---
I know why families were created with all their imperfections. They humanize you. They are made to make you forget yourself occasionally, so that the beautiful balance of life is not destroyed.
---
Christian Quotes About Friendship
The following quotes illuminate the importance of friendship from a spiritual perspective. They will remind you to cherish the people you care about and to extend a helping hand beyond your immediate circle.
The steady discipline of intimate friendship with Jesus results in men becoming like Him.
---
Above all, keep loving one another earnestly, since love covers a multitude of sins. Show hospitality to one another without grumbling. As each has received a gift, use it to serve one another, as good stewards of God's varied grace.
---
At times our own light goes out and is rekindled by a spark from another person. Each of us has cause to think with deep gratitude of those who have lighted the flame within us.
---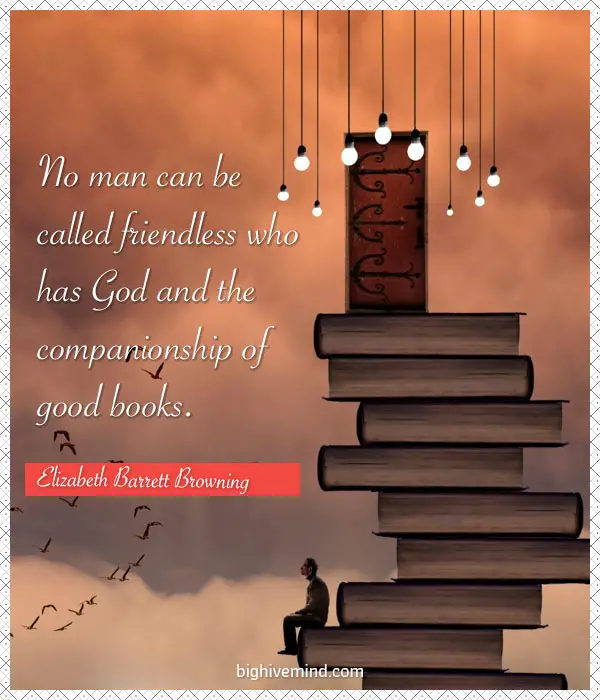 No man can be called friendless who has God and the companionship of good books.
---
Greater love has no one than this, that someone lay down his life for his friends.
---
Two are better than one because they have a good return for their labor. For if either of them falls, the one will lift up his companion. But woe to the one who falls when there is not another to lift him up.
---
A true friend is the greatest of all blessings.
---
Oh, for the days when I was in my prime, when God's intimate friendship blessed my house, when the Almighty was still with me and my children were around me, when my path was drenched with cream and the rock poured out for me streams of olive oil.
---
If two friends ask you to judge a dispute, don't accept, because you will lose one friend; on the other hand, if two strangers come with the same request, accept, because you will gain one friend.
---
I have friends in overalls whose friendship I would not swap for the favor of the kings of the world.
---
Friends always show their love. What are brothers for if not to share troubles?
---
My friends are my estate. Forgive me then the avarice to hoard them. They tell me those who were poor early have different views of gold. I don't know how that is. God is not so wary as we, else He would give us no friends, lest we forget Him.
---
Forsake not an old friend; for the new is not comparable to him: a new friend is as new wine; when it is old, thou shall drink it with pleasure.
---
Two are better than one; because they have a good reward for their labour. For if they fall, the one will lift up his fellow: but woe to him that is alone when he falleth; for he hath not another to help him up.
---
The greatest love a person can have for his friends is to give his life for them.
---
The heartfelt counsel of a friend is as sweet as perfume and incense.
---
A real friend is one who walks in when the rest of the world walks out.
---
Don't walk in front of me, I may not follow.
Don't walk behind me, I may not lead.
Walk beside me and be my friend.
---
No love, no friendship, can cross the path of our destiny without leaving some mark on it forever.
---
I find friendship to be like wine, raw when new, ripened with age, the true old man's milk and restorative cordial.
---