Gratitude is the gift that keeps giving. An increasing number of studies extoll the benefits of having a regular gratitude practice. It does everything from improving sleep and relationships to boosting physical and mental health. So use these quotes to jumpstart your own thankfulness practice. They would also be a valuable addition to your journal.
Thank You Quotes For Friends
Thank those who have been by your side through thick and thin. Yes we are talking about your friends. You love them, don't you? Then show them just how much with the following quotes.
The language of friendship is not words, but meanings.
---
We can only be said to be alive in those moments when our hearts are conscious of our treasures.
---
It takes a long time to grow an old friend.
---
In ordinary life we hardly realize that we receive a great deal more than we give, and that it is only with gratitude that life becomes rich.
---
Celebrate the happiness that friends are always giving, make every day a holiday and celebrate just living!
---
One can pay back the loan of gold, but one dies forever in debt to those who are kind.
---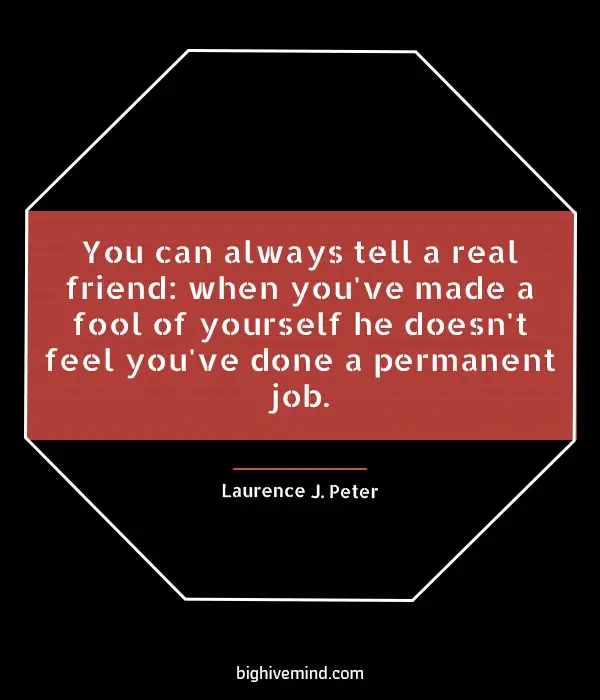 You can always tell a real friend: when you've made a fool of yourself he doesn't feel you've done a permanent job.
---
Friendship is unnecessary, like philosophy, like art…. It has no survival value; rather it is one of those things that give value to survival.
---
Unselfish and noble actions are the most radiant pages in the biography of souls.
---
If we have no peace, it is because we have forgotten that we belong to each other.
---
What sunshine is to flowers, smiles are to humanity. These are but trifles, to be sure, but, scattered along life's pathway, the good they do is inconceivable.
---
The glory of friendship is not the outstretched hand, nor the kindly smile, nor the joy of companionship; it is the spiritual inspiration that comes to one when he discovers that someone else believes in him and willing to trust him.
---
It is one of the blessings of old friends that you can afford to be stupid with them.
---
A true friend is the greatest of all blessings and that which we take the least care of all to acquire.
---
True friendship multiplies the good in life and divides its evils. Strive to have friends, for life without friends is like life on a desert island. To find one real friend in a lifetime is good fortune; to keep him is a blessing.
---
My father prayed because he had a good friend with whom to share the problems of the day.
---
I thank you for your kindness, I will not soon forget; You're one of the nicest people I have ever met.
---
But friendship is precious, not only in the shade, but in the sunshine of life, and thanks to a benevolent arrangement the greater part of life is sunshine.
---
It isn't the size of the gift that matters, but the size of the heart that gives it.
---
In everyone's life, at some time, our inner fire goes out.
It is then burst into flame by an encounter with another human being. We should all be thankful for those people who rekindle the inner spirit.
---
Thank You Quotes For Teachers
Sometimes you love them and sometime you hate them, but regardless of how you feel, your teachers are certainly deserving of thanks. Why not send them one of the following quotes in a card?
The mediocre teacher tells. The good teacher explains. The superior teacher demonstrates. The great teacher inspires.
---
A teacher affects eternity; he can never tell where his influence stops.
---
One looks back with appreciation to the brilliant teachers, but with gratitude to those who touched our human feelings. The curriculum is so much necessary raw material, but warmth is the vital element for the growing plant and for the soul of the child.
---
It takes a big heart to help shape little minds.
---
Being able to help someone learn something is a talent.
---
Give your thanks to the needle that stuck in your finger, to wooden beam that you hit your head, to bee that stung you on your hand, because they taught you something!
---
A good teacher is like a candle – it consumes itself to light the way for others.
---
To the world you may just be a teacher, but to your students you are a HERO.
---
I am indebted to my father for living, but to my teacher for living well.
---
Far and away the best prize that life offers is the chance to work hard at work worth doing.
---
Teachers appreciate being appreciated, for teacher appreciation is their highest award.
---
We often take for granted the very things that most deserve our gratitude.
---
In teaching you cannot see the fruit of a day's work. It is invisible and remains so, maybe for twenty years.
---
Teaching kids to count is fine, but teaching them what counts is best.
---
To stimulate life, leaving it then free to develop, to unfold, herein lies the first task of the teacher.
---
Teacher appreciation makes the world of education go around.
---
Without teacher appreciation there can't be any student progress.
---
If students don't feel teacher appreciation, their whole education has failed.
---
What the teacher is, is more important than what he teaches.
---
A good education is like a savings account; the more you put into it, the richer you are.
---
Thank You Quotes For Birthdays
Know someone who has a birthday coming up? Show them you care with one of our quotes. You just might make their day. Sometimes all we want is a little appreciation.
We must find time to stop and thank the people who make a difference in our lives.
---
I am thankful for nights that turned into mornings, friends that turned into family and dreams that turned into reality.
---
Congratulations! Today is your day. You're off to great places. You're off and away.
---
How beautiful a day can be, when kindness touches it!
---
The heart of the giver makes the gift dear and precious.
---
Every gift from a friend is a wish for your happiness.
---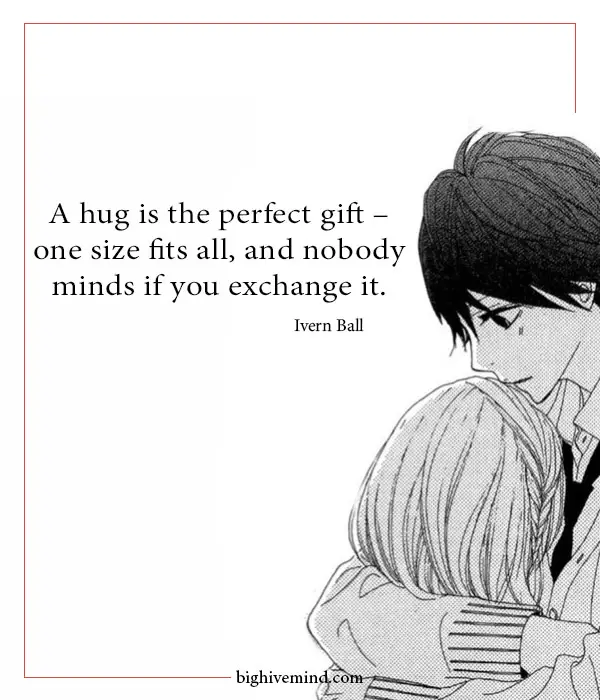 A hug is the perfect gift – one size fits all, and nobody minds if you exchange it.
---
Sometimes the smallest things take up the most room in your heart.
---
It isn't the size of the gift that matters, but the size of the heart that gives it.
---
Of gifts, there seems none more becoming to offer a friend than a beautiful book.
---
The excellence of a gift lies in its appropriateness rather than in its value.
---
Every gift which is given, even though it be small, is in reality great, if it be given with affection.
---
You gave me your time, the most thoughtful gift of all.
---
---
Thank You Quotes For Your Boss
Stay in your boss' good books by sending him or her one of the following quotes. Yes, even bosses deserve a thank you sometimes. Believe it or not, they have hearts too. He or she is sure to appreciate the gesture.
Management is doing things right; Leadership is doing the right things.
---
I wanted to let you know how much I appreciate you for being my manager and mentor. You helped shape my career and professional life and showed me how to transform my mistakes into skills. I really appreciate everything you have taught me!
---
Your leadership skills make it easy for you to manage our team, even with our diverse professional background. I'm proud to have learned some of these qualities from you. Thank you for guiding me professionally and personally!
---
Words can neither qualify nor quantify how helpful your guidance and advice has been. I am forever grateful for your support!
---
You have been a great manager, mentor, teacher, and guide. Your support and advice has helped shape my professional career. Thanks for being the best boss ever!
---
Leadership is not about titles, positions, or flow charts. It is about one life influencing another.
---
A leader takes people where they want to go. A great leader takes people where they don't necessarily want to go, but ought to be.
---
The art of leadership is saying no, not yes. It is very easy to say yes.
---
Leadership is an action, not a position.
---
A good leader leads the people from above them. A great leader leads the people from within them.
---
If you treat an individual as he is, he will remain how he is. But if you treat him as if he were what he ought to be and could be, he will become what he ought to be and could be.
---
The greatest gift anyone can give another person: believing in them.
---
The best executive is one who has sense enough to pick good people to do what he wants done, and self-restraint enough to keep from meddling with them while they do it.
---
I feel that the greatest reward for doing is the opportunity to do more.
---
Alone we can do so little; together we can do so much.
---
Quality means doing it right when no one is looking.
---
Probably no greater honor can come to any man than the respect of his colleagues.
---
If you have an apple and I have an apple and we exchange apples then you and I will still each have one apple. But if you have an idea and I have an idea and we exchange these ideas, then each of us will have two ideas.
---
We should not only use the brains we have, but all that we can borrow.
---
Character is doing the right thing when nobody's looking.
---
Thank You Quotes For Your Husband
Treat your better half with some kind words of gratitude when you wake up. Regardless of what his love language is, it is sure to make his day. To be repeated daily!
When a wife has a good husband it is easily seen in her face.
---
There is no more lovely, friendly and charming relationship, communion or company than a good marriage.
---
One good husband is worth two good wives, for the scarcer things are, the more they are valued.
---
The more you invest in a marriage, the more valuable it becomes.
---
Marriage: Love is the reason. Lifelong friendship is the gift. Kindness is the cause. Til' death do us part is the length.
---
Being in a long marriage is a little bit like that nice cup of coffee every morning – I might have it every day, but I still enjoy it.
---
Before I met my husband, I'd never fallen in love. I'd stepped in it a few times.
---
We have the greatest pre-nuptial agreement in the world. It's called love.
---
I hold myself supremely blest – blest beyond what language can express; because I am my husband's life as fully as he is mine.
---
In a time when nothing is more certain than change, the commitment of two people to one another has become difficult and rare. Yet, by its scarcity, the beauty and value of this exchange have only been enhanced.
---
The man who puts into the marriage only half of what he owns will get that out.
---
I am my beloved and my beloved is mine.
---
When I have learnt to love God better than my earthly dearest, I shall love my earthly dearest better than I do now.
---
Love isn't something you feel at the beginning of your relationship that goes away after the honeymoon phase. Love is a decision that you make when you wake up everyday and look at that person that you made a commitment to.
---
When I am frustrated with my husband and feel like giving up on us, I have two choices. One: I can choose love and work on my marriage or: Two, I can choose love and work on my marriage.
---
Love is not about grand intentions. It is about small attentions.
---
As husbands, I think one reason we have some trouble with Paul's command to love our wives "as Christ loved the church," is that we don't really fully know how Christ loves the church.
---
I want my husband to lead me and our family. But in order for him to do that I must be willing to submit to his lead. This does not mean I surrender my opinions or input or wisdom…it means I surrender my grip of control and selfish ways and trust him!
---
Love is the thing that enables a woman to sing as she mops up the floor after her husband has walked across it in his barn boots.
---
When your husband has lost his joy and doesn't have a smile of his own, give him yours. Better still, top it off with a kiss.
---
Thank You Quotes For Her
Whoever the women in your life may be—mother, wife, daughter or friend—show them how much you care with a few simple quotes. You will be surprised at what a difference it makes.
A Mother holds her children's hands for a while… their hearts forever.
---
Mother is the name for God in the lips and hearts of little children.
---
A mother is the truest friend we have…
---
It's not easy being a mother. If it were easy, fathers would do it.
---
I know how to do anything – I'm a Mom.
---
Any mother could perform the jobs of several air traffic controllers with ease.
---
If at first you don't succeed, do it like your mother told you.
---
Mother – that was the bank where we deposited all our hurts and worries.
---
Love is, above all, the gift of oneself.
---
Being a full-time mother is one of the highest salaried jobs…, since the payment is pure love.
---
A thankful heart is not only the greatest virtue, but the parent of all other virtues.
---
You won't be happy with more until you're happy with what you've got.
---
When I started counting my blessings, my whole life turned around.
---
There is a calmness to a life lived in Gratitude, a quiet joy.
---
The unthankful heart discovers no mercies; but the thankful heart will find, in every hour, some heavenly blessings.
---
The thankful receiver bears a plentiful harvest.
---
The grateful mind is constantly fixed upon the best. Therefore it tends to become the best. It takes the form or character of the best, and will receive the best.
---
People who live the most fulfilling lives are the ones who are always rejoicing at what they have.
---
So often we dwell on the things that seem impossible rather than on the things that are possible. So often we are depressed by what remains to be done and forget to be thankful for all that has been done.
---
None is more impoverished than the one who has no gratitude. Gratitude is a currency that we can mint for ourselves, and spend without fear of bankruptcy.
---
Thank You Quotes For Your Parents
Get inspired by our quotes and give your mom and dad a ring today to tell them you love them. You can never thank them enough for everything they have done for you and can be sure that there was a lot more they did behind the scenes.
Live so that when your children think of fairness and integrity, they think of you.
---
You are the bows from which your children, as living arrows, are sent forth.
---
To give and not expect return, that is what lies at the heart of love.
---
If you can give your son or daughter only one gift, let it be enthusiasm.
---
The greatest gifts you can give your children are the roots of responsibility and the wings of independence.
---
All kids need is a little help, a little hope and somebody who believes in them.
---
The best way to make children good is to make them happy.
---
The best thing to give to your… child, a good example; to a father, deference; to your mother, conduct that will make her proud of you.
---
There are three degrees of filial piety. The highest is being a credit to our parents, the second is not disgracing them; the lowest is being able simply to support them.
---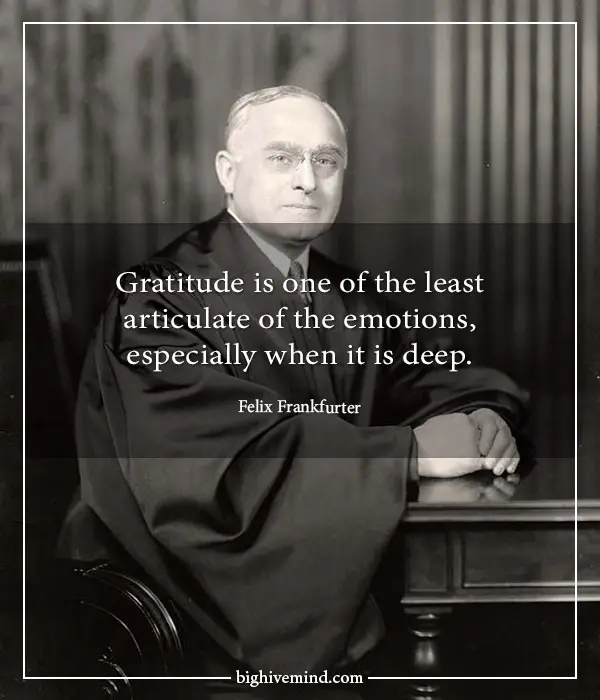 Gratitude is one of the least articulate of the emotions, especially when it is deep.
---
Mother is the name for God in the lips and hearts of little children.
---
A mother is the truest friend we have…
---
It is not flesh and blood but the heart which makes us fathers and sons.
---
To her the name of father was another name for love.
---
He didn't tell me how to live; he lived, and let me watch him do it.
---
My father gave me the greatest gift anyone could give another person, he believed in me.
---
My father used to play with my brother and me in the yard. Mother would come out and say, "You're tearing up the grass." "We're not raising grass," Dad would reply. "We're raising boys."
---
All that I am or ever hope to be, I owe to my angel Mother.
---
God could not be everywhere, so he created mothers.
---
Mother's love is peace. It need not be acquired, it need not be deserved.
---
Thank You Quotes For Your Employees
Do you ever thank the people who work for you? Yes, you hired them, but that doesn't mean they wouldn't appreciate some bonus words of kindness. Take your cue from the following quotes.
I never had a policy; I have just tried to do my very best each and every day.
---
Quality means doing it right when no one is looking.
---
Apply the habit of going the extra mile by rendering more service and better service than you are now being paid for.
---
Every job is a self-portrait of the person who does it. Autograph your work with excellence.
---
If you have integrity, nothing else matters. If you don't have integrity, nothing else matters.
---
The rewards go to the risk-takers, those who are willing to put their egos on the line and reach out to other people and to a richer, fuller life for themselves.
---
Getting money is not all a man's business: to cultivate kindness is a valuable part of the business of life.
---
Well then, if ever I thank any man, I'll thank you.
---
The only people with whom you should try to get even are those who have helped you.
---
Praise the bridge that carried you over.
---
Silent gratitude isn't very much to anyone.
---
People want to be understood and respected as individuals. Years ago, an executive editor of mine said, 'You should count the number of times you praise somebody and then double that.' Even the toughest, steeliest writer or editor often really wants to be told, 'Hey, that was a great piece.' Early in my career as a manager, it probably took me a while to realize that everyone wants that. It's just a human need.
---
Enjoy the little things, for one day you may look back and realize they were the big things.
---
What's interesting about investing in people for the long term is that you don't do it for a return. You do it because that's how you connect with people, and it's how you truly build a sustaining relationship … We have about 30 employees, and every day we sit together for lunch at one big table, and we don't talk about work. It really brings you so much closer.
---
I learned [about leadership] from my mother, and I learned from watching politics. It's about getting people vested in the outcome of success. … I was the chairman, so if the board did well, I was going to get credit for it. But I felt it was important to let other people get credit and recognition, and it gave them more of a sense of ownership in general.
---
Gratitude can transform common days into thanksgivings, turn routine jobs into joy, and change ordinary opportunities into blessings.
---
One of our values … is that we are never done. That speaks to the idea of being tenacious — there is good, but you can do it even better. But you have to celebrate wins and let everyone who worked hard on something know that they were successful and that you're proud of the team. When I was younger, I would just skip right over that. But now I understand that recognition is very important.
---
Let us be grateful to people who make us happy; they are the charming gardeners who make our souls blossom.
---
I like being surrounded by people who have very little fear and very little respect for the past — not in a negative way, but in a positive way. They appreciate everything that's been done, but they constantly look for how to do it better. When you lead with what's possible, and how you create value for people, it's energizing. Being around that kind of energy and inspiration has allowed me to think bigger than I probably ever would have thought.
---
Gratitude turns what we have into enough, and more. It turns denial into acceptance, chaos into order, confusion into clarity…it makes sense of our past, brings peace for today, and creates a vision for tomorrow.
---
Thank You Quotes For Your Sister
No matter how much you fought with your sister, you cannot deny that she has done some pretty amazing things for you. So in honor of all the wonderful moments you shared, write to her and thank her for being in your life.
You can kid the world. But not your sister.
---
How do people make it through life without a sister?
---
A sister is a gift to the heart, a friend to the spirit, a golden thread to the meaning of life.
---
If you don't understand how a woman could both love her sister dearly and want to wring her neck at the same time, then you were probably an only child.
---
Sisters is probably the most competitive relationship within the family, but once the sisters are grown, it becomes the strongest relationship.
---
When sisters stand shoulder to shoulder, who stands a chance against us?
---
But most are like my sister and me… linked by volatile love, best friends who make other best friends ever so slightly less best.
---
To have a loving relationship with a sister is not simply to have a buddy or a confident… it is to have a soulmate for life.
---
Where shall we see a better daughter or a kinder sister or a truer friend.
---
There can be no situation in life in which the conversation of my dear sister will not administer some comfort to me.
---
A sister is a gift to the heart, a friend to the spirit, a golden thread to the meaning of life.
---
Sisters are best friends, they are advisors, they are teachers, and best of all they are people with whom you can talk with about anything – someone you have a special bond with!
---
Sisters are the people we practice on, the people who teach us about fairness and cooperation and kindness and caring – quite often the hard way.
---
There's a special kind of freedom sisters enjoy. Freedom to share innermost thoughts, to ask a favor, to show their true feelings. The freedom to simply be themselves.
---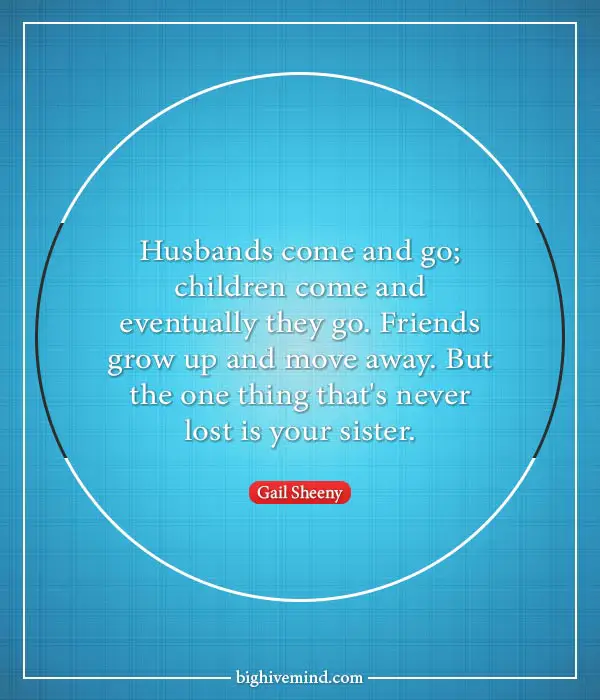 Husbands come and go; children come and eventually they go. Friends grow up and move away. But the one thing that's never lost is your sister.
---
Sisters are for sharing laughter and wiping tears.
---
Sister you were the one I always told on, now you're the friend I always lean on.
---
I feel so privileged that you are my sister! You are a very special gift that Mother Nature provided me with! You have always been there for me and accompanied me and guided me in every way you could!
---
Appreciation I send to you my sister, for always being there, for your support and encouragment. On you I can always count.
---
Growing up you sometimes got the blame for things I did, but you always loved me not matter what. Now that I am older you my sister I am grateful for.
---
Thank You Quotes For Your Family
Not everyone has a loving family, so if you are one of the lucky ones, you ought to let them know just how much you appreciate them. And if you are at a loss for words, use the quotes we have gathered here for inspiration.
Our most basic instinct is not for survival but for family. Most of us would give our own life for the survival of a family member, yet we lead our daily life too often as if we take our family for granted.
---
The family is one of nature's masterpieces.
---
Family and friends are hidden treasures, seek them and enjoy their riches.
---
My family and I could have made an impact on our town. Their impact could have changed the nation and I could indeed have changed the world.
---
Your family and your love must be cultivated like a garden. Time, effort, and imagination must be summoned constantly to keep any relationship flourishing and growing.
---
Home sweet home. This is the place to find happiness. If one doesn't find it here, one doesn't find it anywhere.
---
When I think of any of my successes, I am thankful to God from whom all blessings flow, and to my family and friends who enrich my life.
---
Surround yourself with what you love, whether it's family, pets, keepsakes, music, plants, hobbies, whatever.
---
Our attitude determines so much. It affects not only us, but it affects those around us, our family, our friends, and our co-workers.
---
Whatever they grow up to be, they are still our children, and the one most important of all the things we can give to them is unconditional love. Not a love that depends on anything at all except that they are our children.
---
I think my mother is my biggest influence. There are so many things I hate about her but at the same time I'm thankful for her. All I know is that when I'm a parent I want to be just like my mom. I can talk to my mom more than any of my friends could talk to their parents.
---
I was given such a great gift. It's a miracle that never stops amazing me and reminding me to give thanks, every day. Having a wife and daughter gives me a lot more purpose. I was much more selfish before, but now I think about what kind of role model I'll be. I just want to be a better man.
---
Gratitude makes sense of our past, brings peace for today, and creates a vision for tomorrow.
---
Many times, the decisions we make affect and hurt your closest friends and family the most. I have a lot of regrets in that regard. But God has forgiven me, which I am very thankful for. It has enabled me to forgive myself and move forward one day at a time.
---
Be true to yourself, help others, make each day your masterpiece, make friendship a fine art, drink deeply from good books – especially the Bible, build a shelter against a rainy day, give thanks for your blessings and pray for guidance every day.
---
I'm just thankful for everything, all the blessings in my life, trying to stay that way. I think that's the best way to start your day and finish your day. It keeps everything in perspective.
---
Make it a habit to tell people thank you. To express your appreciation, sincerely and without the expectation of anything in return. Truly appreciate those around you, and you'll soon find many others around you. Truly appreciate life, and you'll find that you have more of it.
---
I do believe that God blessed me in life with a wonderful family, a successful career, and a loving marriage, and remain thankful for that blessing.
---
If the only prayer you ever say in your entire life is thank you, it will be enough.
---
My mother is such an incredibly strong woman. She raised a family of five boys extremely well. She made us all strong, loving, caring people. We all support each other. I'm really thankful to her.
---