Depression does not discriminate as these quotes show. It affects women as well as men, the young along with the old and can manifest itself at the most unexpected of times. It follows in the wake of death but it also creeps up when you are giddy with love. It is an inextricable part of life, a consistent theme in books. The following quotes comfort, warn, advise, encourage, but most of all they remind you that you are not alone even when it feels like you are.
Depression Quotes For Guys
The pressure is on for men to never show any weakness or pain, but being in possession of a Y chromosome does not inoculate you from the possibility of mental illness or emotional upheaval as these quotes demonstrate.
Every man has his secret sorrows which the world knows not; and often times we call a man cold when he is only sad.
Henry Wadsworth Longfellow
---
There are wounds that never show on the body that are deeper and more hurtful than anything that bleeds.
Laurell K. Hamilton
---
Whenever you read a cancer booklet or website or whatever, they always list depression among the side effects of cancer. But, in fact, depression is not a side effect of cancer. Depression is a side effect of dying.
John Green
---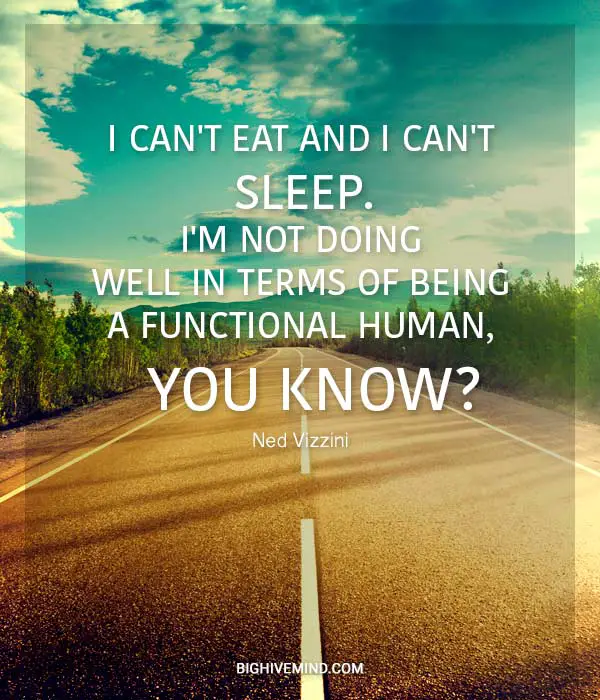 I can't eat and I can't sleep. I'm not doing well in terms of being a functional human, you know?
Ned Vizzini
---
Mental pain is less dramatic than physical pain, but it is more common and also more hard to bear. The frequent attempt to conceal mental pain increases the burden: it is easier to say "My tooth is aching" than to say "My heart is broken.
C.S. Lewis
---
I waste at least an hour every day lying in bed. Then I waste time pacing. I waste time thinking. I waste time being quiet and not saying anything because I'm afraid I'll stutter.
Ned Vizzini
---
Its so hard to talk when you want to kill yourself. That's above and beyond everything else, and it's not a mental complaint-it's a physical thing, like it's physically hard to open your mouth and make the words come out. They don't come out smooth and in conjunction with your brain the way normal people's words do; they come out in chunks as if from a crushed-ice dispenser; you stumble on them as they gather behind your lower lip. So you just keep quiet.
Ned Vizzini
---
It's not all bad. Heightened self-consciousness, apartness, an inability to join in, physical shame and self-loathing—they are not all bad. Those devils have been my angels. Without them I would never have disappeared into language, literature, the mind, laughter and all the mad intensities that made and unmade me.
Stephen Fry
---
Some days, 24 hours is too much to stay put in, so I take the day hour by hour, moment by moment. I break the task, the challenge, the fear into small, bite-size pieces. I can handle a piece of fear, depression, anger, pain, sadness, loneliness, illness. I actually put my hands up to my face, one next to each eye, like blinders on a horse.
Regina Brett
---
Concern should drive us into action and not into a depression. No man is free who cannot control himself.
Pythagoras
---
Once a week, I like to slip into a deep existential depression where I lose all my sense of oneness and self-worth.
Bo Burnham
---
I start to think there really is no cure for depression, that happiness is an ongoing battle, and I wonder if it isn't one I'll have to fight for as long as I live. I wonder if it's worth it.
Elizabeth Wurtzel
---
I have rituals for cleaning out resentments, disappointments, heartbreak, depression and for work. One of the things I do is go over old stuff if I have been unable to write for a while.
Hubert Selby, Jr.
---
I think one thing is that anybody who's had to contend with mental illness – whether it's depression, bipolar illness or severe anxiety, whatever – actually has a fair amount of resilience in the sense that they've had to deal with suffering already, personal suffering.
Kay Redfield Jamison
---
Instead of seeing depression as a dysfunction, it is a functioning phenomenon. It stops you cold, sets you down, makes you damn miserable.
James Hillman
---
Your depression is connected to your insolence and refusal to praise.
Rumi
---
I've had some dark nights of the soul, of course, but giving in to depression would be a sellout, a defeat.
Christopher Hitchens
---
Bipolar disorder, manic depression, depression, black dog, whatever you want to call it, is inherent in our society. It's a product of stress and in my case over-work.
Adam Ant
---
Depression is something that doesn't just go away. It's just… there and you deal with it. It's like… malaria or something. Maybe it won't be cured, but you've got to take the medication you're prescribed, and you stay out of situations that are going to trigger it.
Adam Ant
---
It's really sad how one day I'll seem to have everything going right then the next day I'll lose everything so fast.
Unknown
---
Depression Quotes About Love
Love can be sweet just as it can be bitter, and when it does not cause pain, it can have the most salutary of effects as the following quotes show.
On the relationship side, if you teach people to respond actively and constructively when someone they care about has a victory, it increases love and friendship and decreases the probability of depression.
Martin Seligman
---
Getting better from depression demands a lifelong commitment. I've made that commitment for my life's sake and for the sake of those who love me.
Susan Polis Schutz
---
I had a great many sex and love cases where people were absolutely devastated when somebody with whom they were compulsively in love didn't love them back. They were killing themselves with anxiety and depression.
Albert Ellis
---
In a strange way, I had fallen in love with my depression.
Elizabeth Wurtzel
---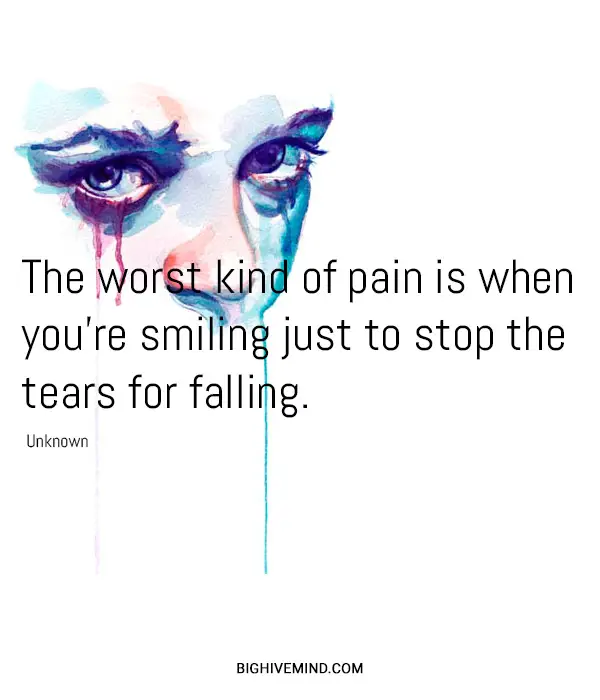 The worst kind of pain is when you're smiling just to stop the tears for falling.
Unknown
---
Depression is feeling like you're lost something but having no clue when or where you last had it. Then one day you realize what you lost is yourself.
Unknown
---
Sometimes just the thought of facing the day, feels like broken gl*ss in my soul.
Unknown
---
The most terrible poverty is loneliness, and the feeling of being unloved.
Mother Teresa
---
Sometimes, what a person needs is not a brilliant mind that speaks, but a patient heart that listens.
Unknown
---
My depression is the most faithful mistress I have known—no wonder, then, that I return the love.
Soren Kierkegaard
---
The word 'happiness' would lose its meaning if it were not balanced by sadness.
Carl Gustav Jung
---
You were merely wishing for the end of pain, the monster said. Your own pain. An end to how it isolated you. It is the most human wish of all.
Patrick Ness
---
Everyone in life is gonna hurt you, you just have to figure out which people are worth the pain.
Bob Marley
---
The sun kept on with its slipping away, and I thought how many small good things in the world might be resting on the shoulders of something terrible.
Carol Rifka Brunt
---
A lot of you cared, just not enough.
Jay Asher
---
I guess that's what saying good-bye is always like–like jumping off an edge. The worst part is making the choice to do it. Once you're in the air, there's nothing you can do but let go.
Lauren Oliver
---
I wanted to kill someone and I wanted to die and I wanted to run as far and as fast as I could because she was never coming back. She had fallen off the face of the earth and she was never coming back.
Melissa Kantor
---
But a part of me lies buried in lace and roses on a riverbank in France-a part of me is broken off forever. A part of me will be unflyable, stuck in the climb.
Elizabeth Wein
---
Breathing is hard. When you cry so much, it makes you realize that breathing is hard.
David Levithan
---
As the light begins to intensify, so does my misery, and I wonder how it is possible to hurt so much when nothing is wrong.
Tabitha Suzuma
---
Depression Quotes About Life
These quotes show that depression is an unavoidable part of existence. However, they also speak to the deep understanding of life that this feeling can help carve out in us if we let it.
That is all I want in life: for this pain to seem purposeful.
Elizabeth Wurtzel
---
The sun stopped shining for me is all. The whole story is: I am sad. I am sad all the time and the sadness is so heavy that I can't get away from it. Not ever.
Nina LaCour
---
Depression is the most unpleasant thing I have ever experienced. . . . It is that absence of being able to envisage that you will ever be cheerful again. The absence of hope. That very deadened feeling, which is so very different from feeling sad. Sad hurts but it's a healthy feeling. It is a necessary thing to feel. Depression is very different.
J.K. Rowling
---
Even for me life had its gleams of sunshine.
Charlotte Brontë
---
Some people are just not meant to be in this world. It's just too much for them.
Phoebe Stone
---
Depression is the inability to construct a future.
Rollo May
---
Until you've had depression I don't think you're qualified to talk about it.
Geoffrey Boycott
---
We live in a society bloated with data yet starved for wisdom. We're connected 24/7, yet anxiety, fear, depression and loneliness is at an all-time high. We must course-correct.
Elizabeth Kapu'uwailani Lindsey
---
In my life I've gone through a lot of really hard times. I went through depression and had so many challenges that I overcame. And I overcame because I just decided to be happy.
Lilly Singh
---
I don't worry. I'm more stoical. Of course I have insecurities. I fear getting older. I fear death and illness. I'm not prone to depression, but I get depressed because everybody gets depressed. Suddenly I'm away from my family or doing a job I'm not enjoying.
David Thewlis
---
People talk about physical fitness, but mental health is equally important. I see people suffering, and their families feel a sense of shame about it, which doesn't help. One needs support and understanding. I am now working on an initiative to create awareness about anxiety and depression and help people.
Deepika Padukone
---
I'm happy, I would say that I'm one of the happiest people I know but I've certainly had periods of profound sadness, depression and heartache and those are the kind of things that are interesting to me to write about.
Richard Marx
---
I, I don't think anybody's continually happy, uh, except idiots, you know. You know, you have to have little moments of depression.
Rube Goldberg
---
I can do comedy, so people want me to do that, but the other side of comedy is depression. Deep, deep depression is the flip side of comedy. Casting agents don't realize it but in order to be funny you have to have that other side.
Parker Posey
---
I speak of a clinical depression that is the background of your entire life, a background of anguish and anxiety, a sense that nothing goes well, that pleasure is unavailable and all your strategies collapse.
Leonard Cohen
---
It's not the feeling of completeness I need, but the feeling of not being empty.
Unknown
---
Depression has nothing to do with having a bad day or being sad.
Unknown
---
Sometimes I wonder if I will ever be happy with myself. I worry that if I can't be happy with myself, then nobody will ever be happy with me.
Unknown
---
Sometimes I get so sad. So sad that I completely shut down. I stare blankly at the wall and it doesn't matter what you say to me. Because in that moment. I don't exist.
Unknown
---
I am living in a nightmare, from which from time to time I wake in sleep.
Ursula Le Guin
---
Depression Quotes About Being Alone
The pain of depression is often compounded by the sadness of feeling misunderstood. The following quotes might provide you with a measure of comfort if you feel alone in the world.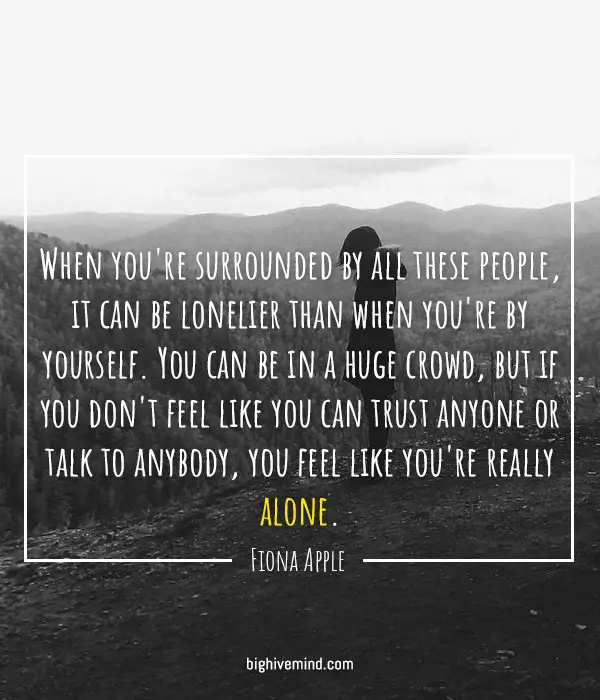 When you're surrounded by all these people, it can be lonelier than when you're by yourself. You can be in a huge crowd, but if you don't feel like you can trust anyone or talk to anybody, you feel like you're really alone.
Fiona Apple
---
I didn't want my picture taken because I was going to cry. I didn't know why I was going to cry, but I knew that if anybody spoke to me or looked at me too closely the tears would fly out of my eyes and the sobs would fly out of my throat and I'd cry for a week. I could feel the tears brimming and sloshing in me like water in a gl*ss that is unsteady and too full.
Sylvia Plath
---
I don't want any more of this try, try again stuff. I just want out. I've had it. I am so tired. I am twenty and I am already exhausted.
Elizabeth Wurtzel
---
I'll never forget how the depression and loneliness felt good and bad at the same time. Still does.
Henry Rollins
---
A lot of people don't realize that depression is an illness. I don't wish it on anyone, but if they would know how it feels, I swear they would think twice before they just shrug it.
Jonathan Davis
---
Do not brood over your past mistakes and failures as this will only fill your mind with grief, regret and depression. Do not repeat them in the future.
Swami Sivananda
---
Many people think that depression is something you just have to live with when you get older, but it's not.
Tom Bosley
---
When I believe, I am crazy. When I don't believe, I suffer psychotic depression.
Philip K. Dick
---
At times, I feel overwhelmed and my depression leads me into darkness.
Dorothy Hamill
---
Each person's drive to overwork is unique, and doing too much numbs every workaholic's emotions differently. Sometimes overwork numbs depression, sometimes anger, sometimes envy, sometimes sexuality. Or the overworker runs herself ragged in a race for attention.
Arlie Russell Hochschild
---
The deepest fear we have, 'the fear beneath all fears,' is the fear of not measuring up, the fear of judgment. It's this fear that creates the stress and depression of everyday life.
Tullian Tchividjian
---
I'm not sure if I'm depressed. I mean, I'm not sad, but I'm not exactly happy either. I can laugh and joke and smile during the day, but sometimes when I'm alone at night I forget how to feel.
Unknown
---
I feel so disconnected from the world, and I feel like no one even notices me or cares about me anymore.
Jordan Hoke
---
They ask. "How are you doing?" But what they mean is "Are you over it yet?" My lips say, "Fine, thanks", but my eyes tell a different story, my heart sings a different tune, and my soul just weeps.
Unknown
---
Anger, resentment and jealousy doen't change the heart of others-it only changes yours.
Shannon L. Alder
---
And I knew it was bad when I woke up in the mornings and the only thing I looked forward to was going back to bed.
Unknown
---
My life is just one constant battle between wanting to be alone, but not wanting to be lonely.
Unknown
---
It's not the feeling of completeness I need, but the feeling of not being empty.
Unknown
---
When a depressed person shrinks away from your touch it does not mean she is rejecting you. Rather she is protecting you from the foul, destructive evil which she believes is the essence of her being and which she believes can injure you.
Dorothy Rowe
---
All alone! Whether you like it or not, alone is something you'll be quite a lot!
Dr. Seuss
---
Quotes About Breakup And Depression
As much joy as romantic relationships bring, they can also be a source of tremendous sadness, particularly when they end, as these quotes attest. If you just went through a breakup, reading these wise words might help more than drowning your sorrows in ice-cream ever could.
There's nothing more depressing than having it all and still feeling sad.
Unknown
---
I wish I could go back to a time when i could smile and it didn't take everything in me to do it.
Unknown
---
She hurts and she cries. But you can't see the depression in her eyes. Because she just smiles…
Unknown
---
Sometimes i'm sad and tired and miserable for not reason at all.
Unknown
---
I want to be happy but something inside me screams that I do not deserve it.
M.B.
---
So you try to think of someone else you're mad at, and the unavoidable answer pops into your little warped brain: everyone.
Ellen Hopkins
---
I wish it would rain all day, maybe that would make the pain go away.
Laura Tommons
---
During depression the world disappears. Language itself. One has nothing to say. Nothing. No small talk, no anecdotes. Nothing can be risked on the board of talk. Because the inner voice is so urgent in its own discourse: How shall I live? How shall I manage the future? Why should I go on?
Kate Millet
---
This is what it felt like to have a broken heart. It felt less like a cracking down the middle and more like she had swallowed it whole and it sat bruised and bleeding in the pit of her stomach.
Wendy Wunder
---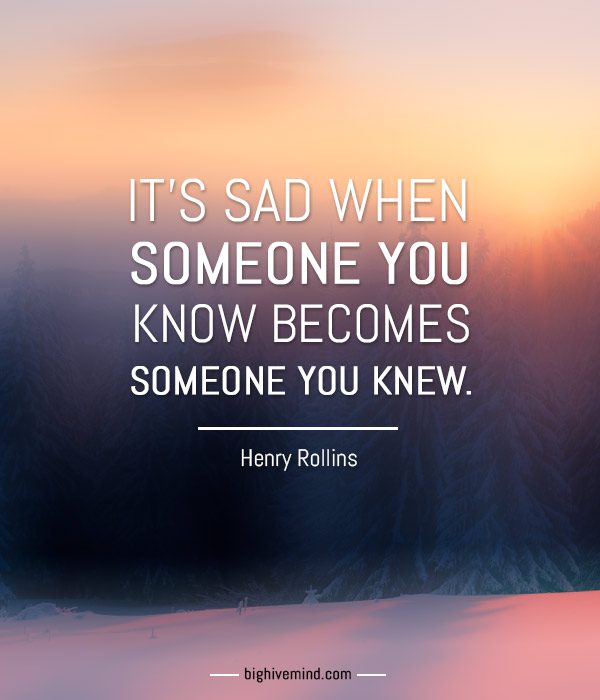 It's sad when someone you know becomes someone you knew.
Henry Rollins
---
She had tricked him. She had made him leave his old self behind and come into her world, and then before he was really at home in it but too late to go back, she had left him stranded there–like an astronaut wandering about on the moon. Alone.
Katherine Paterson
---
Envy hurt exponentially more than heartbreak because your soul was torn in two, half soaring with happiness for another person, half mired in a well of selfpity and pain.
Diana Peterfreund
---
Sometimes pain is so unmanageable that the idea of spending another day with it seems impossible. Other times pain acts as a comp*ss to help you through the messier tunnels of growing up. But pain can only help you find happiness if you remember it.
Adam Silvera
---
It feels like you've swallowed a bag of stones. A heavy feeling somewhere between your heart and stomach.
Kyla Dale
---
Depression is frustrating. It's knowing there's so much to be grateful for and happy about and to enjoy, but you just can't get there.
Allie Griffin
---
Depression is having everything you ever wanted and you're still not happy.
Beaulieu Mellem
---
The pain started years ago, but I'd lived with it for so long at that point that I'd accepted it as an inevitable part of me.
Ashley D. Wallis
---
I have found the paradox, that if you love until it hurts, there can be no more hurt, only more love.
Mother Teresa
---
One by one, drops fell from her eyes like they were on an *ssembly line – gather, fall, slide…gather, fall, slide…each one commemorating something she had lost. Hope. Faith. Confidence. Pride. Security. Trust. Independence. Joy. Beauty. Freedom. Innocence.
Lisi Harrison
---
Yes, I understand why things had to happen this way. I understand his reason for causing me pain. But mere understanding does not chase away the hurt. It does not call upon the sun when dark clouds have loomed over me. Let the rain come then if it must come! And let it wash away the dust that hurt my eyes!
Jocelyn Soriano
---
Quotes About Encouragement And Depression
The following are some words of comfort to show you that there is always a way out no matter what. They will prod you to seek outside support and remind you of the reserves of strength you have to help you carry on.
Listen to the people who love you. Believe that they are worth living for even when you don't believe it. Seek out the memories depression takes away and project them into the future. Be brave; be strong; take your pills. Exercise because it's good for you even if every step weighs a thousand pounds. Eat when food itself disgusts you. Reason with yourself when you have lost your reason.
Andrew Solomon
---
If you don't think your anxiety, depression, sadness and stress impact your physical health, think again. All of these emotions trigger chemical reactions in your body, which can lead to inflammation and a weakened immune system. Learn how to cope, sweet friend. There will always be dark days.
Kris Carr
---
Good humor is a tonic for mind and body. It is the best antidote for anxiety and depression. It is a business *sset. It attracts and keeps friends. It lightens human burdens. It is the direct route to serenity and contentment.
Grenville Kleiser
---
Get away from the place that makes you feel comfortable with your depression. The reality is it's never as bad as the insanity you've created in your head.
Ben Huh
---
Negative thinking patterns can be immensely deceptive and persuasive, and change is rarely easy. But with patience and persistence, I believe that nearly all individuals suffering from depression can improve and experience a sense of joy and self-esteem once again.
David D. Burns
---
Human bodies are designed for regular physical activity. The sedentary nature of much of modern life probably plays a significant role in the epidemic incidence of depression today. Many studies show that depressed patients who stick to a regimen of aerobic exercise improve as much as those treated with medication.
Andrew Weil
---
You largely constructed your depression. It wasn't given to you. Therefore, you can deconstruct it.
Albert Ellis
---
Time spent in nature is the most cost-effective and powerful way to counteract the burnout and sort of depression that we feel when we sit in front of a computer all day.
Richard Louv
---
Just because you think you're worthless doesn't make it true.
Unknown
---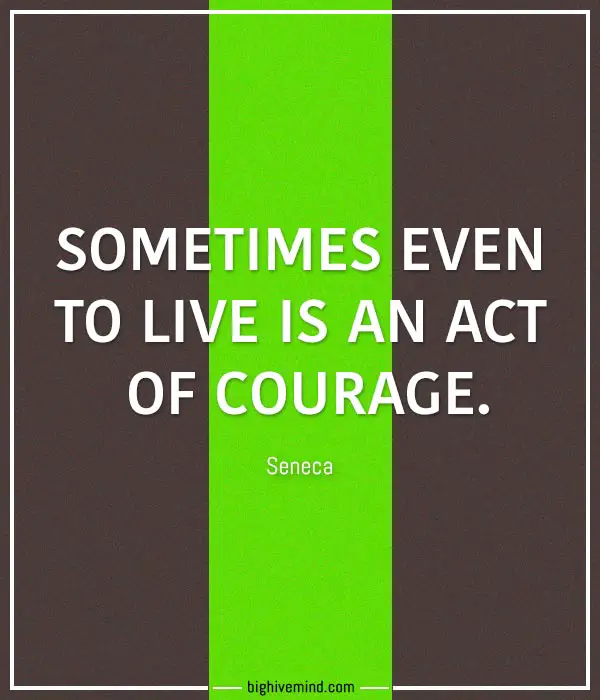 Sometimes even to live is an act of courage.
Seneca
---
Anyone who has actually been that sad can tell you that there's nothing beautiful or literary or mysterious about depression.
Jasmine Warga
---
You are allowed to feel messed up and inside out. It doesn't mean you're defective – it just means you're human.
David Mitchell
---
Every day begins with an act of courage and hope: getting out of bed.
Mason Cooley
---
Our sorrows and wounds are healed only when we touch them with comp*ssion.
Buddha
---
The primary cause of unhappiness is never the situation but your thoughts about it
Eckhart Tolle
---
I'm exhausted from trying to be stronger than I feel.
Unknown
---
I hate when people act like Depression and Anxiety are just a illness, but if it was an illness I would have a cure. It's not something you just wake up one day and say, you know what? Today i'm going to cut for the rest of my life. No, it's not a choice it's not a option. The day that you wake up and realize that it's not an option, is the day you will finally believe in yourself. Someday, just look in the mirror and smile at yourself, because at least you've made it here this far.
Kelsey Rhoads
---
Maybe you have to know the darkness before you can appreciate the light.
Madeleine L'Engle
---
If you could only sense how important you are to the lives of those you meet; how important you can be to the people you may never even dream of. There is something of yourself that you leave at every meeting with another person.
Fred Rogers
---
Depression is like quicksand — the more you try to escape on your own, the deeper you sink. Use the supports, tools and resources thrown at you from those on the outside.
Jamie Awtry McClintic
---
Depression Quotes For Her
These quotes present depression from the female perspective. Notable women speak about what helped them during emotionally trying times, describe their experiences and present the unique struggles faced by women.
That's the thing about depression: A human being can survive almost anything, as long as she sees the end in sight. But depression is so insidious, and it compounds daily, that it's impossible to ever see the end.
Elizabeth Wurtzel
---
There is no point treating a depressed person as though she were just feeling sad, saying, 'There now, hang on, you'll get over it.' Sadness is more or less like a head cold- with patience, it p*sses. Depression is like cancer.
Barbara Kingsolver
---
It's often difficult for those who are lucky enough to have never experienced what true depression is to imagine a life of complete hopelessness, emptiness and fear.
Susan Polis Schutz
---
Every age yearns for a more beautiful world. The deeper the desperation and the depression about the confusing present, the more intense that yearning.
Johan Huizinga
---
Through my own struggles with depression, I discovered that knowledge, therapy, medication and education can provide the strength to get through it in one piece.
Susan Polis Schutz
---
I think because I did a lot of modelling and appeared in lads mags a lot of women didn't necessarily warm to me. But now I have been through childbirth, post-natal depression and struggled with my weight, women seem to relate to me a lot more.
Jennifer Ellison
---
Depression is melancholy minus its charms.
Susan Sontag
---
I thought by masking the depression with silence, the feelings might disappear.
Sharon E. Rainey
---
I want to sleep until I feel better.
Unknown
---
My silence is just another word for my pain.
Unknown
---
I miss the person I used to be.
Unknown
---
It's not always the tears that measure the pain. Sometimes it's the smile we fake.
Unknown
---
It's a bit like walking down a long, dark corridor, never knowing when the light will go on.
Neil Lennon
---
Depression is like a bruise that never goes away. A bruise in your mind.
Jeffrey Eugenides
---
Grief is depression in proportion to circumstance; depression is grief out of proportion to circumstance.
Andrew Solomon
---
Depression and I are old friends but I do not court his company.
Laura K Rhodes
---
Depression on my left, Loneliness on my right. They don't need to show me thier badges. I know these guys very well.
Elizabeth Gilbert
---
Depression cannot be explained, it's impossible, even if two people with depression come together to talk about it. No one knows how to explain it properly but, if you get it you'll know what it is straight away, it changes your whole perspective on life & in a way in the long run depression can sometimes be a good thing.
Ryan Turnbull
---
Sometimes your joy is the source of your smile, but sometimes your smile can be the source of your joy.
Thich Nhat Hanh
---
Good humor is a tonic for mind and body. It is the best antidote for anxiety and depression. It is a business *sset. It attracts and keep friends. It lightens human burdens. It is the direct route to serenity and contentment.
Greenville Kleisser
---
Depression Quotes From Books
A good book is a source of much-needed consolation and wisdom during times of emotional upheaval. It can make you feel understood in a way that no one else may be able to. Here are some of the best quotes from literature and other works regarding depression.
Because wherever I sat—on the deck of a ship or at a street café in Paris or Bangkok—I would be sitting under the same gl*ss bell jar, stewing in my own sour air.
Sylvia Plath, The Bell Jar
---
I don't want any more of this try, try again stuff. I just want out. I've had it. I am so tired. I am twenty and I am already exhausted.
Elizabeth Wurtzel, Prozac Nation
---
That is all I want in life: for this pain to seem purposeful.
Elizabeth Wurtzel, Prozac Nation
---
It was almost like a reverse nightmare, like when you wake up from a nightmare you're so relieved. Iwoke up in to a nightmare.
Ned Vizzini, It's Kind of a Funny Story
---
Numbing the pain for a while will make it worse when you finally feel it.
J.K. Rowling
---
When I get lonely these days, I think: So BE lonely, Liz. Learn your way around loneliness. Make a map of it. Sit with it, for once in your life. Welcome to the human experience. But never again use another person's body or emotions as a scratching post for your own unfulfilled yearnings.
Elizabeth Gilbert, Eat, Pray, Love
---
The teacher wonders but she doesn't ask, it´s hard to see the pain behind the mas. Bearing the burden of a secret storm. sometimes she wishes she was never born.
Martina Mcbride, Concrete Angel
---
Can you reclaim that free-girl smile, or is it like virginity- once you loose it, that's it?
Rebecca Wells
---
I think you ought to know I'm feeling very depressed.
Douglas Adams
---
I don't want any more of this try, try again stuff. I just want out. I've had it. I am so tired. I am twenty and I am already exhausted.
Elizabeth Wurtzel, Prozac Nation
---
There is no point treating a depressed person as though she were just feeling sad, saying, 'There now, hang on, you'll get over it.' Sadness is more or less like a head cold- with patience, it p*sses. Depression is like cancer.
Barbara Kingsolver, The Bean Trees
---
Some friends don't understand this. They don't understand how desperate I am to have someone say, I love you and I support you just the way you are because you're wonderful just the way you are. They don't understand that I can't remember anyone ever saying that to me. I am so demanding and difficult for my friends because I want to crumble and fall apart before them so that they will love me even though I am no fun, lying in bed, crying all the time, not moving. Depression is all about If you loved me you would.
Elizabeth Wurtzel, Prozac Nation
---
Others imply that they know what it is like to be depressed because they have gone through a divorce, lost a job, or broken up with someone. But these experiences carry with them feelings. Depression, instead, is flat, hollow, and unendurable. It is also tiresome. People cannot abide being around you when you are depressed. They might think that they ought to, and they might even try, but you know and they know that you are tedious beyond belief: you are irritable and paranoid and humorless and lifeless and critical and demanding and no re*ssurance is ever enough. You're frightened, and you're frightening, and you're "not at all like yourself but will be soon," but you know you won't.
Kay Redfield Jamison, An Unquiet Mind: A Memoir Of Moods And Madness
---
He: What's the matter with you?
Me: Nothing.
Nothing was slowly clotting my arteries. Nothing slowly numbing my soul. Caught by nothing, saying nothing, nothingness becomes me. When I am nothing they will say surprised in the way that they are forever surprised, "but there was nothing the matter with her."
Jeanette Winterson, Gut Symmetries
---
Depression presents itself as a realism regarding the rottenness of the world in general and the rottenness of your life in particular. But the realism is merely a mask for depression's actual essence, which is an overwhelming estrangement from humanity. The more persuaded you are of your unique access to the rottenness, the more afraid you become of engaging with the world; and the less you engage with the world, the more perfidiously happy-faced the rest of humanity seems for continuing to engage with it.
Jonathan Franzen, How To Be Alone
---
I couldn't be with people and I didn't want to be alone. Suddenly my perspective whooshed and I was far out in space, watching the world. I could see millions and millions of people, all slotted into their lives; then I could see me—I'd lost my place in the universe. It had closed up and there was nowhere for me to be. I was more lost than I had known it was possible for any human being to be."
Marian Keyes, Anybody Out There?
---
So why am I depressed? That's the million-dollar question, baby, the Tootsie Roll question; not even the owl knows the answer to that one. I don't know either. All I know is the chronology.
Ned Vizzini, It's Kind of a Funny Story
---
The old grey donkey, Eeyore stood by himself in a thistly corner of the Forest, his front feet well apart, his head on one side, and thought about things. Sometimes he thought sadly to himself, "Why?" and sometimes he thought, "Wherefore?" and sometimes he thought, "Inasmuch as which?" and sometimes he didn't quite know what he was thinking about.
A. A. Milne
---
The term clinical depression finds its way into too many conversations these days. One has a sense that a catastrophe has occurred in the psychic landscape.
Leonard Cohen
---
This is my depressed stance. When you're depressed, it makes a lot of difference how you stand. The worst thing you can do is straighten up and hold your head high because then you'll start to feel better. If you're going to get any joy out of being depressed, you've got to stand like this.
Charlie Brown
---
Quotes About Inspiration And Depression
There is a life after depression and these quotes will give you the second wind you need to persist. Sometimes it is by showing you how to deal with it and other times it is by helping you accept your feelings and even recognise their value.
To get rid of depression, I swim with dolphins.
Patti Stanger
---
The only reason I've shared my story is to take that tiny baby step of breaking down the stigma attached to depression.
Clara Hughes
---
There is no fulfillment in things whatsoever. And I think one of the reasons that depression reigns supreme amongst the rich and famous is some of them thought that maybe those things would bring them happiness. But what, in fact, does is having a cause, having a p*ssion. And that's really what gives life's true meaning.
Ben Carson
---
My character had been in the chair for seven years. He had gone through his anger, depression, drug and alcohol abuse. He had gone through everything, now he was up, he was happy, he was filled with his dream.
Gregory Hines
---
There are scientists all around the world looking for the genes responsible for bipolar illness and major depression.
Kay Redfield Jamison
---
I define depression as a comparison of your current reality to a fantasy about how you wish your life would be.
Dr, John Demartini
---
You hate when people see you cry because you want to be that strong girl. At the same time, though, you hate how nobody notices how torn apart and broken you are.
Unknown
---
She says she's fine but she's going insane. She says she feels good but she's in a lot of pain. She says it's nothing but it's really a lot. she says she's okay. but really she's not.
Unknown
---
That's the thing about depression: A human being can survive almost anything, as long as she sees the end in sight. But depression is so insidious, and it compounds daily, that it's impossible to ever see the end. The fog is like a cage without a key.
Unknown
---
When you are happy, you enjoy the music. but when you are sad, you understand the lyrics.
Unknown
---
Work is always an antidote to depression.
Eleanor Roosevelt
---
Having depression is like being trapped in a really bad thunderstorm. You don't know when it's going to hit, you never know how long it's going to last, and when it finally p*sses, you're left to survey the damages and pick up the pieces.
Tiffany Johnson
---
The greatest degree of inner tranquility comes from the development of love and comp*ssion. The more we care for the happiness of others, the greater is our own sense of well-being.
Tenzin Gyatso
---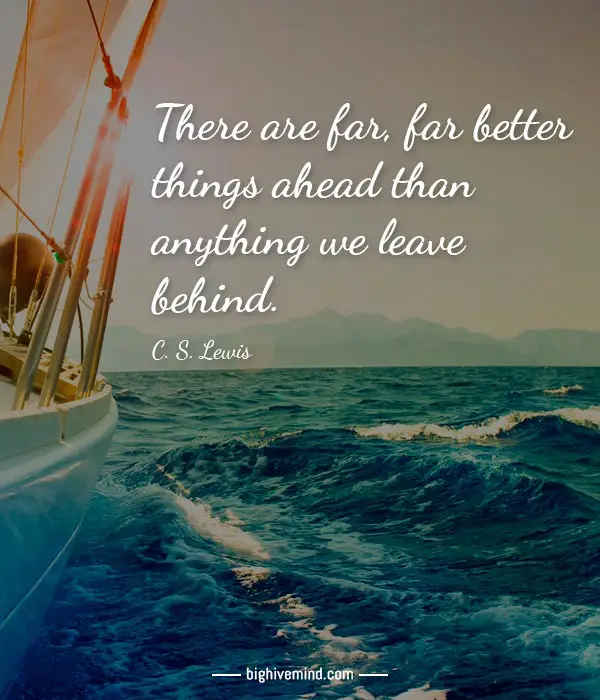 There are far, far better things ahead than anything we leave behind.
C. S. Lewis
---
Man is fond of counting his troubles, but he does not count his joys. If he counted them up as he ought to, he would see that every lot has enough happiness provided for it.
Fyodor Dostoevsky
---
Ring the bells that still can ring. Forget your perfect offering. There is a crack, a crack in everything. That's how the light gets in.
Leonard Cohen
---
It's the chance to look inside you, deeper than anyone else, to understand your feelings, to grow spiritually and to be understanding with others because you know what it feels like to be down.
Maria Barbato-Arabatzis
---
Keep yourself busy if you want to avoid depression. For me, inactivity is the enemy.
Matt Lucas
---
Have patience with all things, but chiefly have patience with yourself. Do not lose courage in considering your own imperfections but instantly set about remedying them — every day begin the task anew.
Saint Francis de Sales
---
Pain insists upon being attended to. God whispers to us in our pleasures, speaks in our consciences, but shouts in our pains. It is his megaphone to rouse a deaf world.
C.S. Lewis
---
Quotes About Death And Depression
These quotes explore the connections between death and depression—metaphoric and otherwise. Some speak of how one can lead to the other and others provide solace in the midst of grief.
Perhaps the saddest irony of depression is that suicide happens when the patient gets a little better and can again function sufficiently.
Dick Cavett
---
I don't fear death so much as I fear its prologues: loneliness, decrepitude, pain, debilitation, depression, senility. After a few years of those, I imagine death presents like a holiday at the beach.
Mary Roach
---
The only thing more exhausting than being depressed is pretending that you're not.
Unknown
---
That feeling when you're not necessarily sad, but you just feel really empty.
Unknown
---
She was drowning, but nobody saw her struggle.
Unknown
---
Depression is a prison where you are both the suffering prisoner and the cruel jailer.
Dorothy Rowe
---
People don't die from suicide, they die from sadness.
Unknown
---
I don't want to see anyone. I lie in the bedroom with the curtains drawn and nothingness washing over me like a sluggish wave. Whatever is happening to me is my own fault. I have done something wrong, something so huge I can't even see it, something that's drowning me. I am inadequate and stupid, without worth. I might as well be dead.
Margaret Atwood
---
The fear of death follows from the fear of life. A man who lives fully is prepared to die at any time.
Mark Twain
---
The day which we fear as our last is but the birthday of eternity.
Seneca
---
Depression is like falling so deep down the rabbit hole you forget what the sky looks like.
Robin Brodsky Curtin
---
Having depression is like seeing a rainbow in grayscale.
Hazel Strickland
---
It's an inability to feel anything at all.
Miriam McCallum
---
Sometimes it's heavy… like you're carrying an elephant. Sometimes it's dark… you wonder if you'll ever see light. Sometimes it's bleak… you wonder if you'll make it through. And some days there are no words to describe it.
Tonia Funk Br*ssell
---
I feel like I'm in the ocean with big waves and small waves, just trying to keep my head above water and not drown — but the waves come and go and I'm alone without a life preserver trying to stay afloat.
Melissa Cote
---
Depression is like living without any of your senses.
Drew McCaig
---
There's death all around us. Everywhere we look. 1.8 people kill themselves every second. We just don't pay attention. Until we do.
Cynthia Hand
---
But grief makes a monster out of us sometimes . . . and sometimes you say and do things to the people you love that you can't forgive yourself for.
Melina Marchetta
---
Leaning against my father, the sadness finally broke open inside me, hollowing out my heart and leaving me bleeding. My feet felt rooted in the dirt. There were more than two bodies buried here. Pieces of me that I didn't even know were under the ground. Pieces of dad, too.
Laurie Halse Anderson
---
---