Everyone needs a pick-me-up sometimes. Here you will find a quote no matter what situation you find yourself in, wise words from writers, thinkers, politicians, scientists and more. Whether you are a woman or a man, a teacher or a student, happy or sad, prepare to get inspired by our quotes.
Inspiring Quotes For Women
Sometimes being a woman feels like a full time job whether you are a student, a mother or a wife. These quotes will remind you that it can also be amazing and instruct you on how to make the most of your womanhood.
No one can make you feel inferior without your consent.
---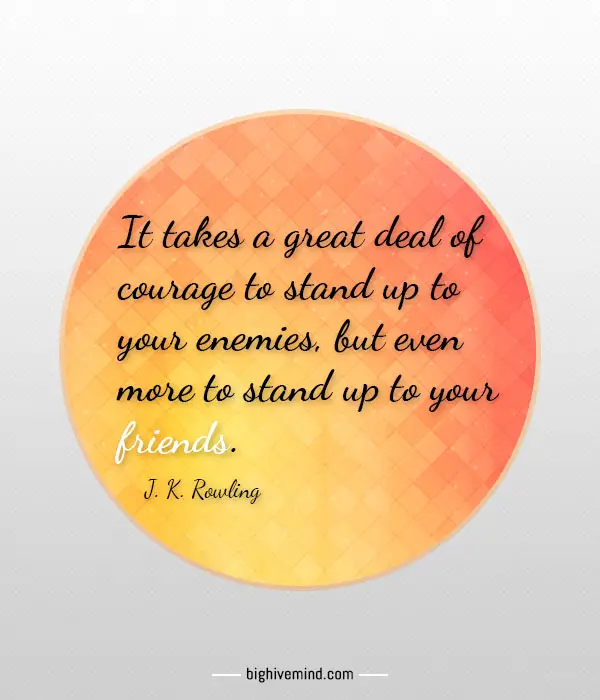 It takes a great deal of courage to stand up to your enemies, but even more to stand up to your friends.
---
You are more powerful than you know; you are beautiful just as you are.
---
A woman is the full circle. Within her is the power to create, nurture and transform.
---
Don't be afraid to speak up for yourself. Keep fighting for your dreams!
---
The most effective way to do it, is to do it.
---
The power you have is to be the best version of yourself you can be, so you can create a better world.
---
If you obey all the rules, you miss all the fun.
---
It took me quite a long time to develop a voice, and now that I have it, I am not going to be silent.
---
Forget about the fast lane. If you really want to fly, just harness your power to your passion.
---
Optimism is the faith that leads to achievement.
---
If I stop to kick every barking dog I am not going to get where I'm going.
---
You are the one that possesses the keys to your being. You carry the passport to your own happiness.
---
Cautious, careful people, always casting about to preserve their reputations can never effect a reform.
---
When the whole world is silent, even one voice becomes powerful.
---
Make the most of yourself by fanning the tiny, inner sparks of possibility into flames of achievement.
---
The difference between successful people and others is how long they spend time feeling sorry for themselves.
---
You can waste your lives drawing lines. Or you can live your life crossing them.
---
I'd rather regret the things I've done than regret the things I haven't done.
---
You can never leave footprints that last if you are always walking on tiptoe.
---
Inspiring Quotes For Kids
There are adults who think that childhood is only fun and games and have forgotten the very real challenges that can come with that part of the journey. Here are lessons from the greats to teach your children.
Don't let what you can't do stop you from doing what you can do.
---
We all can dance when we find music we love.
---
The more you give away the more happy you become.
---
I think I can. I know I can.
---
It's not what happens to you, but how you react to it that matters.
---
Being kind is never wasted.
---
When you know better you do better.
---
No act of kindness, No matter how small is ever wasted.
---
Do what you can, with what you have, where you are.
---
Make each day your masterpiece.
---
There is only one happiness in this life, to love and be loved.
---
Love yourself. It is important to stay positive because beauty comes from the inside out.
---
The most important thing in life is to learn how to give out love, and to let it come in.
---
Be the change that you want to see in the world.
---
The meaning of life is to find your gift. The purpose of life is to give it away.
---
You can give without loving, but you can never love without giving.
---
Kindness and politeness are not overrated at all. They're underused.
---
Respect for ourselves guides our morals, respect for others guides our manners.
---
A man's manners are a mirror in which he shows his portrait.
---
Men and women must be educated, in a great degree, by the opinions and manners of the society they live in.
---
Inspiring Quotes For Teens
We have all been through the dramatic and confusing emotional upheavals that accompany adolescence. Take a look at these quotes if you are going through them right now or know someone else who is.
I can't think of any better representation of beauty than someone who is unafraid to be herself.
---
Courage is like a muscle. We strengthen it by use.
---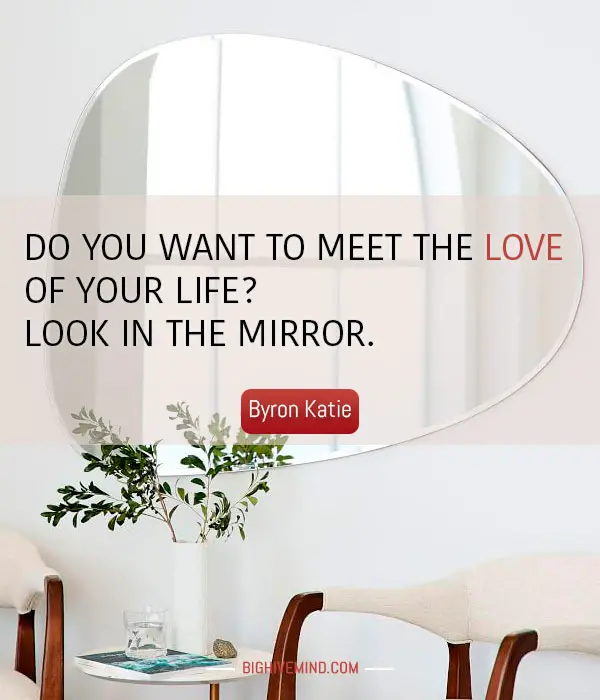 Do you want to meet the love of your life? Look in the mirror.
---
You have what it takes to be a victorious, independent, fearless woman.
---
No matter what you look like or think you look like you're special and loved and perfect just the way you are.
---
Not knowing you can't do something, is sometimes all it takes to do it.
---
If you can't make it better, you can laugh at it.
---
Don't be the girl who fell. Be the girl who got back up.
---
Never let the odds keep you from doing what you know in your heart you were meant to do.
---
You can steer yourself any direction you choose.
---
There's no substitute for hard work.
---
There is no elevator to success. You have to take the stairs.
---
There is no sadder sight than a young pessimist.
---
Time is free, but it's priceless. You can't own it, but you can use it. You can't keep it, but you can send it. Once you've lost it, you can never get it back.
---
To be able to practice five things everywhere under heaven constitutes perfect virtue… gravity, generosity of soul, sincerity, earnestness, and kindness.
---
There are two great days in a person's life — the day we are born and the day we discover why.
---
There are two educations. One should teach us how to make a living and the other how to live.
---
Time ripens all things, no man is born wise.
---
Those who wish to sing, always find a song.
---
There is nothing permanent except change.
---
Inspiring Quotes About Life
These quotes will remind you of the sheer magnificence of life as well as provide you with a solid dose of wisdom so that you feel vitalised and ready to take on the world.
Life is not measured by the number of breaths we take, but by the moments that take our breath away.
---
Power is not given to you. You have to take it.
---
We can do no great things, only small things with great love.
---
The question isn't who's going to let me; it's who is going to stop me.
---
I don't care what you think about me. I don't think about you at all.
---
The most common way people give up their power is by thinking they don't have any.
---
And the trouble is, if you don't risk anything, you risk more.
---
Life shrinks or expands in proportion to one's courage.
---
Yes, I'm a feminist, because I see all women as smart, gifted, and tough.
---
I'm not afraid of storms, for I'm learning to sail my ship.
---
Never waste a minute thinking of anyone you don't like.
---
Only surround yourself with people who will lift you higher.
---
Anything is possible. Anything can be.
---
Life is 10% what happens to us and 90% how we react to it.
---
There is no royal road to anything. One thing at a time, all things in succession. That which grows fast, withers as rapidly. That which grows slowly, endures.
---
Be not afraid of life. Believe that life is worth living, and your belief will help create the fact.
---
When I stand before God at the end of my life, I would hope that I would not have a single bit of talent left and could say, I used everything you gave me.
---
Nurture your mind with great thoughts. To believe in the heroic makes heroes.
---
Look at the sparrows; they do not know what they will do in the next moment. Let us literally live from moment to moment.
---
Luck is a dividend of sweat. The more you sweat, the luckier you get.
---
Inspiring Quotes For Work
Feeling worn down by the nine-to-five grind? Then you might just find the right impetus here to get you energised enough to keep going. Work doesn't have to be a pain as these quotes show.
If you want something said, ask a man; if you want something done, ask a woman.
---
Your work is going to fill a large part of your life, and the only way to be truly satisfied is to do what you believe is great work. And the only way to do great work is to love what you do.
---
Instead of wondering when your next vacation is, you ought to set up a life you don't need to escape from.
---
Someone once told me that 'time' is a predator that stalks us all our lives. But I rather believe that time is a companion who goes with us on the journey and reminds us to cherish every moment because it will never come again.
---
Those who say it can not be done, should not interrupt those doing it.
---
Whatever the mind of man can conceive and believe, it can achieve. Thoughts are things! And powerful things at that, when mixed with definiteness of purpose, and burning desire, can be translated into riches.
---
You are not your resume, you are your work.
---
Far and away the best prize that life offers is the chance to work hard at work worth doing.
---
If you work just for money, you'll never make it, but if you love what you're doing and you always put the customer first, success will be yours.
---
A professional is someone who can do his best work when he doesn't feel like it.
---
Nothing can stop the man with the right mental attitude from achieving his goal; nothing on earth can help the man with the wrong mental attitude.
---
Challenges are what make life interesting and overcoming them is what makes life meaningful.
---
Every strike brings me closer to the next home run.
---
I have learned that real angels don't have gossamer white robes and Cherubic skin, they have calloused hands and smell of the days' sweat.
---
A dream doesn't become reality through magic; it takes sweat, determination and hard work.
---
My grandfather once told me that there were two kinds of people: those who do the work and those who take the credit. He told me to try to be in the first group; there was much less competition.
---
Hard work keeps the wrinkles out of the mind and spirit.
---
You learn the value of hard work by working hard.
---
Patience can be bitter but her fruit is always sweet.
---
Goodness and hard work are rewarded with respect.
---
Inspiring Quotes About Change
Change is the one constant in life, but the following quotes will help you spin those changes in your favour. They will give you the inspiration you need to start anew and to remain positive in the face of adversity.
Power to me is the ability to make a change in a positive way.
---
A year from now you will wish you had started today.
---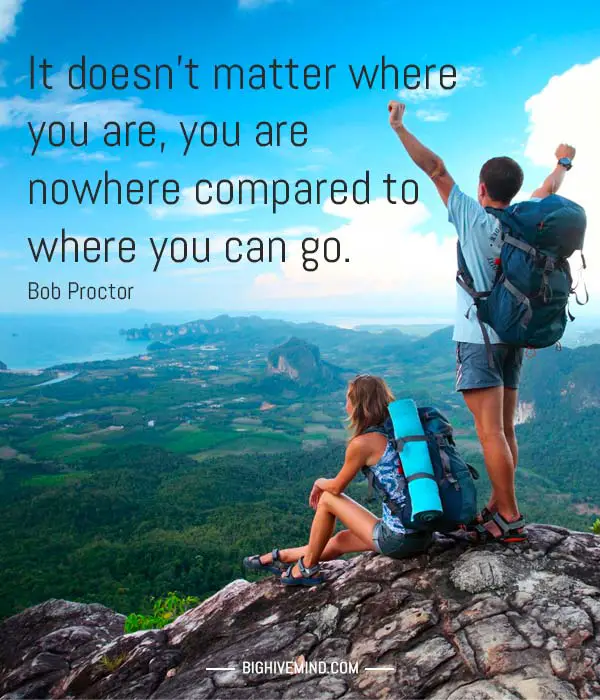 It doesn't matter where you are, you are nowhere compared to where you can go.
---
Never too old, never too bad, never too late, never too sick to start from scratch once again.
---
Man cannot discover new oceans unless he has the courage to lose sight of the shore.
---
If what you're doing is not your passion, you have nothing to lose.
---
You must want to be different before you can change youself.
---
To know the world, first know yourself. To change the world, first change yourself.
---
Everyone thinks of changing the world, but no one thinks of changing himself.
---
Some changes look negative on the surface but you will soon realize that space being created in your life for something new to emerge.
---
Never doubt that a small group of thoughtful, committed, citizens can change the world. Indeed it is the only thing that ever has.
---
When I let go of what I am, I become what I might be.
---
If not us, who? If not now, when?
---
Though no one can go back and make a brand new start, anyone can start from now and make a brand new ending.
---
Lay a firm foundation with the bricks that others throw at you.
---
As soon as anyone starts telling you to be "realistic," cross that person off your invitation list.
---
They always say time changes things, but you actually have to change them yourself.
---
You're braver than you believe, and stronger than you seem, and smarter than you think.
---
Things change. And friends leave. Life doesn't stop for anybody.
---
Life is a series of natural and spontaneous changes. Don't resist them; that only creates sorrow. Let reality be reality. Let things flow naturally forward in whatever way they like.
---
Inspiring Quotes For Students
If you feel like you are getting crushed under the weight of papers, homework assignments and exams, take a study break and consider these words of wisdom. They might be just what you need to stay focused on your goals.
Reach high, for stars lie hidden in your soul. Dream deep, for every dream precedes the goal.
---
No one is perfect – that's why pencils have erasers.
---
The great thing in this world is not so much where you stand, as in what direction you are moving.
---
Live each day as if your life had just begun.
---
Either you run the day, or the day runs you.
---
Don't worry about failures, worry about the chances you miss when you don't even try.
---
Life has two rules: #1 Never quit #2 Always remember rule # 1.
---
Speak less than you know; have more than you show.
---
Do not go where the path may lead, go instead where there is no path and leave a trail.
---
Education costs money. But then so does ignorance.
---
The journey of a thousand miles begins with one step.
---
Do not wait to strike till the iron is hot; but make it hot by striking.
---
The purpose of learning is growth, and our minds, unlike our bodies, can continue growing as long as we live.
---
Learning is not a spectator sport.
---
It is wiser to find out than to suppose.
---
Education is what survives when what has been learned has been forgotten.
---
I think, therefore I am. (Cogito, ergo sum.)
---
Experience: that most brutal of teachers. But you learn, my God do you learn.
---
Learn from yesterday, live for today, hope for tomorrow.
---
Whatever you can do, or dream you can do, begin it. Boldness has genius, power, and magic in it. Begin it now.
---
Inspiring Quotes For Teachers
Many consider teaching to be the most important profession. Whether you are a teacher (remember not all teaching takes place in the classroom), or you hold one close in your heart, you will find uplifting quotes here.
What we want is to see the child in pursuit of knowledge, and not knowledge in pursuit of the child.
---
Good teaching is one-fourth preparation and three-fourths theatre.
---
A teacher is a compass that activates the magnets of curiosity, knowledge, and wisdom in the pupils.
---
Before any great things are accomplished, a memorable change must be made in the system of education…to raise the lower ranks of society nearer to the higher.
---
I cannot teach anybody anything, I can only make them think.
---
If you are planning for a year, sow rice; if you are planning for a decade, plant trees; if you are planning for a lifetime, educate people.
---
What sculpture is to a block of marble, education is to a human soul.
---
Every child deserves a champion – an adult who will never give up on them, who understands the power of connection and insists that they become the best that they can possibly be.
---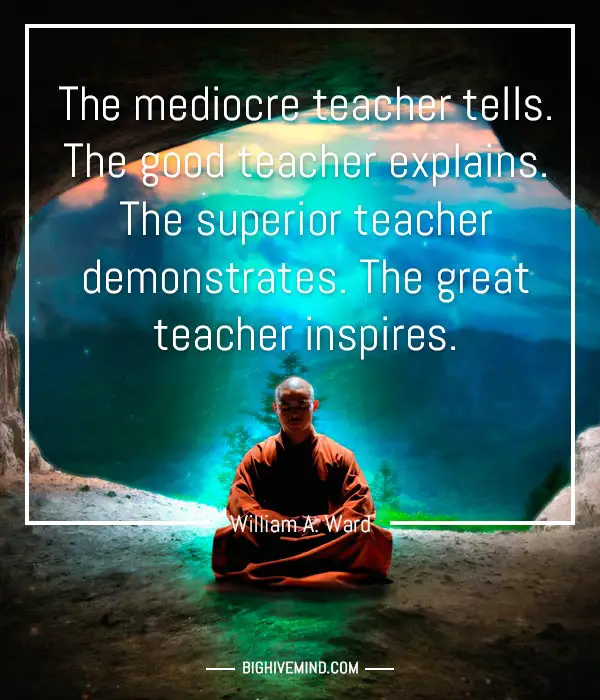 The mediocre teacher tells. The good teacher explains. The superior teacher demonstrates. The great teacher inspires.
---
Don't just teach your kids to read, teach them to question what they read. Teach them to question everything!
---
If kids come to us from strong, healthy functioning families, it makes our job easier. If they do not come to us from strong, healthy, functioning families, it makes our job more important.
---
We're trying to give the young people something that can help them, and we don't know exactly what it ought to be."
---
Teaching is the greatest act of optimism.
---
The dream begins, most of the time, with a teacher who believes in you, who tugs and pushes and leads you on to the next plateau, sometimes poking you with a sharp stick called truth.
---
Teaching is not a lost art, but the regard for it is a lost tradition.
---
I have come to believe that a great teacher is a great artist and that there are as few as there are any other great artists. It might even be the greatest of the arts since the medium is the human mind and spirit.
---
There is no failure. Only feedback.
---
The direction in which education starts a man will determine his future life.
---
A good teacher is like a candle – it consumes itself to light the way for others.
---
It takes a big heart to help shape little minds.
---
Inspiring Quotes About Happiness
Are you in pursuit of happiness? Then here is a good place to start. These quotes will provide you with insight into how to improve your inner state and simply reading them will light you up with pleasure.
Success is getting what you want, happiness is wanting what you get.
---
Happiness doesn't result from what we get, but from what we give.
---
Rule #1 of life. Do what makes YOU happy.
---
Happiness is the real sense of fulfillment that comes from hard work.
---
Happiness is an attitude. We either make ourselves miserable, or happy and strong. The amount of work is the same.
---
When one door of happiness closes, another opens, but often we look so long at the closed door that we do not see the one that has been opened for us.
---
Happiness is not something you postpone for the future; it is something you design for the present.
---
Thousands of candles can be lighted from a single candle, and the life of the candle will not be shortened. Happiness never decreases by being shared.
---
Happiness is the art of never holding in your mind the memory of any unpleasant thing that has passed.
---
The moments of happiness we enjoy take us by surprise. It is not that we seize them, but that they seize us.
---
It isn't what you have, or who you are, or where you are, or what you are doing that makes you happy or unhappy. It is what you think about.
---
It's a helluva start, being able to recognize what makes you happy.
---
We tend to forget that happiness doesn't come as a result of getting something we don't have, but rather of recognizing and appreciating what we do have.
---
There is only one way to happiness and that is to cease worrying about things which are beyond the power of our will.
---
To be kind to all, to like many and love a few, to be needed and wanted by those we love, is certainly the nearest we can come to happiness.
---
Love is that condition in which the happiness of another person is essential to your own.
---
Happiness is not something ready-made. It comes from your own actions.
---
There is only one happiness in this life, to love and be loved.
---
Today I choose life. Every morning when I wake up I can choose joy, happiness, negativity, pain… To feel the freedom that comes from being able to continue to make mistakes and choices – today I choose to feel life, not to deny my humanity but embrace it.
---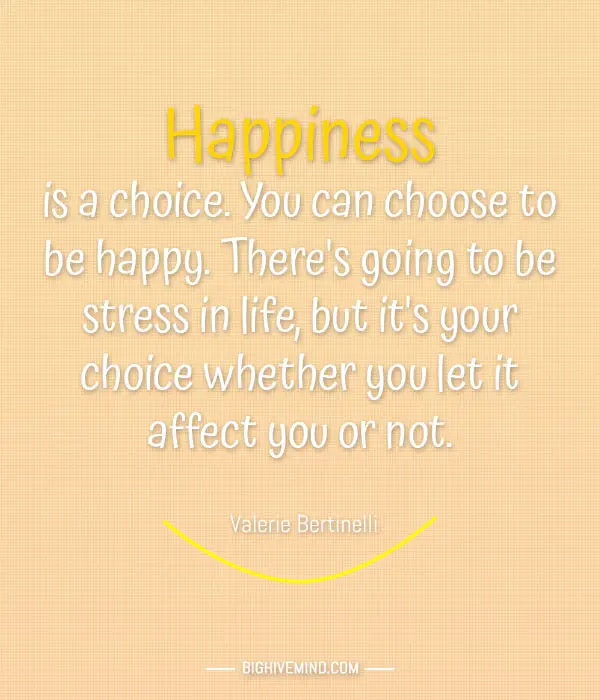 Happiness is a choice. You can choose to be happy. There's going to be stress in life, but it's your choice whether you let it affect you or not.
---
Inspiring Quotes On Success
We all want something and no matter what it is, you will find inspiration here. Come back to this page any time you feel discouraged or frustrated. These quotes will bring color back to your vision and help you get that much closer to the finish line.
It's possible to climb to the top without stomping on other people.
---
I never dreamed about success. I worked for it.
---
You always pass failure on the way to success.
---
The real opportunity for success lies within the person and not in the job.
---
The difference between a successful person and others is not lack of strength not a lack of knowledge but rather a lack of will.
---
The only way of finding the limits of the possible is by going beyond them into the impossible.
---
Some men see things as they are and say why – I dream things that never were and say why not.
---
Many of life's failures are experienced by people who did not realize how close they were to success when they gave up.
---
The best revenge is massive success.
---
It is not enough to aim, you must hit.
---
Eighty percent of success is showing up.
---
Success is no accident. It is hard work, perseverance, learning, studying, sacrifice and most of all, love of what you are doing or learning to do.
---
Put your heart, mind, and soul into even your smallest acts. This is the secret of success.
---
There are no secrets to success. It is the result of preparation, hard work, and learning from failure.
---
Success is not final, failure is not fatal: it is the courage to continue that counts.
---
Your positive action combined with positive thinking results in success.
---
Success is not the key to happiness. Happiness is the key to success. If you love what you are doing, you will be successful.
---
Coming together is a beginning; keeping together is progress; working together is success.
---
Always be yourself, express yourself, have faith in yourself, do not go out and look for a successful personality and duplicate it.
---
A strong, positive self-image is the best possible preparation for success.
---
---