Here's a selection of Rainbow Quotes, covering topics such as colors, love, life and inspiration.
We really hope you enjoy these quotes and that they give you something to think about.
When did you first fall in love?"
"i think, I first fell in love
when I was in fifth grade
with this boy who kept his glass ruler in the sunlight
and made rainbows on my desk with it.
---
Let me, O let me bathe my soul in colours; let me swallow the sunset and drink the rainbow.
---
Gender is not sane. It's not sane to call a rainbow black and white.
---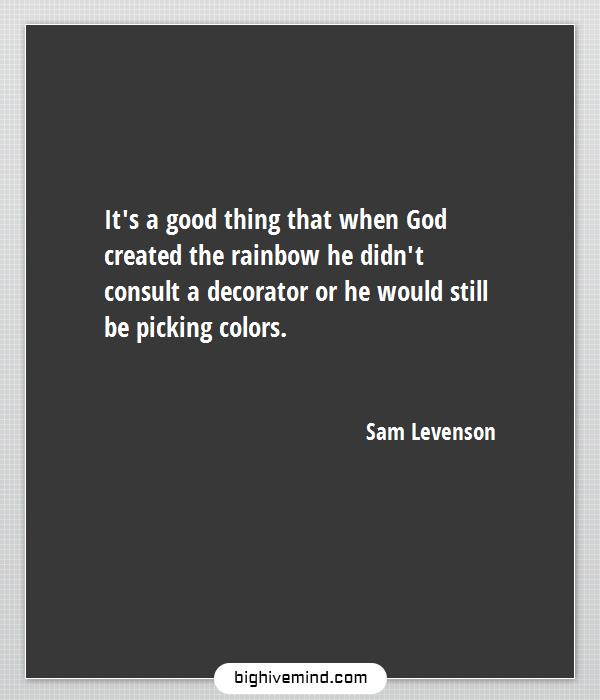 Be thou the rainbow in the storms of life. The evening beam that smiles the clouds away, and tints tomorrow with prophetic ray.
---
Pride of the dewy morning, The swain's experienced eye From thee takes timely warning. Nor trusts the gorgeous sky.
---
It's greener on the other side, but it's rainbows and gold on mine. -.
---
And when it rains on your parade, look up rather than down. Without the rain, there would be no rainbow.
---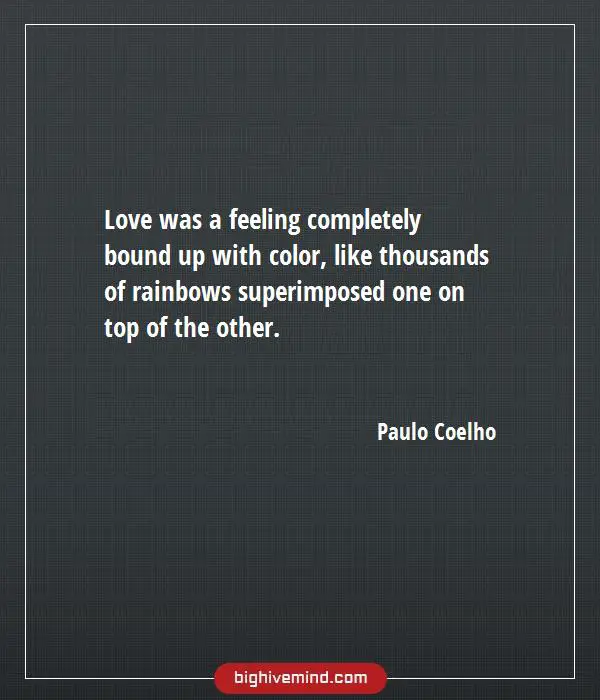 Moment the sky embraces the earth is called a rainbow.
---
If you have ever followed a rainbow to its end, it leads you to the ground on which you are standing.
---
What a privilege to be here on the planet to contribute your unique donation to humankind. Each face in the rainbow of colors that populate our world is precious and special.
---
You'll never find rainbows, If you're looking down…
---
Why chase rainbows when you've already caught one?.
---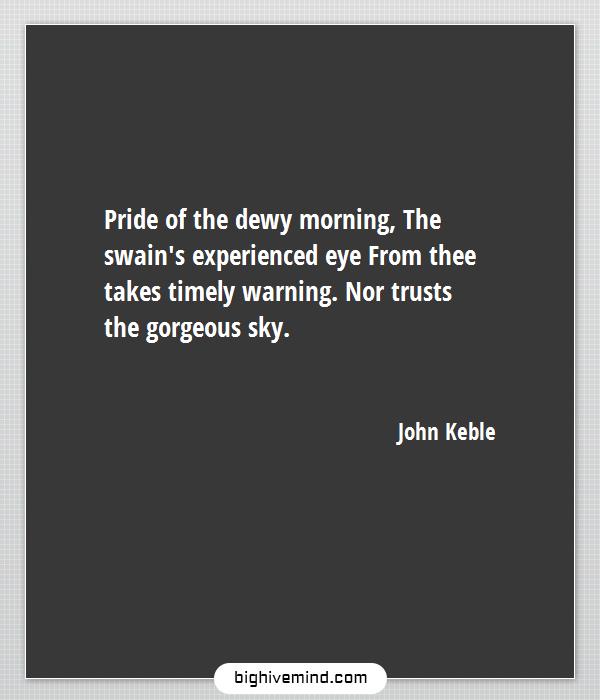 When it looked like the sun wasn't going to shine any more, there's a rainbow in the clouds.
---
When there is love in the heart, there are rainbows in the eyes, which cover every black cloud with gorgeous hues.
---
The image of those widmestern storms that rip up the world as you know it, and leave, like a sacrifice, a rainbow to make you forget what has come before.
---
To catch the rainbows of your dreams, love yourself, love what you do, and how you do.
---
My two favorite colors of the rainbow are gold and leprechaun.
---
Each of us has the power and responsibility to become a rainbow in the clouds.
---
Rainbows are made of small raindrops. Happy lives are made from acts of kindness.
---
A rainbow in the morning Is the Shepherd's warning; But a rainbow at night Is the Shepherd's delight.
---
That arc of light, born of the shower and colored by the sun, which spans the heavens!
---
Two bubbles found they had rainbows on their curves.
they flickered out saying:
"it was worth being a bubble, just to have held that rainbow thirty seconds.
---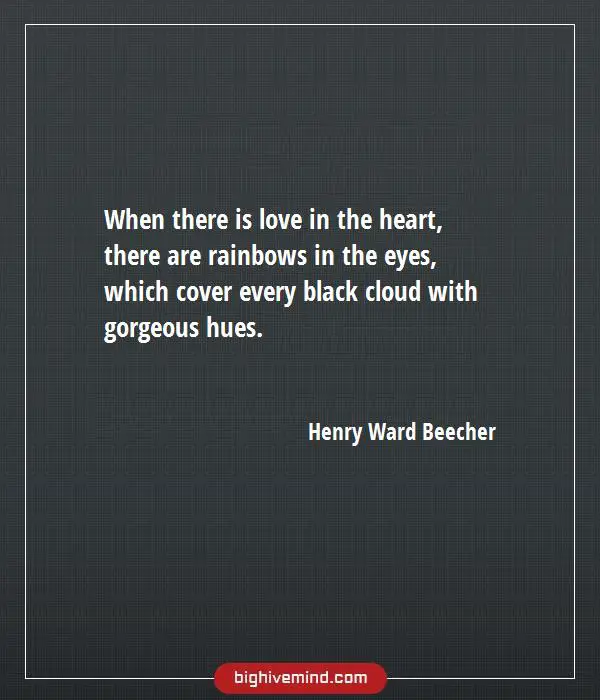 Love was a feeling completely bound up with color, like thousands of rainbows superimposed one on top of the other.
---
One cannot sit on rainbows with them only becoming intangible upon recognition.
---
We may run, walk, stumble, drive, or fly, but let us never lose sight of the reason for the journey or miss a chance to see a rainbow on the way.
---
Rainbows have a way of making the world seem right.
---
Rainbows introduce us to reflections of different beautiful possibilities so we never forget that pain and grief are not the final options in life.
---
If you were the sky, I would unfurl myself in you, as a rainbow of colors yet unseen. I would become oceans of stars in your night.
---
It was the rainbow gave thee birth, and left thee all her lovely hues.
---
Life without dreams is like a rainbow without colours.
---
Now is our time. It's our time to chase rainbows and build castles in the sky. It's our time to create a life that we love. Because someday, it will no longer be our time.
---
Always have a black bow, a white bow, a rainbow bow – those bows will match literally just about everything!
---
Somewhere over the rainbow, skies are blue, and the dreams that you dare to dream really do come true.
---
Donde termina el arco iris,
en tu alma o en el horizonte?
where does the rainbow end,
in your soul or on the horizon?.
---
Never scared of challenges that comes into our life like the cloud and rain, because the rainbows will come to surpass them; and teach ourselves to be a rainbow in other people's cloud, to make them happy ().
---
To catch the butterflies and the rainbows of your dream, walk alone, keep faith in yourself, focus your energy and start the adventure.
---
Why would I spend my life chasing rainbows when I can be still and see them in their full beauty.
---
I've always taken 'The Wizard of Oz' very seriously, you know. I believe in the idea of the rainbow. And I've spent my entire life trying to get over it.
---
I'd rather see the world as a rainbow than endless shade of gray.
---
And as he spoke of understanding, I looked up and saw the rainbow leap with flames of many colors over me.
---
Walk on a rainbow trail; walk on a trail of song, and all about you will be beauty. There is a way out of every dark mist, over a rainbow trail.
---
When rainbows meet food, all sorts of colors & flavors are possible.
---
Dare to love yourself
as if you were a rainbow
with gold at both ends.
---
What are you staring at?"
"rain drops on window glass is a sort of love-bite, is it not?.
---
Welcome to the team. Shoot, I forgot the rainbow confetti to throw all over you.
---
And, lo! in the dark east, expanded high, The rainbow brightens to the setting Sun.
---
Raindrops will follow rainbows to the ends of the earth and back again.
---
I have long abhorred black. It is a great abyss, sucking in the colours of the rainbow and wringing the life from them. The moniker of death.
---
…i wondered if it was blasphemous to tell god that rainbows are kitsch.
---
I wanted to write a book that talked about the emotions of children, which is the rainbow. We all have moods. We talk about being blue when we're sad, and being yellow when we're cowards, and when we're mad, we're red.
---
Where are there lots of colors, colton?" "in heaven, dad. That's where all the rainbow colors are!.
---
Write about the beauty of rainbows and the glint of reflected light that can enlighten readers' minds.
---
The rainbow bursts like magic on mine eyes! In hues of ancient promise there imprest…
---
You may complain that rain has stained your plans but you cannot restrain the rain; rain is water and water is life. None appreciates rainbow and sunshine better than he on whose parade it has rained.
---
In our world, I rank music somewhere between hair ribbons and rainbows in terms of usefulness.
---
I swear you must have a rainbow shooting out of your *ss, you're so bright and shiny and wonderful.
---
It takes sunshine and rain to make a rainbow. There would be no rainbows without sunshine and rain.
---
God puts rainbows in the clouds so that each of us – in the dreariest and most dreaded moments – can see a possibility of hope.
---
Somewhere, over the rainbow, Way up tall, There's a land where they've never heard of cholesterol.
---
Triumphant arch, that fill'st the sky when storms prepare to part!
---
My teacher asked my favorite color. … I said 'rainbow'…. And I was punished to stand out of my class.
---
The way I see it, if you want the rainbow, you gotta put up with the rain.
---
I don't want a rainbow… Rainbows have too many colors and none of them receive the appreciation they deserve… I'd prefer a fading red or a striking golden, a shimmery silver or a sober blue… Ruling the sunset sky alone!
---
How could he try to get sandi to reveal her true colors when she was a rainbow?.
---
Life's a choice: you can live in black and white, or you can live in colour. I'll take every shade of the rainbow and the gazillion in between!
---
One day, I'll be a crazy old lady with long rainbow hair living in the woods. I will have a rad tree house with tons of rooms for people to come over, recharge, and make art.
---
A rainbow is the product of physics working for your appreciation of beauty.
---
May your journey through life be vibrant and full of colorful rainbows.
---
Do you prefer him or her? either one's cool-i'm genderfluid.
---
Sunset is still my favorite color, and rainbow is second.
---
Rainbows introduce us to reflections
of different beautiful possibilities
so we never forget that pain and grief
are not the final options in life.
---
[iris] squeezed his hand. "don't lose hope, frank. Rainbows always stand for hope.
---
If you want to see a rainbow you have to learn to see the rain.
---
Let no one who loves be unhappy, even love unreturned has its rainbow.
---
I like light green, sometimes red is fun to look at, not a fan of yellow, unless it's in a rainbow or on a coffee mug or on a happy face.
---
We needed something to express our joy, our beauty, our power. And the rainbow did that.
---
I know life is not rainbows and butterflies, but i'd rather die delusional than being a mature cynic.
---
Shine your soul with the same
egoless humility as the rainbow
and no matter where you go
in this world or the next,
love will find you, attend you, and bless you.
---
Formal education teaches how to stand, but to see the rainbow you must come out and walk many steps on your own.
---
It's true—there are only, like, two songs about rainbows, including that one. He should be asking why there are so few songs about rainbows.
---
I am always looking for rainbows, literally and metaphorically, only that I am starting to think that I could learn more from my journey if, from time to time, I were brave enough to stay in the rain longer.
---
Life throws challenges and every challenge comes with rainbows and lights to conquer it.
---
Everybody wants happiness, and nobody wants pain, but you can't have a rainbow without a little rain.
---
It's a good thing that when God created the rainbow he didn't consult a decorator or he would still be picking colors.
---
One can enjoy a rainbow without necessarily forgetting the forces that made it.
---